How to Make a Simple Spring Wreath With Initial
I'm so excited to share our Simple Spring Wreath with Initial project with you today! This is a fantastic project for anyone, even those of you out there that don't think you can make a wreath. Plus who isn't ready for a dose of Spring!?!  This post contains some affiliate links for your convenience. Click here to read my full disclosure policy.
How to Make a Simple Spring Wreath with Initial
In today's video, we're making a Simple Spring Wreath with Initial. I've used some beautiful bright Spring colors but you could truly use any color scheme for this project. This could also be a fun project for a baby shower, wedding, or birthday! Here's how:
Supplies
Krylon Spray Paint (Hobby Lobby)
Wooden Initial (Hobby Lobby)
Birch Wreath (Hobby Lobby)
Ribbon (Hobby Lobby)
Bushes of Silk Flowers (Hobby Lobby)
Acrylic Paint (Hobby Lobby)
Paint Brush (Hobby Lobby)
glue sticks
How to Make a Simple Spring Wreath with Initial
Spray paint the birch wreath. I used a turquoise and followed the instructions on the can. To see a video of how I painted mine, visit my Facebook page here.
Next, paint your initial. You can use any color you would like, I used a bubble gum pink acrylic paint. It may sound strange to paint this when we are going to be covering it up, but doing so ensures that any gaps between the flowers will still blend in and look finished.
When the initial is dry, staple and hot glue florist wire to the back of it as shown in the video below.
Snip the silk flowers off of their stems. You can use inexpensive flowers for this project. I like to use a mix of color variations and sizes.
It's important to lay out the flowers now on the initial BEFORE you glue! Make sure your flowers are not so large that it makes it hard to see what initial it is.
Once you have the flowers positioned where you would like, hot glue each of them into place.
Look over the initial to see where you may have gaps. Add small flowers or even small pieces of moss to those empty areas.
Once all the flowers are glued, attach the initial to the wreath using the florist wire you added to the back of the initial earlier.
Snip off any excess wire sticking out from the back of the initial.
Next you need a hanger. I used fun polka dot ribbon and threaded it behind the initial. Make a simple bow (like you are tying your shoes) and make sure your ribbon is facing forward. That's it!
How to Make a Simple Spring Wreath with Initial Video…
I hope you enjoyed this Simple Spring Wreath with Initial tutorial. What is your favorite Spring color? Let me know if you enjoyed this and don't forget to join me on Facebook Live, Thursdays 7:30PM EST.
If you would like to join my wreath making of the month club, you can join here.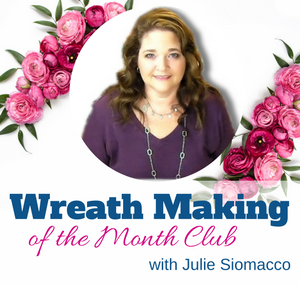 Happy Wreathing,
Julie
If you enjoyed this post, you might also like:
How to Make a Mardi Gras Lantern Swag
How Kroger ClickList Saves Me Time
How to Make a Silk Flower Spring Wreath Video