30 Amazing 4th of July Wreath Ideas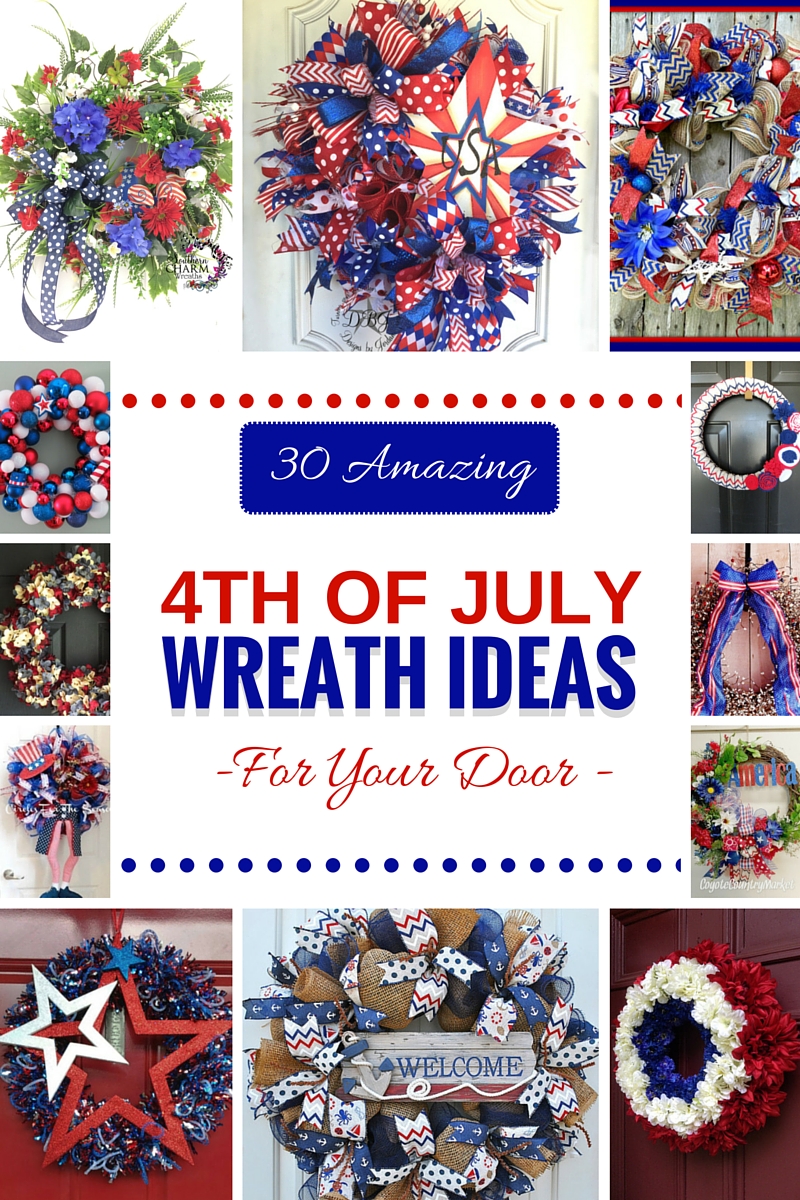 Why 30 Amazing 4th of July Wreath Ideas? Because there's no better way to show off your American pride for the 4th of July than by decorating your home with red, white and blue. The internet is full of DIY crafts and decorations to celebrate Independence Day but sometimes life leaves little room for such projects, believe me I can relate!
From all the internet décor ideas available for the 4th of July, patriotic wreaths are my favorite, obviously since I'm a wreath maker myself, but I'm also aware that crafting your own can take a lot of time, especially if you don't do it regularly. For this reason, I've come up with a list of 30 Amazing 4th of July Wreath ideas, some you can buy from sellers I truly respect for their amazing artistry, or if you're the hands-on type, a few DIYs so you can put your wreath making skills to the test!
[Tweet "30 Amazing 4th of July Wreath Ideas"]
30 Amazing 4th of July Wreath Ideas
Red White and Blue Door Wreath by SouthernCharmWreaths
Patriotic Deco Mesh Wreath by DesignsbyJordanTX
4th of July Grapevine Mesh Wreath by CoyoteCountryMarket
4th of July Patriotic Wreath by stringnthings
4th of July Hydrangea Wreath by SilvaLiningDesigns
Patriotic Wreath with Star Hat Firework Ornaments by dottiegray
Red, White, and Blue Patriotic Wreath by HomeDecorbyJen
Patriotic Americana Berry Door Wreath by DesigningCreations
Patriotic Star Door Wreath by RedWreath
Rustic Mesh 4th of July Wreath by HolidaysAreSpecial
Stars and Stripes Patriotic Wreath by 1LeftofCenter
Berry Stars and Stripes Americana Wreath by ElegantWreath
Americana Decor Wreath by CreativeZoneNiki
Patriotic Uncle Sam Top Hat Wreath by Xtine's DOORnaments and More
Summer Burlap Patriotic Wreath by KaylasKreationsTX
Spectacular Red, White, and Blue Wreath by HomeHearthGarden
Uncle Sam wreath with Legs by CirclesForTheSeason
Patriotic Ribbon Wreath by AEinspirations
Patriotic Burlap Wreath by VineandWineBoutique
4th of July Felt Wreath by FairyMojo
Burlap Stars & Stripes Wreath by JnSMDesigns
American Flag Wreath By FancyWreathLady
Nautical Patriotic Wreath by DoorandDecor
4th of July Deco Mesh Wreath by SnappyPea
Patriotic Rag Wreath by TeaAndHoneyDesigns
Red, White, and Blue Up-Cycled Sweater Wreath by nanniepannie
July 4th Silk Flower Monogram Wreath by CottageHouseWreaths
Patriotic Wreath, USA, America, 4th of July Wreath by TootsieSuesWreaths
Red White & Blue Silk Flower Wreath by VintageStableDesigns
DIY Stars and Stripes Burlap Wreath by Confessionsofaplateaddict.blogspot.com
DIY Patriotic Paper Cone Wreath by bloominghomestead.com
DIY Patriotic Pom Pom Wreath by flamingotoes.com
These are just some of the 30 Amazing 4th of July Wreath Ideas found on the internet. How do you decorate for the 4th? Do you hang a wreath on your door? Or do you go all out with flags, banners, and lanterns? Leave a comment and let me know.
Happy Wreathing,
Julie
If you enjoyed this post, you might also like:
How to Make a Festive Patriotic Lantern Swag
How to Make a Popular Multi Ribbon Patriotic Bow