DIY Patriotic Monogram Floral Door Hanger
Hey, wreath friends! Today in the wreath shop I'm making myself a new patriotic monogram door hanger for the 4th of July. And while I'm at it, I thought I'd show you a super simple trick for matching your flowers and getting a nice uniform shape in your arrangements.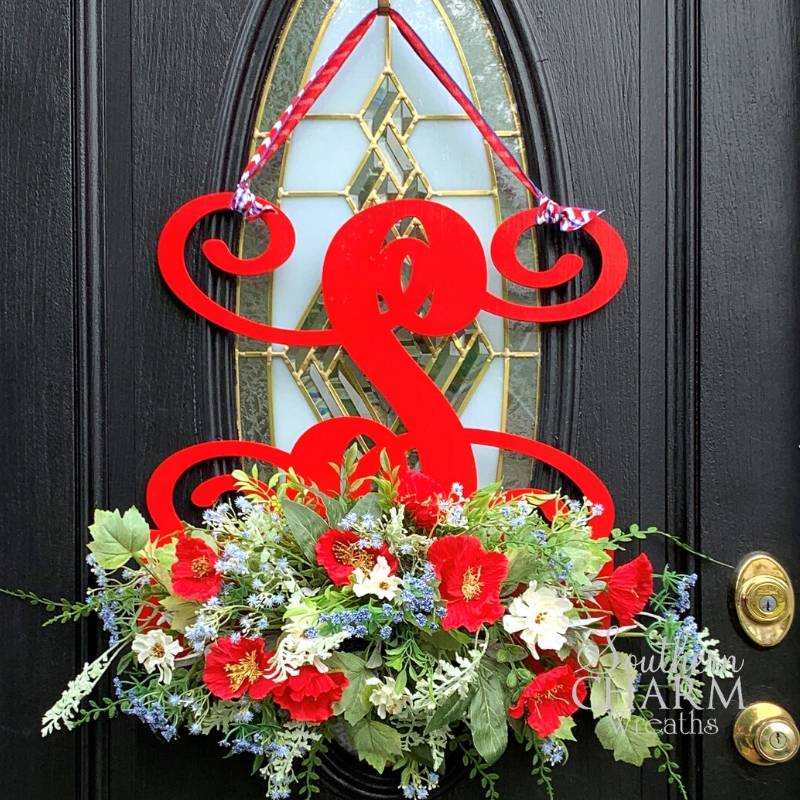 I found this wooden monogram on Etsy and after I spray painted it bright red, I knew I absolutely had to make a red white and blue arrangement out of it. Do y'all decorate for Fourth of July?
This post may contain affiliate links for your convenience. Click here to read my full disclosure policy.
Door Hanger Supply List
Monogram door hanger
Design Master Spray Paint
Floral Foam
Silk Flowers
Moss
Ribbon
Scissors
Wire cutters
Glue Pan
Glue Sticks
Florist Knife
Putting Together Your Fourth of July Door Hanger
Step 1 – First you have to prepare your wooden monogram to make it suitable for outdoors. Start by coating it with a couple layers of spray paint. Let it dry and then coat it with an outdoor sealant.
When using spray paints and sealants, make sure to work in a properly ventilated area – or outside in this gorgeous weather! – and use a backdrop or a large piece of cardboard to protect your work surface.
Step 2 – Next, take a rectangle piece of floral foam and hot glue it to the front of the monogram, near the bottom. This is how you'll attach all the flowers. Then cover the foam with a thin layer of spanish moss.
Step 3 – Now we get to start adding flowers! And remember earlier I said I had a trick for you to make this a lot easier? Here it is!
Use pre-made sprays!
For this arrangement, you'll start with three of the same red white and blue floral sprays. Set one to the side, and place the the other two onto the foam so that the stems overlap and the flowers face out to, and hang slightly over each side of the monogram. Once you have them centered, secure them with floral pins dipped in hot glue.
Now to fill the gap, you'll take apart the third spray and glue the flowers and greenery in individually. Make sure to give them enough height so they match the edges of the full sprays.
Now you can go in and place any fillers, like the light blue flowers I added to mine.
Step 4 – Now all that's left is adding a hanger to the top. I used ribbon for mine but you could use whatever you want like wire or twine. Just measure out the length between the two places you'll be attaching it, add a few extra inches on each side to tie the knots, and a little extra so it has room to hang down. Cut your ribbon and tie it on tightly to secure it. You can add a dab of glue to hold the know if you don't think it will stay.
And that's it!
Patriotic Monogram Door Hanger Tutorial
If you enjoyed this and want to learn to wreath the professional way, join me in our exclusive Wreath Making of the Month Club!
Happy Wreathing,
Julie
If you enjoyed this post, you might also like:
Elegant Fourth of July Wreath Tutorial
How to make a Festive Patriotic Lantern Swag
Was this Tutorial Helpful? Pin it to save for later!