How to Craft the Perfect Facebook Live – 5 Day Challenge
Facebook Live 5-Day Challenge
If you are not doing Facebook lives to grow your small business, ask yourself why? I want you to comment below and tell me your excuse so that I can help you through whatever your struggle is.
Equipment?
Looks?
Afraid of being judged?
Your looks?
Your skill level?
There really is absolutely no reason why you can not use Facebook lives to get your brand message out!
You can start your Facebook Live 5-day Challenge any week as often as you like.
I've created examples for you to use below using 4 categories that you can repeat over and over:
Engage – Engage is about Action! Getting your audience to take action.
Authority – Authority is about showing how you're the expert in your niche.
Connect – Connect is about sharing more about the connection you have with your audience and your brand.
Sizzle – Sizzle is SELLING!
Download the graphic below by clicking here.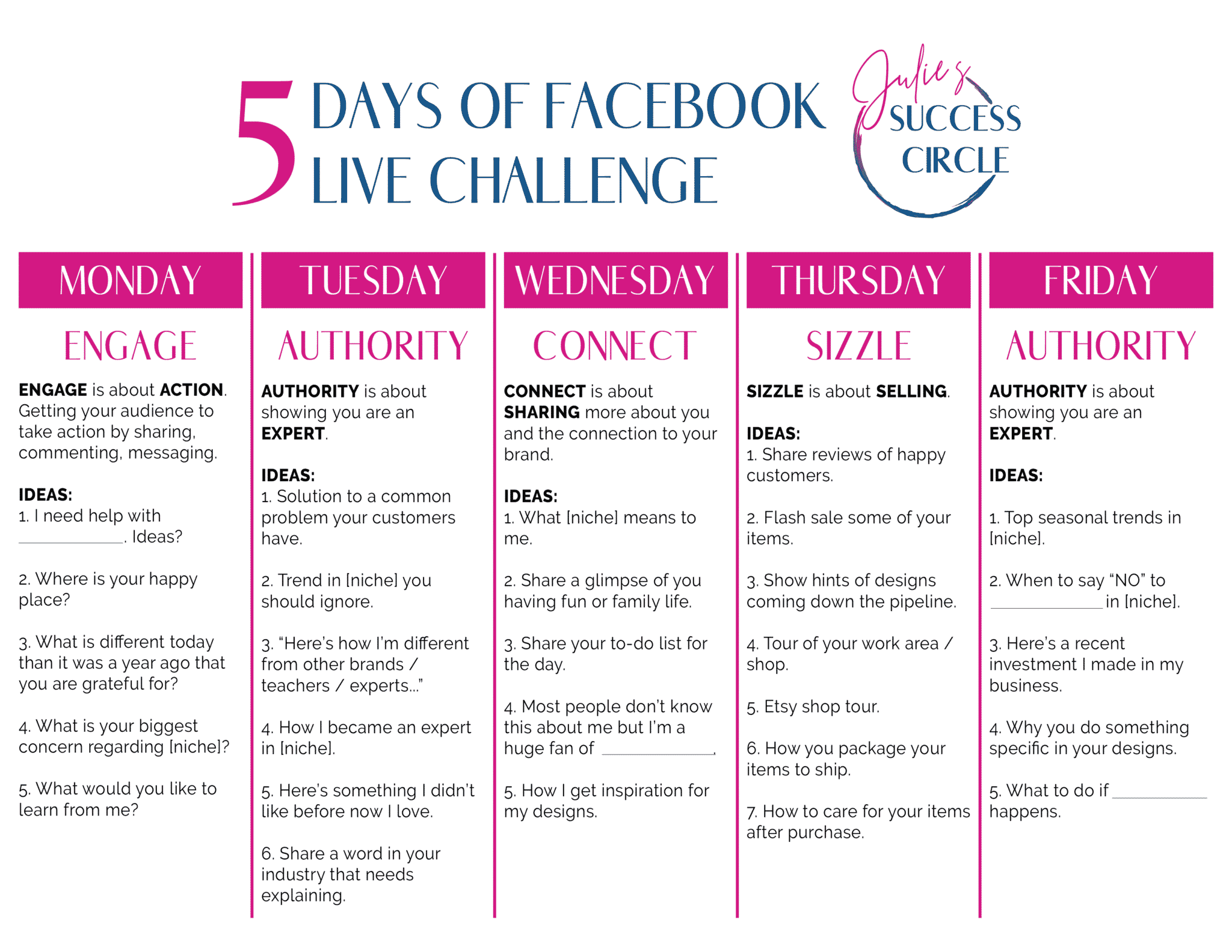 Once you decide on your topic, make sure to click here on our Facebook Group to share with us your page, time URL so that we can share.
Monday Topic? Post here in the group
Tuesday Topic? Post here in the group
Wednesday Topic? Post here in the group
Thursday Topic? Post here in the group
Friday Topic? Post here in the group
DURING YOUR LIVE BROADCAST
INTRODUCTION
Your Name
Your Business Name
What you do
Refer back to the problem-solving statement created in earlier training
Why are you an expert

Example: Making for 10 years, florist for 30 years, making since for my home for 5 years, worked with color theory and flowers for X years, grew my Youtube channel to over 100K in 1 year, etc…
Teaser

Why does the viewer need to stick around?
What will the viewer be learning from you?
ENGAGEMENT
Address the audience

Address people by name, people love hearing their name
Do not feel you need to address everyone but do address some so that they know it's a live video

Ask questions

Get people to talk back to you by asking them questions:

What's the weather like?
Do you put a spring (summer, holiday, fall, etc.) wreath on your door?
How long have you been making wreaths?
Who's a beginner maker?
Who's an avid flower lover?
Think of questions to get to know them so that you can start to know who your audience is (do you have grandkids or kids, do you own a home or rent, what's your favorite magazine, etc.

Ask for a Follow/Subscribe

"Hey if you like this information, make sure to follow my page so you'll get notifications from Facebook when I'm live again."Ask for a Share
Multiple times throughout your broadcast ask your audience to share the video to help spread the word about your small business
Make a big deal when you see someone who has shared.

I call them my "fan for the day" prompting more shares.

Tell the viewers to share the video by clicking the share button on the bottom left of their screen
CALL TO ACTION
A call to action can consist of a purchase, an email opt-in, blog post visit, etc.

Where can your audience buy from you or find more information? Mention your Etsy shop or Website several times throughout the broadcast.. DO NOT WAIT FOR THEM TO ASK! You must tell them to take action and how.

Be aware of the audience your gathering with your lives vs what you're trying to sell
Don't make something if you're not a teacher!

If you're a maker only, educate them on your product without teaching them exactly how to duplicate it.

Examples: Unboxing your supplies. Make sure to talk about the quality of the supplies and materials used to make products and how it will produce a quality product once you've completed your project.
Show off and 'sell' verbally 2 -3 items in your shop. Make sure to tap into the buyers emotions, discuss the details using the senses since a buyer can't feel, smell or see in person the product.
Do a live showing how to add the finishing touches to the product.
How to unbox your products, how to fluff, how to store, how to dust it, wash it, care for it, etc. All can be different FB lives.
Discuss your color selection process for an item.
Discuss the inspiration for one of your pieces or a focal point of your product.
Discuss the trends in your niche and educate your buyers on them. You must get to where you are an expert in your industry. You might not feel like an expert because you see others out there who have been doing it for longer but you are an expert when it comes to the average buyer. You know a lot already so share that knowledge with your buyers.
Give examples and ways to display or use your products.
Go live giving a behind the scenes tour of your workshop.
Give instructions on how buyers can buy from you, especially custom orders.
Tell the story of how you got started in the industry or why you started a business.
Give examples on how to use your products during the holidays (Christmas, Easter, Thanksgiving, Valentines, etc.)
With each FB live, tap into a buyers emotions. People buy luxury items based on emotions not because they 'need' it in order to survive. If you don't know how a buyer will feel, ask your past customers or go back and read the reviews left. People generally will tell you how your products made them feel.
Show on lives how you prepare the bases or prepare your shop for beginning the production.
Have a virtual sale.
Take viewers with you while shopping for suppliesGo live while at your next craft fair. One live can be how you are setting up, how you displayed your items. Another live during the event reminding them to come visit you. Give them a coupon code to use during the craft fair and get a discount. Do another live after the event with a recap on the people you've met and the stories you heard. Let them know where they can still purchase from you.
A FB live answering FAQ you get all the time from your buyers.
Explain how you have overcome struggles in your life or your business. This is powerful because you will resonate with others who are also struggling and you will start to inspire people. This takes your business way beyond what you're selling but more life-changing.
A FB live celebrating business milestones or personal milestones. Every year we celebrate the anniversary of our business. Do a FB live and celebrate. Or if you have reached 100, 500 or 1000 sales, etc. Wishing your customers a happy holiday, happy Mothers Day or happy 4th, etc.
AFTER YOUR LIVE BROADCAST
OPTIMIZE VIDEO
Change the Title and Description
Add Tags
Add or change the thumbnail image
Trim video if necessary
DOWNLOAD VIDEO
Save Lives to reuse on YouTube, Blog, other social media sites

This is beneficial if you wake up one day your Facebook page is gone.
DISTRIBUTE VIDEO
E-mail it to your list by using a screenshot of the video as an image and hyperlink it to your Facebook page.
Share it on other social media

Create a Story or stories about your video with a link to watch the replay
Create another short 3 minutes FB live the next day sharing the biggest take away from the first live broadcast and share the link again.