How to Keep Engagement Up Over Summer
First, YOU have to be the one who starts the process. YOU need to keep the engagement up on your business before you expect customers or fans to also do the same.  So keep making and creating.  Keep making products, creating social media posts, keep telling your story, keep inspiring, keep giving great content.
Will engagement and sales be slower over the summer? Yes, but if you keep up the momentum even over the summer months the momentum will slow down instead of stop.
Note these tips are for social media fans, email list, customers and if you have a membership group.
Social Media
One of the most effective ways in building emotional connections with customers is to prove that they're dealing with an actual person and not just a nameless, faceless company.
When you have a new follower on IG or Twitter, you can send them a brief personalized message with an introduction and thank them for following you, where they can learn more about you (I.e., website or etsy shop), etc. Be short and sweet and not spamy.
1.Share behind the scenes with your audiences in the form of photos and videos.
2. Make shorter FB live videos throughout the day.
If you work a 9-5 job, each lunch outside and do a 10 min fb live answering 1 question you get all the time. Or checking in and tell them how you're doing.
Mix up your FB lives, some short and some long. Some in the morning and some in the evening. If you have even started FB lives yet, now is a great time to start.
3. Pose a Problem and Ask for Advice
People want to help by answering questions and solving problems. And when we ask questions others may also need help with, then they are grateful for finding the answer and you've won a fan!
Some ideas could include posts such as:
What would you do if……..
One of our followers has this question. Can you help?
Help! I need to make a decision and am looking for your feedback….
What advice would you offer to a person who is struggling with….
Now take the responses you've gotten and turn them into a blog post, facebook live video, youtube video, etc., giving you ideas for content.
4. Create a Poll or Survey
Create a poll on Facebook by clicking on the Create Poll from the drop down menu options. Next to your profile picture, enter the question you want to ask people. Next, enter the options for your poll. Add any photos you want to your poll options. Select the date you want your poll to end and hit post.
Some ideas:
What is your biggest challenge?
What products would you like to see us offer?
What style wreath do you prefer round or oval?
Teardrop or Wreath for your front door?
Chocolate or vanilla?
What strategy has worked best for you when it comes to ________?
What are your favorite tools or products to help with _________?
5. Hold a virtual lunch party or an online sale on Facebook
You can offer supplies to your followers so that they can create a project with you during an online party or class. I've seen them done through Facebook events but you could also hold one on your own blog or through video such as Facebook live or Youtube live.
6. Follow Friday
Give your followers the opportunity to share a link to their website, group or Facebook page; not only do they get the chance to showcase their business or products, but they can meet new people and make new connections.
This is also a great strategy for getting interactions on your post…which means an increase in Newsfeed visibility!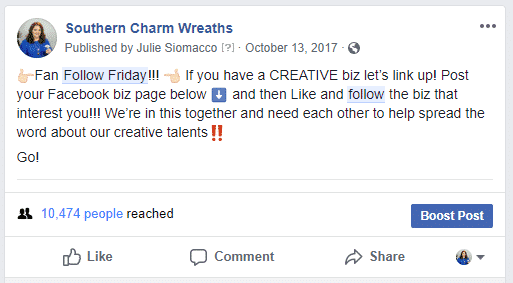 7. Fill in the Blank
I'm not exactly sure what it is about filling in the blank posts, but people just love them!  You can rephrase just about any question as a fill in the blank, and they often receive more engagement than basic questions.
Some examples I've seen recently include:
"I'm so close to succeeding…if only I could just ________________"
"The biggest thing holding me back right now is _______________"
"Happiness is ______________"
"If I were granted three wishes today, I would wish for ____________"
Test this out for yourself!
For a more fill in the blank question, refer to our 200 Facebook Conversation Starters.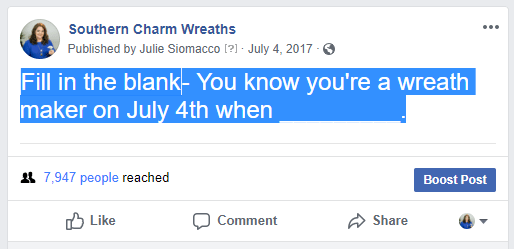 Email
Create a new email opt in. My goal is to have 10 total ways for people to join my mailing list. My goal this summer is to make 2 new ones. This is a great way to keep your engagement up.
Remember, opt in offers need to be so good that you really feel like you should charge for it. Most people make the mistakes of trying to create information products to sell but they don't have an email list yet.
Hold a Contest
Who doesn't enjoy getting free stuff? We all do. Take advantage of that and hold a contest for your customers. Not only will you grab their attention, you'll also engage them by rewarding them for their participation.
For example:
• Show us your ugly… or Show us your pretty… contests
• Ask customers to share creative photos and tag your business and the chosen winner receives a product or free one-year membership to your service.
• Hosting a voting contest or photo tagging contest where customers tag as many of their contacts as possible.
• Naming Contest to name a new product.
• Ask customers to take pictures of themselves using your products
• Have people guess the number of items in a jar (items should be relevant to your biz like floral picks, flowers, notions, paint brushes, etc.)
• Seasonal contests like best patriotic decorated door contest.
Make sure to follow the guidelines on the social media platform you use for the contest. It's best to hold the contest on a 3rd party app or even your website and send people there to opt in and join in.
Apps to use to help with contests:
22Social
Heyo
ShortStack
Woobox
ViralSweep
Gleam
KingSumo
Advertise your contest on bog posts, newsletters, social media posts, flyers for brick and mortar or craft booths, etc.
Partner with other businesses to make the value of the prize more appealing.
Before you launch a contest:
• Think the contest through step by step. What happens when someone enters? How will winners be notified? When does contest end?
• Post the official rules, terms and conditions on your website. Include void where prohibited and decisions are final to avoid issues.
• If stakes are very high with large ticket items, have a lawyer review your rules, terms and conditions.
• Can you give a prize to everyone who plays along? Maybe 10% off coupon code to your online store.
Make Your Customers a Part of the Team
We all like to feel like we're part of a team and your customers are no exceptions. If you notice a customer has launched a new charity or released a product of their own, don't hesitate to promote them on your social media accounts. Or, you could keep it simple and just highlight a loyal customer each month.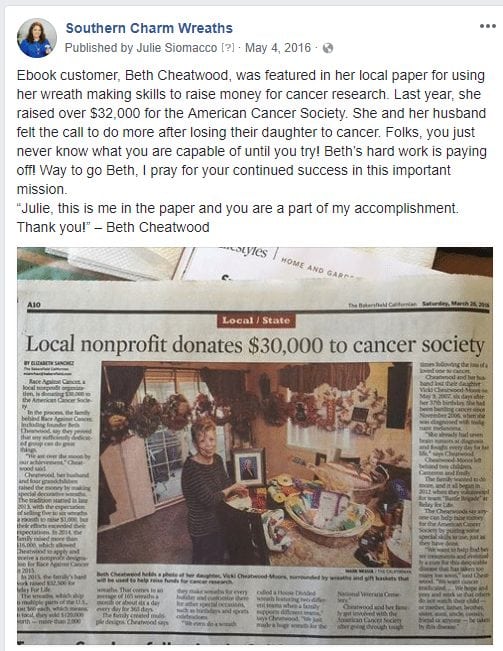 Coupons and offers
Provide customers with exclusive content such as discount or shipping codes.
Create a Product Tour
Product tours are one the best ways for your customers to learn everything there is about your product or service. Not only is this an effective way for you to reach out to your customers, product tours are also a great way to engage them. You can record a product tour and place it onto your website and YouTube account. Animoto is a great company that makes it easy to turn your photos and video clips into a professional video to showcase your products.
Host An Event
Whether it's hosting a webinar or hosting a local meetup, meet and greet or industry wide event, hosting an event either offline or online is a great way for your customers to learn from their peers or feel like they're part of an exclusive community.
Even if you don't host your own event, look for local networking opportunities at various conferences. You could also set-up a booth at a trade show in your industry so that you can mingle and engage with your customers face-to-face.
Platforms like Eventbrite provide an easy, effective, and low-cost way to get the word out about an upcoming event that you are planning on hosting, including linking it to numerous social media networks for further publicity.
Tell Stories
Stories have a way of cutting through the noise and making an impact on people. They also have a way of getting seen in the Newsfeed for social media!
With so many businesses flooding social media and emails with boring, promotional content, stories related to your life, family or business are sure to be appreciated.
Some ideas for stories you can share include:
How and why you got started in your business
How a certain product helped you overcome a problem
Personal anecdotes to increase your "know, like, trust" factor
Get Personal
We, as small business owners, have an advantage over big brands because we can get really personal. Don't be afraid to post a personal photo or story from time to time to differentiate yourself from your competition.
Some ideas to show your personal side could include:
A photo from a recent holiday or vacation,
A funny story about your kids or pet (tons of passionate pet owners out there waiting to chime in),
A strange/embarrassing/interesting encounter you had,
Seasonal photos or videos.
Personally, I rarely post on my FB profile anymore. In my opinion, if it's worth sharing to my friends and family on Facebook then it's perfect for sharing with my business fans and customers.
You can include your personal stories in social media posts as well as email.
A Challenge
The summer months would be a great way to launch a challenge. As we discussed in a previous training on how to produce a challenge, it can be a great way to grow your email list, get members of a membership group or Facebook group engaged, which helps them feel less alone.
Post a simple challenge – something strategic they can do to work through a problem, overcome a hurdle, step towards something positive.
Some ideas could be but would work better if they are tailored to your niche:
5 days to a holiday decorated door
10 days to a better Etsy shop
7 days to a more organized house: Post one tip a day
5 days to tighter abs: Post a daily video sharing your best core exercises
These are the ways I plan to keep up the engagement with my business, my fans, my email list and customers throughout the summer months. NOW…which one of these will you commit to doing throughout the summer months? Is it one, or is it multiple ways? Once you decide, your homework is to post it here in our group what you commit to doing before the end of the summer.
What other engagement tips do you have?