Why is shipping so expensive?
Shipping is one of the first challenges of a new Etsy shop owner. Many get frustrated and either quit or don't start selling online because they can't figure out shipping. Let me show you how I manage shipping with my wreath business.
How are shipping rates determined?
First, understand that shipping is expensive as many people have to touch your package in the process. It's carried on trucks, planes, vans and the carriers need to pay for their employees and expenses to carry your package.

Factor in that more and more people are shipping than ever before and there is limited space on these carriers. Supply and demand, the less space, the more it will cost.

Also, the price includes the weight, dimensions, value, and destination of the package. Bulky packages that take up a lot of room in their trucks will always be more expensive to ship.

One large factor in shipping cost is how fast will the package get to its destination? If you live in a rural area or your customer lives in a rural area, it could mean more in shipping. If you live on the East coast and are shipping to the West coast, more in shipping.

Dimensional Weight – dimensional weight is the package size and not the physical weight of your package.
Dimensional Weight Calculation is the cubic size of the package.
If the Length x width x height is greater than 1,728 inches (1 cubic foot) then you'll have to divide that package by the carriers dim weight divisor. You will pay the greater of the dim weight or the actual scale weight.
UPS and Fedex use 139 as their divisor and it applies to all packages
USPS uses 166 as their divisor and it applies to Priority Mail and non-lightweight parcel select
As you can see in the attached image using the smallest box for your shipment as possible will be your best cost saving measure.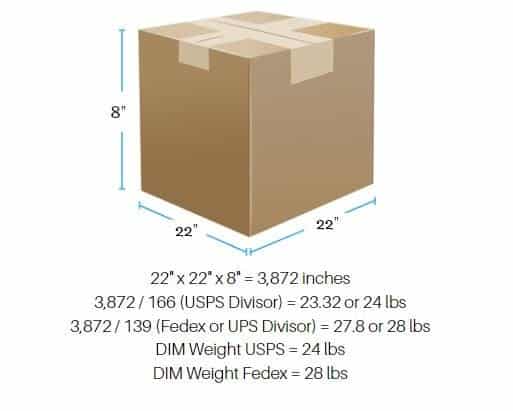 Other cost factors:
Shipping insurance and declared value – protecting your shipping package while in transit is a must. Some carriers offer $100 insurance in their pricing, you can choose to insure the package for the full value price or the minimum $100.

Delivery Surcharges – some companies will tack on delivery surcharges for your packages if they're going to an area that is less accessible or remote within the United States. These areas are based on their zip codes.
Shipping Supplies
Boxes

Packaging Tape

Pipe cleaners if you need to secure item into box

Bubble wrap if you need to protect fragile items or fill empty space

Regular Printer & Paper to print a label
I keep three box sizes in stock for wreaths:
20x20x10

24x24x12 multi depth

18x18x5
Make sure you purchase SHIPPING boxes. There are many varieties. Making sure your boxes are at least 200# tested and 32 ECT. This means that your box can withstand 200 lbs. per square inch of side wall pressure before bursting. 32 ECT (edge crush test) means that your box can withstand up to 32 lbs. of stacking weight before crushing.
Where to buy boxes:
Staples

Walmart

Home Depot

Amazon

A Corrugated Manufacturer Near You

Uline (only if ship a lot)
To cut your boxes down, I recommend this box resizer: https://amzn.to/2DDN54J
In this video, learn how I use the box resizer tool and secure the wreath to my box: https://southerncharmwreaths.com/how-to-box-a-wreath-for-shipping/
In the video below, I explain why you want to set up business accounts for your Etsy shop or small business but in a nutshell, you get discounts on shipping and can negotiate rates.
How to set up Fedex Business Account
Where it says "I ship a few times a year" click on Open Account

Fill out the form for your Business, click next

Fill in the credit card information, click next

You now have a Fedex Business Account

Write down Account Number and Password and SAVE
How to set up UPS Business Account
Fill in the questions to set up your account ID, click next

Fill in the questions to set up your account, click next

Select what you'll be shipping – I selected "other" and put in wreaths, click next

Choose your pick up type – you can request a weekday driver pickup. I would select "not right now" or "automatically when I create a shipment online with UPS smart pickup". This will allow you to buy shipping through UPS and get pick up at your location without going drop boxes off. If you select for the to do "pick up" it's going to ask for a date on the next screen of when you'd like them to start monitoring for pick ups, click next

Fill in the questions to set up your payment account, click save

You should now see a welcome to UPS My Choice for Business and you now have a UPS Business Account

Write down your USER ID, Account Number, and Discount Details if listed.

Check your email for an email from UPS asking you to verify your account e-mail address
Create a Shipstation account using my affiliate link: https://mbsy.co/3cn2Gv
Make sure to link in your Etsy shop and your newly created UPS and Fedex Business Accounts.
You'll also want to create a new stamps.com account (as long as you're a shipstation customer, the $17 fee is paid by shipstation). If you cancel shipstation, don't forget you'll need to cancel your stamps.com account too.

Set your shipping from address
Here's how to calculate flat rate shipping, use shipstation to print a label and add shipping profiles to Etsy:
Estimated Flat Rate shipping Google Doc. Once you click the link Make a Copy to use on your google account: https://docs.google.com/spreadsheets/d/1ImBg_cGlBR5aD-VrCna304Ih88-JojtHIXeW1HtgKxY/edit?usp=sharing
What to do if your customer says their package arrived damaged
If your shipment arrives damaged here's what you'll need to do!
Apologize to the customer & in the apology ask them to provide you with as many pictures of the damage as possible. Include every angle and side of the box. Let them know that you need that information to file the insurance claim

Refund or replace the item (follow your refund policy)

Contact your account rep at your carrier and file your claim
What to do if your package is stuck, hasn't moved or shows delivered, but isn't
This is does happen occasionally and with so many more businesses shipping, not uncommon. A customer service response:
Contact your sales rep at the carrier and ask for assistance on your missing package

Preemptively file a claim on the package (this tends to get the package moving)

Let the customer know that you have contacted the carrier and ask if they could give it a business day or two for follow up. (Follow up! If you tell them you're going to look into it and get back to them then you need to do that)

Depending on the feedback from the carrier, you may need to have your claim processed and to follow your refund policy with the customer
I know shipping can be scary, but don't let it stop you from starting your own Wreath Selling Business.