YouTube 2 Channel Branding
Brand Your Channel
Video Instructions on Branding your channel…
Your header on your channel is prime real estate. This is what your cover art could include:
How many videos you post per week and which day your audience can expect new content
A brief description of what kind of content your channel will offer
Your logo
Your profile picture or avatar should be a quality photo of yourself and it should be the same as the profile photo you use on all your other social platforms for brand consistency
Add Your Social Links & About Section
1. With your YouTube traffic you want to send them to some place where they can find more of what you offer or a site where you can get an email or purchase from you. For example, places to send your YouTube traffic could include:
Landing Page (Sales Page)
Leadpage (email opt-in page)
But remember, you're only able to link to your website after you meet YouTube's requirements of more than 4,000 hours of watch time, you have 1,000 subscribers, you get your website verified, and YouTube has approved you for monetization. If you don't meet these requirements yet, you can still use YouTube Cards and End Screens (more on this in the next module) to link to other playlists and videos on your channel, keeping viewers on your channel longer. You can post links to your external sites in the video description.
2. Add your social media links to your YouTube channel to help turn your YouTube traffic into followers on your other social media platforms. You have to be a YouTube Partner before you can use this feature.
To add your website and social links, click customize channel and then go to the top right-hand corner of your channel banner and click on the edit icon. You might need to click customize channel again so that you can edit links.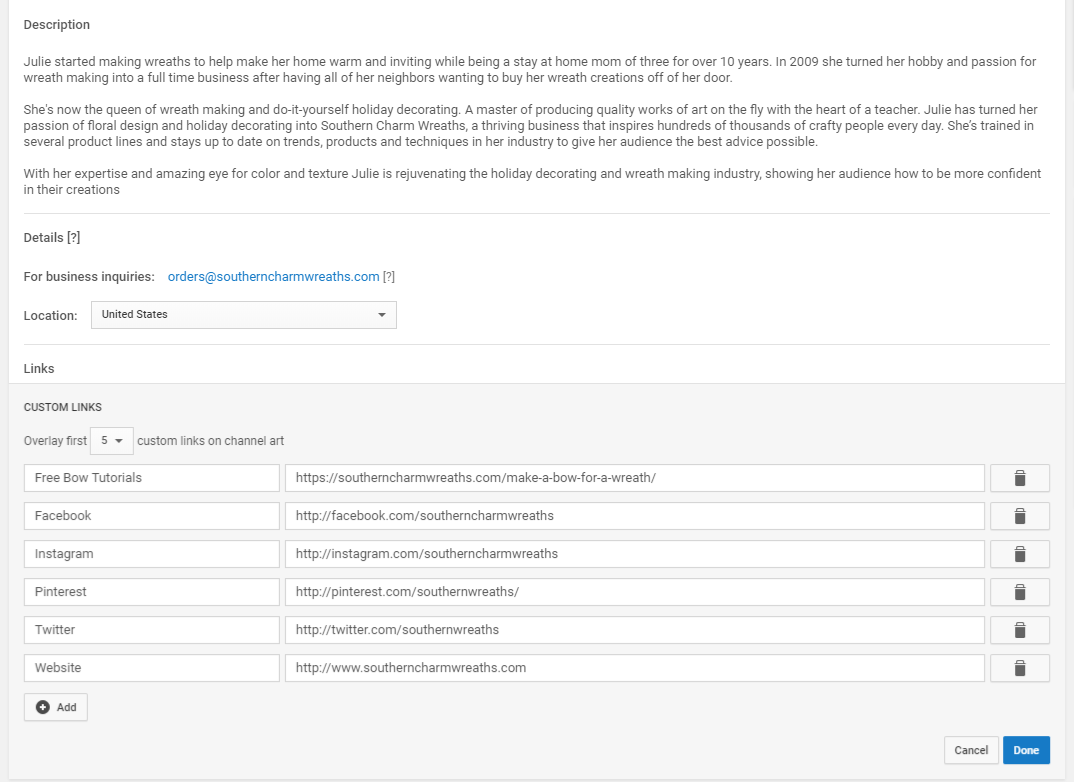 3. Add your about section. I suggest just copying and pasting what you already have on your Etsy shop or your Facebook About. This should be why you do what you do, what motivates you, what inspires your designs, what your vision and purpose is for your business.
Add Channel Keywords
To make your channel easier to find for your target audience include keywords. Make sure that the keywords you choose match the exact words that your target audience is searching for when they're looking for your content.
To add keywords to your channel, click the following:
creator studio >channel >advanced Add channel keywords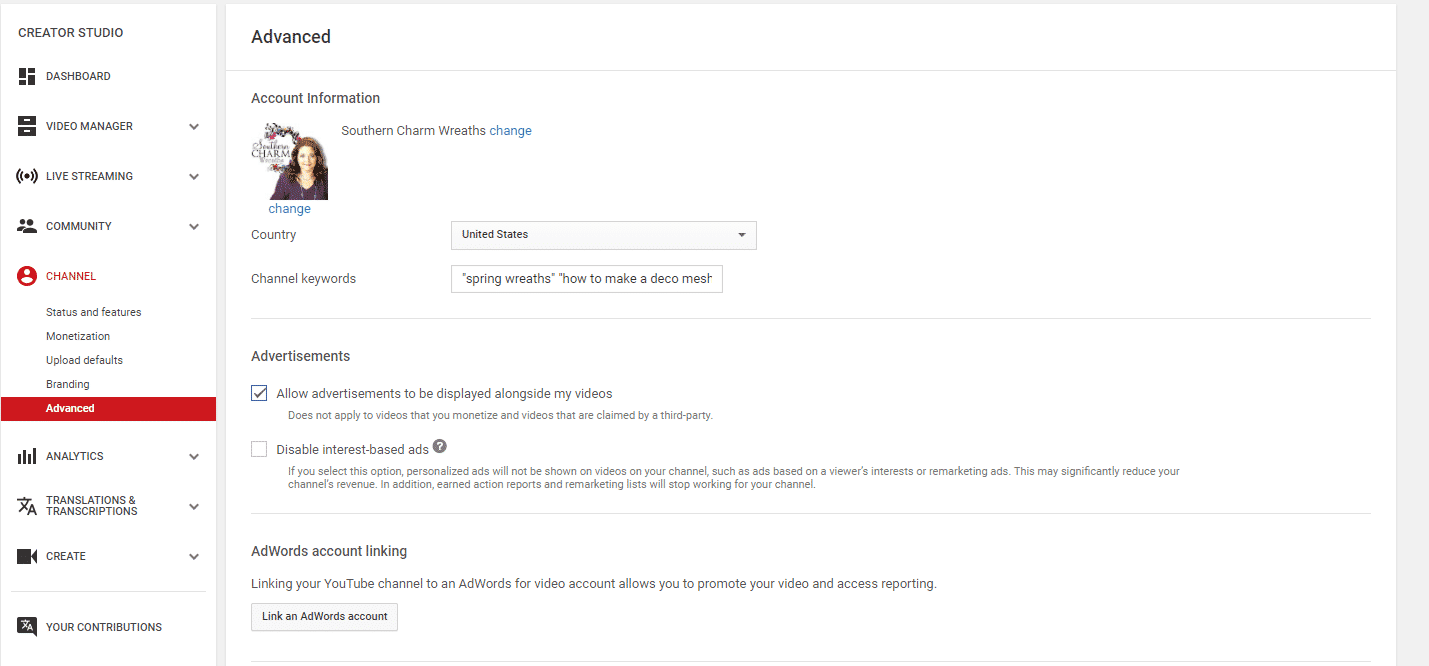 To find keywords, you can use the search feature in Youtube for commonly searched terms. For example, I used "wreath making" "wreath diy" "southern charm wreaths" and more. I'll show you other ways for finding keywords in the next part of the Youtube video trainings.
Watermark Your Videos
You can add a watermark or a subscribe button to all of your videos. Click the following: Creator Studio >Channel >Branding >Add a Watermark

Upload photo with transparent background and select entire video.
Channel Trailer
Your channel trailer is the best way to introduce yourself to a new visitor to your channel and will instantly tell them why they should subscribe! If you don't have a channel trailer already made, use one of your most popular videos as your channel trailer in the meantime to showcase your best work to potential new subscribers. Your script for your channel trailer could include:
a) Who you are
b) Why you're a credible source i.e. you're the founder of ______, you're an author, you're the creator of ________
c) How your content will benefit your viewers
d) A call-to-action to subscribe to your channel and also to go to your website for more information
Tip for helping to get more subscribers
Create a Subscription link:
This is something a lot of people don't know about! You want to use this link: https://www.youtube.com/channel/CHANNELID?sub_confirmation=1 when you share your YouTube channel on your other social platforms. This creates an automatic pop-up that makes people subscribe before they can watch your content on your channel. It's a great way to increase subscribers on your channel!
NOTE: In order to create a subscription link, you must have a custom URL which you can only secure when you have over 100 subscribers.
Create your Subscription Link by following these instructions: https://youtu.be/4bl1tHvcMjY
For example, here's mine, click it now and subscribe. https://www.youtube.com/channel/UCcUClJo6dZ6byAvWWZnFBFg?sub_confirmation=1
Go to next YouTube training Here