How to Make a Christmas Tool Box Centerpiece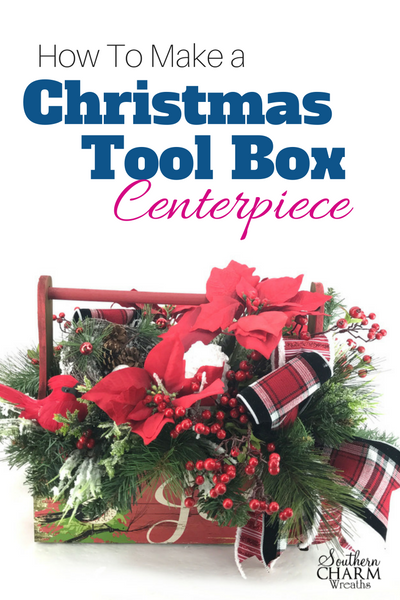 Today we're making a fun Christmas Tool Box Centerpiece! I've noticed similar ones on Pinterest and thought it was time I make my own. This is a great item to put on a coffee table, dining table, porch or entryway. This post contains some affiliate links for your convenience. Click here to read my full disclosure policy.
How to Make a Christmas Tool Box Centerpiece
In today's video, we're creating a Christmas Tool Box Centerpiece. You can use a tool box you already have on hand, purchase a new one from a craft store like Michael's or even go junking for a vintage or used one. I purchased one with a holiday theme but you could also get an unfinished one and finish it however you would like! OK, here's how to make your Christmas Tool Box Centerpiece:
Supplies needed
tool Box (I purchased mine at Michael's for $24.99 & used a coupon)
green styrofoam block
greenery picks (Sims Pottery, Carolina Pottery and Michaels)
assorted floral picks
frosted bird nest (Hobby Lobby)
cardinal (Carolina Pottery)
ribbon
moss
floral pins
glue sticks
awl
[Tweet "How to Make a Christmas Tool Box Centerpiece"]
How to Make a Christmas Tool Box Centerpiece:
Cut the foam to fit your tool box. Tip: I first laid the foam out next to the tool box and marked it with a marker to give me a guide for where to cut. I then cut the foam with an old steak knife (not one we use to cut food with!).
Make sure you have your tool box on a craft mat or other heat safe surface. Then add hot glue to the inside bottom of the tool box and place the foam piece inside. If there are gaps you can add some smaller pieces of foam to fill it.
Cut moss with scissors to fit across the top of the foam. It is ok if it overlaps the edge of the toolbox a little bit.
Attach the moss to the foam with floral pins. Tip: Do not hot glue the moss to the foam. This creates a barrier on the foam that prevents your floral picks from poking into it later.
Add greenery to the box over the moss. I used leftover garland I had on hand and cut a piece using my wire cutters to fit the box. You could purchase greenery picks if you would like instead. To adhere the garland to the foam, I cut wire to make my own floral pins because the floral pins I had weren't going down far enough into the foam.
Now is the time to play! Take out the different elements you are thinking of adding. For mine I used a frosted birds nest, pine cones, poinsettia picks, frosted greenery, and berries. Without gluing them at this point, play with the arrangement a bit to see where you like the various elements, moving them around until you get it just the way you want it.
Once you have your elements where you want them, hot glue the stems/picks and push them into the foam. Tip: For items like the birds nest that do not have a pick or stem, make your own by attaching a wood floral pick. You can also use an awl to make a hole in the foam for you.
If any of the picks are showing, simply hot glue a bit of the moss to cover them.
Continue adding elements until your tool box is full and you are happy with it.
Next up – bow time! I made a simple bow with two loops and attached it into the foam with a floral pick – one bow for the front and one for the back. You could also attach your bow to the handle of the tool box.
Lastly, I added a cardinal next to the nest. The cardinal I have has a clip on it so I simply clipped it to the greenery. If yours does not have a clip, you can add a wood floral pick and poke it into the foam. Ta-da!
Alright, here we go to the video….
I would love it if you would comment below and tell me if you like this project so that I know to keep making more tutorials like this. Don't forget to share this with your friends!
Also, don't forget about my new membership club – the Wreath Making of the Month club! For more information, click here. I hope you will join me for this new exciting adventure where I teach you to make a new wreath once a month online from the comfort of your home!
Join my mailing list and/or follow me on Facebook where I'm LIVE most Thursdays if you want to join in on the conversation  www.facebook.com/southerncharmwreaths.
Happy Wreathing,
Julie

If you enjoyed this post, you might also like:
How to Make a Christmas Picture Frame Wreath
Top 10 Gift Ideas for Crafters and Creators
How to Make a Festive Christmas Santa Hat Centerpiece
Save
Save