2017 Christmas Decor Trends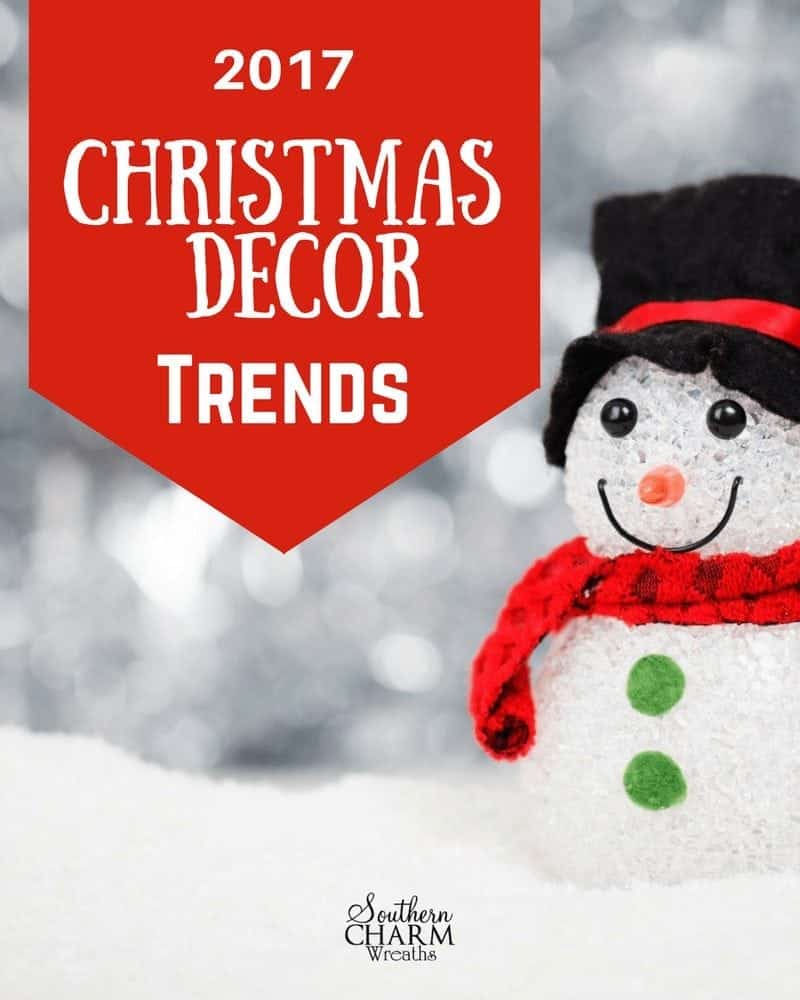 I know what you're thinking, Christmas already?!? If you're a crafter/maker, now is the ideal time to take advantage of the sales and stock up for next holiday season! However, that doesn't mean you should just go out and buy all the leftovers. The stores and designers have already predicted the trends for 2017 so let's use that information to make informed buying decisions now! Note: This post contains some affiliate links for your convenience.Click here to read my full disclosure policy.
Many trends or themes continue over multiple years but change slightly from one year to the next. You'll definitely see that with the 2017 trends. I don't think any of the trends for next year will shock you! There continues to be an emphasis on more relaxed and fun styles versus formal and an increased use of colors you wouldn't normally consider "Christmas colors".
I've put together a summary of the trends expected for Christmas 2017 based on Florist Review's forecast, along with some of my favorite items in each category.  These themes are to be used as an inspiration for your home decor or wreaths if you make them.  Also, be sure to continue reading on below where I share some additional tips!
2017 Christmas Decor Trends
Farmhouse – simple, country living will continue to be a huge seller. Popular elements include galvanized metals, distressed wood, cotton, grapevine, rustic & textured fabrics, farm animals and vintage or vintage-inspired items. Colors – red, green, white, ivory and brown.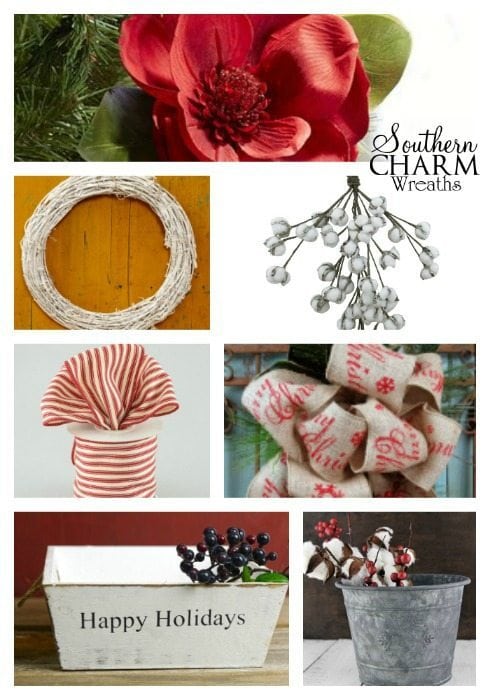 Resources: Happy Holiday Wood Square Box – Save On Crafts, Snowflake Metal Bucket – Save On Crafts, Merry Christmas Wired Ribbon – Save On Crafts,  White Natural Twig Wreath – Save On Crafts, Red & Cream Ticking Stripe Ribbon – Craft Outlet, Blooming Holiday Cotton Teardrop – Jo-Ann, Red Faux Magnolia Clip Ornament – Pier 1
[Tweet "Farmhouse is expected to still be a popular 2017 Christmas trend! "]
Crystals – while you can find snow and icy crystals every year, 2017 will bring new emphasis beyond clear and frosty and will move to icy blues, blue-greens and greens. Icicles, snowflakes and snowy white animals. White bark, flocked trees and greenery, and Santas dressed in fur are just a few of the things you will see in this theme. Colors – glossy white, robins egg blue, silver, and prairie green.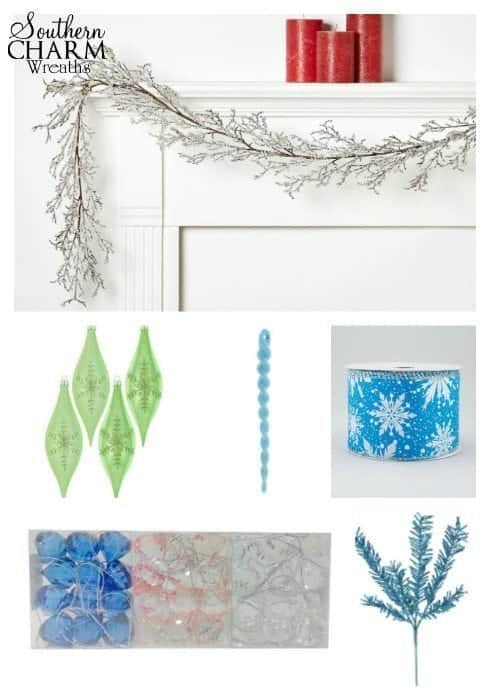 Resources: Green Snowflake Finial Ornaments – Hobby Lobby, Blue Glitter Twisted Icicle Ornaments – Hobby Lobby, Ice Blue Glittered Snowflake Ribbon – Craft Outlet, Iced Branches Garland – Jo-ann, Iced Hanging Teardrop – Jo-ann, Winter Crystal Gem Ornaments – Target, Sparkling Blue Rosemary Glitter Floral Christmas Pick – Michaels
Snowbirds – the bird trend continues! Featuring cardinals, this trend also includes birds like chickadees, berries, snowy trees, branches and nests. White-washed wood and tree bark are also great elements in this theme. This is a great theme because many of the items can be left all winter, not just for Christmas. Colors – multiple shades of red, hunter green, flat white and wood tones.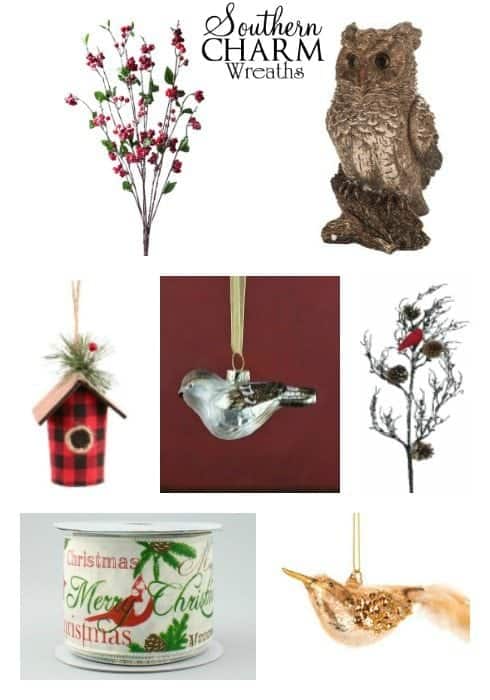 Resources: Brown Glass Bird Ornament – Hobby Lobby, Glitter Owl Figurine – Hobby Lobby, Glass Sparrow Ornament – Save On Crafts, Merry Christmas Cardinal Ribbon – Craft Outlet, Blooming Holiday Berry Bush – Jo-ann, Blooming Holiday Cardinal & Snow Spray – Jo-ann, Birdhouse Christmas Ornament – Target
Woodland Lodge – this theme can be found most years but in 2017 there is a new interpretation that is more rustic and relaxed, less glitz. Woodland creatures, weathered and antique accessories and textured fabrics are featured elements. Colors – ivory, almond, various wood tones, gray flannel, and dark chocolate.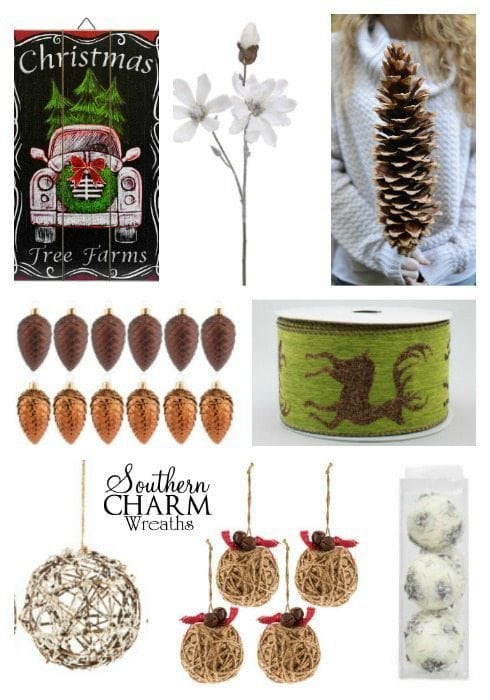 Resources: Flocked Twig Ball Ornaments – Hobby Lobby, Brown Pinecone Ornaments – Hobby Lobby, Jute Ball Ornaments with Bells and Bow – Hobby Lobby, Birch Balls – Jo-ann, Giant Sugar Pine Cones – Save On Crafts, Canvas Deer Ribbon – Craft Outlet, Snowed Magnolia Stem – Michaels, Pinecone Lodge Christmas Truck Sign – Michaels
Metallics – copper, rose gold and champagne gold will continue into 2017 but will be joined by the latest trend, oxidized (tarnished) silver! The oxidized silver is a perfect accent when going for a vintage look. Colors – silver, platinum and black chrome.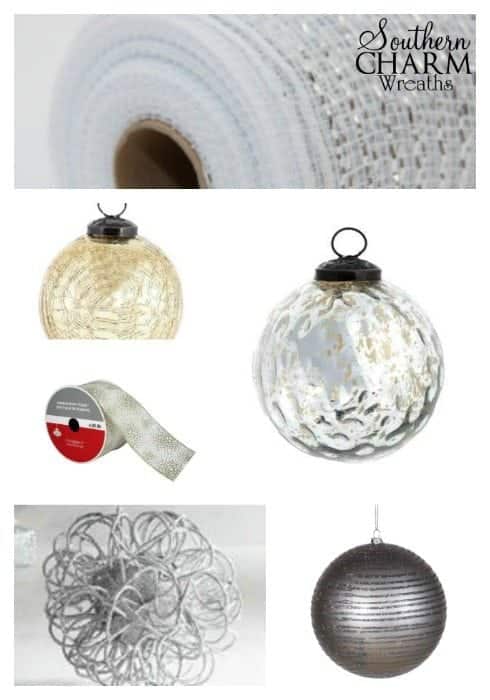 Resources: Antique Silver Glass Hammered Sphere – Hobby Lobby, Champagne Shiny Crackle Sphere – Hobby Lobby, Metallic White/Silver Deco Mesh – Trendy Tree, Silver Crazy Wire Sphere – Pier 1, Pewter Glitter Striped Shatterproof Ornament – Michaels, Champagne Glitter Christmas Ribbon – Michaels
Snowmen – of course these guys never go out of style! In 2017, look for snowmen to be very playful and in a variety of colors and doing fun things outdoors (skating, sledding, etc.). We're starting to see them in a variety of shapes and used in unexpected ways.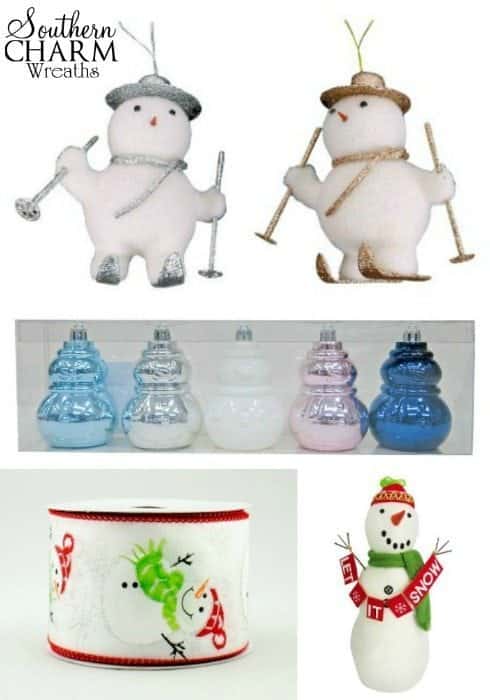 Resources: Frosty the Snowman Ribbon – Craft Outlet, Camp Christmas Snowman – Target, Glitter Ski Snowman Ornament – Target, 5 Ct Blue Silver Copper Snowman Ornament Set – Target
Santa – we saved the best for last! The Santas of 2017 give a nod to the Santas of the past. Vintage and vintage-looking Santas will be a big trend – think about the old Father Christmas or St. Nicholas types. Vintage-looking sleighs are also a great add to this theme.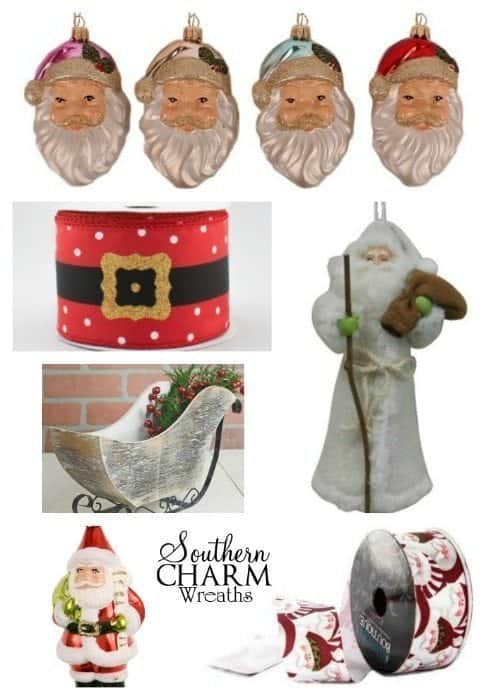 Resources: Santa Belt Ribbon – Craft Outlet, Shiny Santa Christmas Ornament – Target, Molded Santa Head Christmas Ornament – Target, Ivory Fabric Santa Ornament – Target, Wood & Metal Santa Sleigh – Save On Crafts, Red & White Santa Head Ribbon – Hobby Lobby
[Tweet "Christmas Trend 2017 Alert – Vintage Santas. Make sure to incorporate these in your 2017 creations."]

*Remember, item availability changes by the day (or minute!). Items were available at the time of this post.
Additional Tips:
Don't forget about thrift shops! This time of year, many people are cleaning out their closets and donating items including holiday decorations. Vintage decor and new in the box items can often be found!
Look online and in stores. When researching items for this post, I found many items online that weren't available in my local store.
Use items in new ways. Don't dismiss an item just because it isn't "normally" used in a wreath. You can add wooden picks to items or wire to help them attach. Many possibilities!
Other themes that continue to be popular include candy/peppermint, fairies, bright colors & metallics, vintage camping/auto (trucks with Christmas tree on top, vintage camper), equestrian and western.
Fur and feathers continue to be popular as well as items that can be used the entire winter, not just Christmas.
Black is starting to ease it's way into the holiday season. Black accents or black and white with an accent of color will be on trend in 2017.
What are your favorite holiday themes and places to shop for good deals after the holidays? Comment below, I would love to hear from you!
If you enjoyed this list of 2017 Christmas Trends and want to stay up to date on how to use them to make wreaths, join me in my Wreath Making of the Month Club where I teach you how to make a new trendy wreath each month from the comfort of your home.
Happy Shopping,
Julie
If you enjoyed this post, you might also like:
How to Make Faux Sugared Fruit
Christmas Gift Wrapping with Silk Flower Scraps