Step by Step Deco Mesh Christmas Wreath Tutorial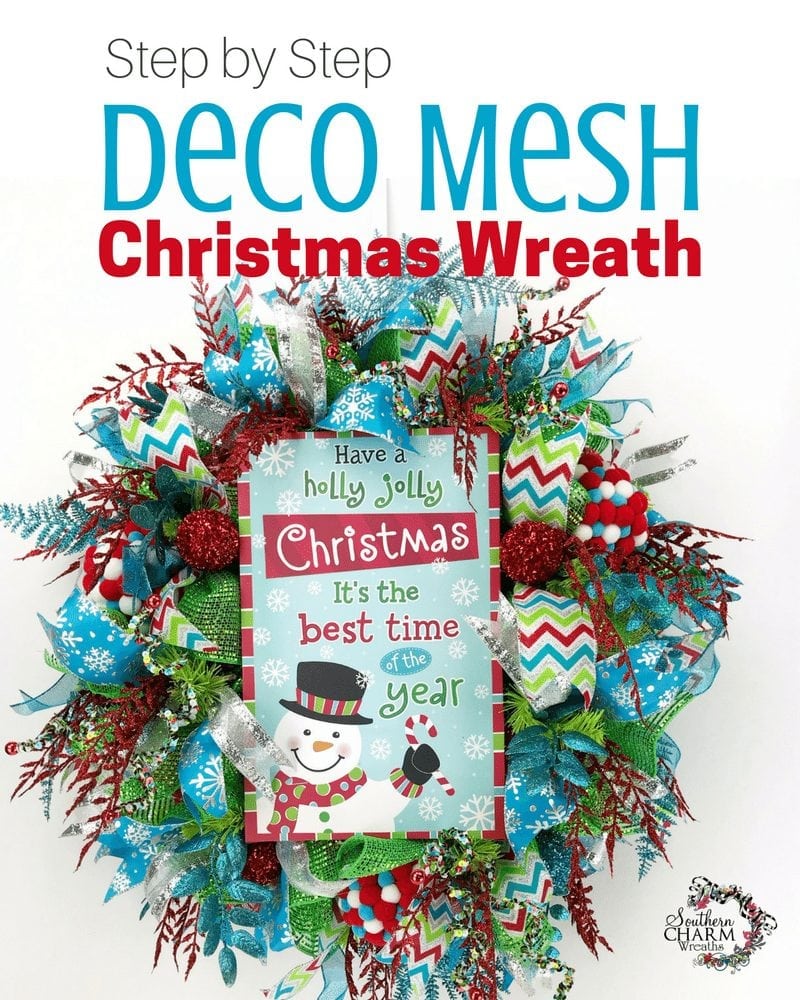 Today in the wreath shop we're getting ready for the holidays with a Step by Step Deco Mesh Christmas Wreath Tutorial.  This post contains affiliate links for your convenience. If you click a link and make a purchase, I could earn a few pennies in commission. Click here to read my full disclosure policy.
Step by Step Deco Mesh Christmas Wreath Tutorial
In this video, I'm sharing how to make a Deco Mesh Christmas Wreath. This is the perfect project for beginners. I will show you, in detail, what you need to do for the perfect wreath below. Let's get started:
Supplies
[Tweet "Step by Step Deco Mesh Christmas Wreath Tutorial!"]
Step by Step Deco Mesh Christmas Wreath Tutorial:
The Deco Mesh work wreath form comes with the ties on it already! How easy! Start by measuring out 4 inches of the deco mesh and attach it using one set of the ties on the inner ring of the wreath form. Note: Do not cut the mesh. You are going to continue measuring and attaching as you go around.
Next, measure out 10 inches and attach to next set of wreath ties on the inner ring. Do not pull tight, you want to gather it at each set of ties so you have a bit of a puff of the mesh.
Continue measuring out 10 inches and attaching all the way around.
When you finish going all the way around the inner ring, cut off the remaining mesh. Note: For my wreath, I used one roll of Deco Mesh for this inner circle.
Next, do the same process for the ties in the outer ring. Cut off any excess mesh.
To prep for the next step, cut sections of the 10 inch Deco Mesh. I used green metallic mesh for this wreath. Using scissors or a rotary cutter, cut 10″ sections of the mesh.
You'll also need 9 strips of each ribbon, 14 inches long each. I used ribbons that were 1.5 inches wide and 2.5 inches wide (9 strips of each).
Layer one piece of the 10 inch Deco Mesh and a strip of two ribbons. Gather them in the center and attach to each set of wreath ties. Continue until you have attached a bundle to each set of ties. Once the bundle is attached, arrange ribbon pieces in an "x" shape. Note: I use a Bowdabra to hold the bundles while I work. I also alternated ribbons so the ribbons were not the same in every bundle.
To prepare your sign, staple two pipe cleaners to the back for easy attachment. Note: I like to add a bit of hot glue over the staples to ensure it stays. Set sign aside.
Now attach the sign to the center of your wreath using the pipe cleaners you attached. Attach it to the wreath frame and trim off excess pipe cleaner stems on the back of the wreath.
Work through your wreath ensuring everything is fluffed up and the ribbons are arranged the way you like.
To add the pompom ornament balls to your wreath, use an awl to make a hole through the middle of each ornament. Then push a pipe cleaner through the hole and attach to the wreath using the pipe cleaner.
For even more dimension, add assorted Christmas picks throughout the wreath. I used blue & red metallic leaves, silver metallic sprigs and red, blue & green metallic balls.
Now step back and admire your creation!
Step by Step Deco Mesh Christmas Wreath Tutorial Video…
So what do you think, are you ready to try your first Deco Mesh wreath? I promise, if you can open and close a twist tie you can do this!
Let me know if you enjoyed this and don't forget to join me on Facebook so you can watch me Live!
If you enjoy watching me and/or learning to make wreaths of various styles, join me in my Wreath Making of the Month Club, learn more here.
Pin this project to refer back to it later.
Happy Wreathing,
Julie
If you enjoyed this post, you might also like:
2017 Christmas Decor Trends
How to Make a Funky Bow – Christmas Edition
How To Make Deco Mesh Snowman Wreath