DIY Angel Wings Flower Swag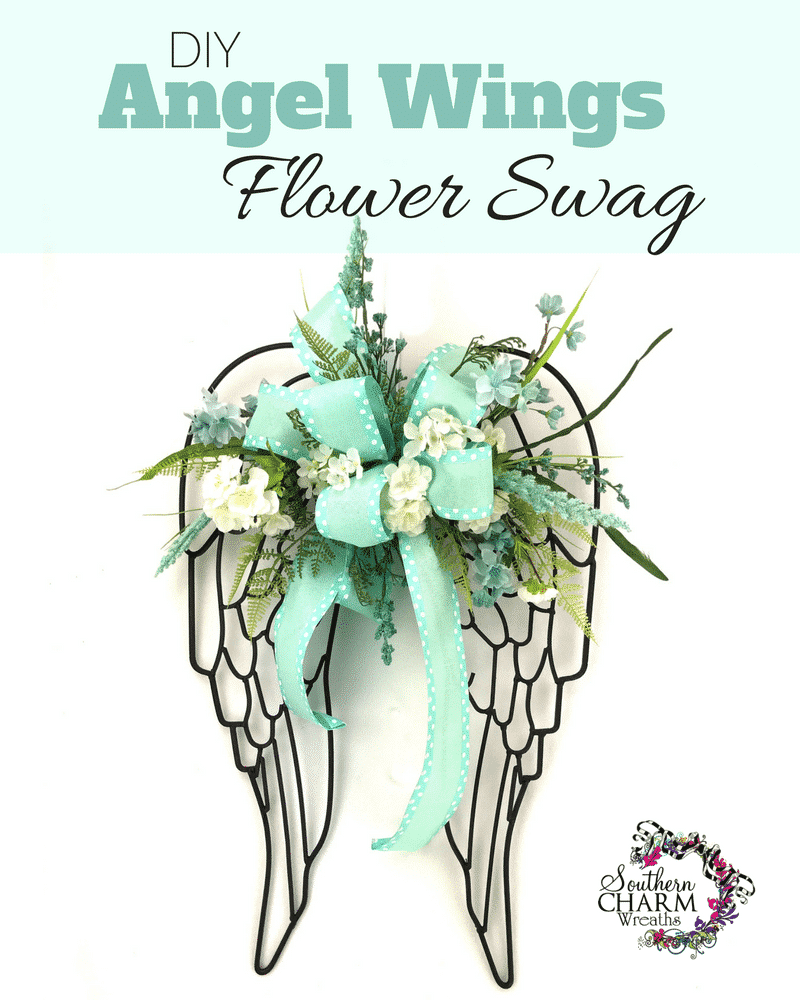 Today I'm sharing how to enhance a simple pair of metal angel wings using silk flowers and ribbon. This is such a great simple project and would make a fantastic gift. This post contains some affiliate links for your convenience. Click here to read my full disclosure policy.
DIY Angel Wings Flower Swag
In this video, we're decorating metal angel wings with a flower swag. I left the angel wings black but these could easily be painted the color of your choice. Wouldn't they be pretty white or in a metallic silver or gold finish? I recommend Krylon spray paint for metal if you'd like to paint them. Here's how to make it:
Supplies
Ribbon (Carolina Pottery)

Assorted flowers & greenery of your choice (I used leftover flowers from other projects)

Zip ties
Floral wire
Rustic wire
[Tweet "Enhance metal angel wings with this DIY Angel Wing Flower Swag video."]
How to Make a DIY Angel Wings Flower Swag:
If you're painting your angel wings, do that first and allow to dry.
Next, create a bow with your ribbon. Allow enough ribbon so you have a tail hanging down the length of one wing. For detailed bow making instructions, click here. Note: I usually do 12 inch loops but I felt that would be too large with these wings. I adjusted and made the loops 10 inches instead.
Once you've finished your bow, lay it on the angel wings to get an idea of placement. Do not attach it yet.
Start pulling flowers to get an idea of what you want to use. Make a small bundle for one side of the wings and once you have the flowers and greenery the way you like, zip tie the bundle together. Then work on the flowers for the other side and do the same. Note: It's important not to add so much to the wings that you can't tell what they are. As you are trying different looks, it's helpful to take a step back and look at it from another angle.
Lay the flowers out at the top of the wings – one bundle to the left and one to the right – and determine how much room in between you will need for the bow. You may need to trim stems or any flowers that are too low and might fall under the bow.
Attach your bow to the center of the flower bundles using wire.
I forgot to mention in the video, but at this step, you can trim your stems shorter.
Now you can attach the bow and flower bundles to the top of the wings using wire. Note: If the arrangement will be seen from the back, you can hot glue leaves or ribbon to the stems and zip tie before attaching to the wings to give a more polished look.
You can bend the flowers up towards the bow a little to separate them in your bundles.
Next, hot glue pieces of greenery and/or flowers inside the bow loops to give it a finished look.
Lastly, attach a piece of rustic wire to the back of the wings to use as a hanger.
How to Make a DIY Angel Wings Flower Swag video…
I attached mine on the wall in between two windows of my office.  I just love how this project turned out don't you? Click here for instructions on how to make the no sew spring pillow seen in the photo.
I hope you enjoyed this DIY Angel Wings Flower Swag tutorial. Wouldn't this be a pretty wedding decoration on the church door? You could also hang it above your mantel or on a mirror. This would also make a beautiful sympathy piece.  Where would you put yours? What colors would you choose?
Let me know if you enjoyed this and don't forget to join me on Facebook Live, Thursdays 7:30PM EST.
If you enjoy watching me and/or learning to make wreaths of various styles, you should consider joining my Wreath Making of the Month Club, learn more here.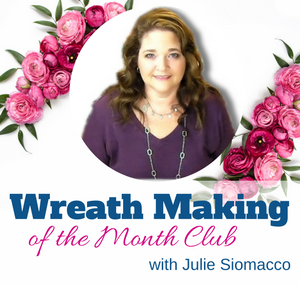 Happy Wreathing,
Julie
If you enjoyed this post, you might also like:
Let's Make a Farmhouse Tire Spring Wreath
DIY No Sew Pillow Cover Tutorial