DIY Chalkboard Sign Wreath for Summer
I have such a fun project for you today using a summer flowers in this DIY Chalkboard Sign Wreath tutorial.  I found the sign at my local Hobby Lobby and thought, this would make such a cute wreath!  This is another project that can be customized for any time of year or occasion by using different colored flowers and ribbon. This post contains some affiliate links for your convenience. Click here to read my full disclosure policy.
DIY Chalkboard Sign Wreath for summer
In this latest video, we're decorating a round chalkboard with a wooden frame I found in Hobby Lobby. By simply adding silk flowers, greenery and a bow you can completely change the look and make this a show stopper! I left the wood frame of my chalkboard as is, but you could easily paint it first to match your home decor. Here's how to make it:
Supplies
Flower Bush (Hobby Lobby)
Chalk (Hobby Lobby)
Ribbon (Carolina Pottery)
Scissors
Staple gun
Staples
[Tweet "How to Make a Summer Flower Chalkboard Sign Wreath"]
DIY Chalkboard Sign Wreath for Summer:
Before beginning to put the wreath together, treat your chalkboard. Simply take a piece of chalk and use the side of the chalk to rub in the horizontal direction and then vertical all over. Then erase it. This prevents ghosting when you write on it for the first time.
Cut all of the flowers from the bush so you are left with individual stems. Tip: If you choose a flower bush, it makes it easier to ensure your flowers are coordinated. They've done the hard work for you!
Begin laying out your flowers to determine placement. For this wreath, I started at the bottom center and laid a flower stem at an angle so the flowers hit right at that center mark.
Starting with the first flower stem in the bottom center, staple the stems to the inside wood frame of the mirror. Tip: To make the flowers interchangeable, create the flower swag separate like I do my lantern swags and then wire it to a screw eye attached to the side of the sign.
Continue working around the frame, stapling the stems as you go. I started with the smaller flowers, then added in larger (like dahlias) and finally greenery. I swagged my flowers around one side of the chalkboard instead of going all the way around. This way you aren't hiding all of the chalkboard frame. Tip: Don't be afraid to remove greenery, bend flowers around, whatever you need to do to get them just the way you like!
Next, I added a yellow bow on the side. For this wreath, I made five 10 inch loops. For detailed bow making directions, click here. After making the bow, tie it off with wire and hot glue it into place. Note: I added the bow in an area that would cover up some of the stems I stapled.
After attaching your bow, add flowers to the side of the frame next to the bow to finish off that area and cover any exposed wires or glue.
Finally, add hot glue over staples and cover with leaves or greenery. This does two things for you – it helps the staples stay in place and it gives a beautiful finished look. You can also add leaves anywhere else you want to fill in around the chalkboard frame and in the bow.
Don't forget to write something on your chalkboard!
TIP: If you want to make a removable arrangement, attach a screw eye to the front side and wire a small lantern swag to the screw eye.
DIY Chalkboard Sign Wreath for Summer video…
I hope you loved this simple project as much as I did! One of the biggest tips I can give to those of you who are wanting to make unique pieces for your home or to sell, walk through the store and be open to anything that catches your eye! For example, check out another recent project where I added flowers to a pair of metal angel wings. Fun isn't it? If you see something you like, put it in your cart and walk over to the flower aisles and play around with it a bit and get some ideas. Don't be afraid! You never know if something will work unless you try.
Let me know if you enjoyed this and don't forget to join me on Facebook Live, Thursdays 7:30PM EST.
If you enjoy watching me and/or learning to make wreaths of various styles, you should consider joining my Wreath Making of the Month Club, learn more here.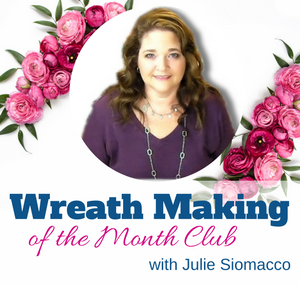 Happy Wreathing,
Julie
If you enjoyed this post, you might also like:
Amazing Farmhouse Decor Under $50
6 Huge Lessons Learned Growing My Creative Biz