How To Choose Elements For Wreath Making
Wreath making is a lot of fun, but there are dozens of decisions you need to make before you finish your piece. If you have ever wondered how to choose elements when you make wreaths, then this guide is for you! Finally, bust through the confusion and cart with confidence.
With all the choices out there, trying to pick out wreath elements can feel overwhelming. I had a chat with Greenery Market and discovered some tips and hacks that will make all of this so much easier. If you follow this advice, your confusion will clear away and you'll be making stronger decisions for beautiful wreaths.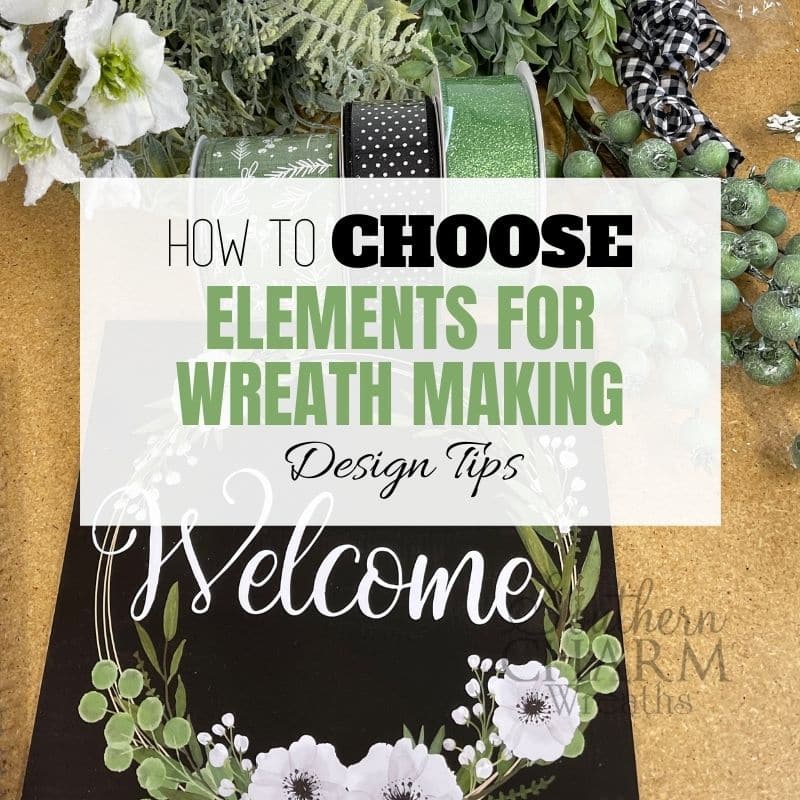 How To Choose Elements For Wreath Making: Essential Tips
If you are staring at a blank wreath form and don't know what to do, then this guide is just for you! That confused feeling is really common, and there is a process you can learn that will help you make confident decisions when you make your wreaths.
Who better to chat with for design tips than the people that supply them? Alaina from Greenery Market has a bunch of real-world advice about this very thing.

1. Choose A Main Thriller Piece
Start by picking out the one thing that will be the focus of the wreath. For me, this is usually a cute sign. Other ideas include ribbon or stunning florals. As long as it really commands attention, it qualifies as a thriller piece.
You will design around this one focal point.
2. Pick Out 3 Colors
Next, select three colors that you will use within your wreath. This can be a piece of ribbon in your stash. You don't have to stick to these three colors, but if you are a beginner maker it's always a good idea to start with three of them.
3. Use The Best Ribbons
After you have your colors you can pull out the ribbons for your wreath. I always use #40 ribbon which is 2 1/2-inch wired ribbon. I always use wired ribbon. I use one or two of those. Then, I use a #9 ribbon as an accent one (this is a 1 1/2-inch wired ribbon).
4. Add Some Focal Flowers
You don't always need flowers on a wreath, but if your sign has flowers on them (like mine did in this example) it's a good idea to pull that design element out.
Choose flowers that complement the focal sign that you are using. For example, if your sign has sunflowers on it, use some sunflowers on the wreath.
5. Choose Three Greenery Styles
I like to vary the textures on my wreaths, so I always try to choose types that have different feels on them. I also like to use my greenery to create a straight focal light around my wreath, so I will often pick out some fern leaves.
Then, look for some mixed greenery too. This will add depth and fullness to your wreath with very little effort.
As you choose greenery styles, you should also keep in mind what season you are decorating for. Flocked leaves will have a more wintery vibe, whereas eucalyptus is better suited for spring or summer.
6. Choose Some Fillers
Fillers can include anything from small floral sprays to wooded stems or even plastic decorative picks, ornaments, and even berries.
Fillers are very showy and add visual interest. They are a lot of fun. Pick out fillers that use one of the three colors you picked out at the beginning.
Tip: When you are choosing fillers, be careful and choose elements that are not the exact same color as your focal flowers or ribbons. If they are too close of a match, the fillers could get lost. You want them to stand out among the rest of your florals and greenery.
7. Pay Close Attention To Shades Of Color
Finally, it's very important that you pay really close attention to the exact shades of your ribbon, florals, and greenery. Try to avoid using bright green leaves with a sign that has teal leaves painted on it.
There are so many subtleties within ribbon and floral colors. If you vary too much, it might create an unpleasant design.
Watch the Video
If you prefer to watch a video, check it out below!
Final Thoughts
That's it! Please always be patient when you order online from trusted retailers. They have to order their items a year ahead of time because there aren't any ribbon manufacturers in the United States.
If you see that a ribbon you love is sold out, choose a different one. Places like Greenery Market try so hard to keep things in stock, but shipping from China and India is time-consuming, and selling out is just a part of the game.
Wreath making is so much fun, especially when you know how to choose elements quickly and easily!
Like this article? Pin it for later!