How To Make A Christmas Wreath With Flowers
Whip up this very merry wreath with the classic combination of greenery, ribbons, and flowers! Learn how to make a Christmas wreath with flowers. It's a wonderful wreath for a jolly winter holiday season.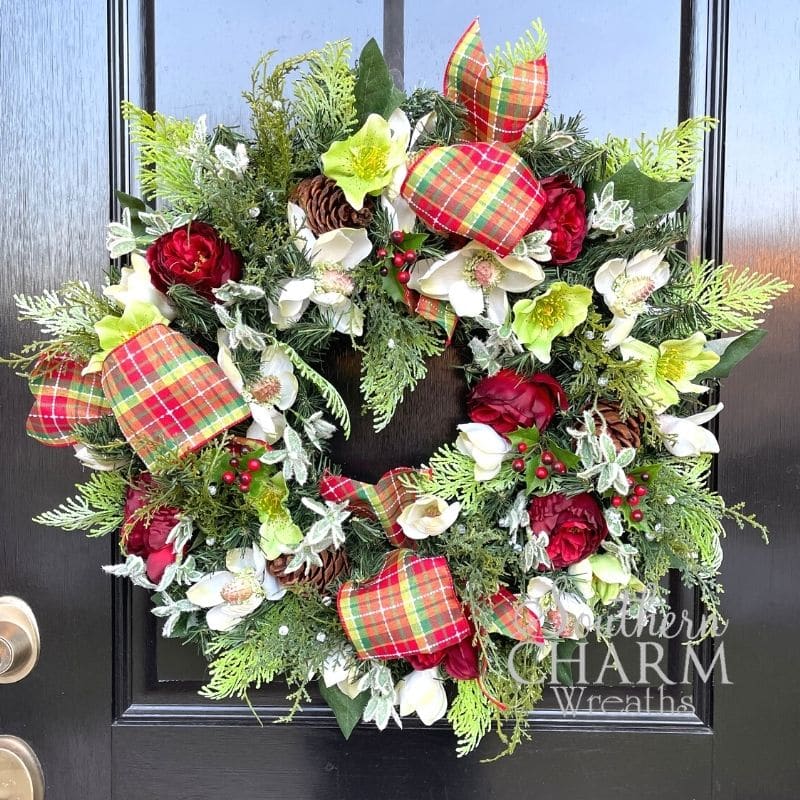 How To Make A Christmas Wreath With Flowers
This Christmas wreath will outlast the Christmas season. The evergreen base and delicate florals add beauty and charm to your front door. Since it doesn't have any Christmas signs on it, this wreath will look perfect on the front door long after December is over.
When you make a wreath with flowers, the options are pretty endless. This can make the DIY project feel either exciting or overwhelming. In this tutorial, I'll take the guesswork out of it for you and help you make smart design decisions so you can create a stunning Christmas wreath in no time at all.
This post may contain affiliate links for your convenience. Click here to read my full disclosure policy.

Supplies for This Project:
Evergreen Wreath Base
Christmas Wreath Sprays
Juniper Bush Pick
Winter Floral Bouquet Bush
Pinecones
Wired Ribbon
Wood Easel (Optional)
How To Make A Christmas Wreath With Flowers: Step-By-Step Tutorial
1. Cut The Floral Bush
Buy mixed winter floral bouquets or bushes that are already assembled together. This way, you know they complement each other really well, which will save you a lot of time. Take some wire cutters and cut the individual blooms off. Now you have flowers to insert into your wreath. Easy!
After you cut everything apart, begin to sort them into piles. Place the leaves in one pile, the berries in another, white flowers together, and so on. This will make it easier to grab the flowers you need as you design your wreath.
2. Fluff The Evergreen Base
Next. fluff the individual needles in the wreath out and away from each other. Fluffing the wreath makes sure that it isn't flat on one side. It also gives depth and dimension to your design.
3. Insert Leaves Into The Wreath
Dip the end of the leaves into your melted hot glue and stick them into the wreath. Spread them apart evenly. To do this, it helps to count out how many leaves you have and go around clockwise.
Keep adding more greenery sprays around your wreath. The juniper sprays add more variation in green color and interesting texture changes to the wreath too. It basically breaks up all the green in the evergreen base.
4. Wire And Add Pinecones
Pinecones add even more depth and visual interest to your wreath. If your pinecones don't have wires, you'll have to add florist wire to the base of the pinecone. The wire will stabilize heavier pinecones. If it is lighter or smaller, you might be able to just glue it directly into the wreath.
Spread them out evenly throughout the wreath.
5. Insert Flowers Into Your Christmas Wreath
Now you are ready to add your florals to the wreath. Start with the largest ones first – I had five red roses. Trim the wire stems, so they are short enough to lay neatly within the evergreen needles. As you add the flowers to the wreath, place them, so they are all facing the same direction.
Continue layering around the large blooms with smaller flowers. Add as many flowers to your wreath as you want. Just remember to place them all facing the same direction so that they flow naturally around the wreath.
6. Add Ribbons
If you want to create a bow for this step, do it! I did not because I wanted the flowers to be the center of attention. Instead of a bow, I made a single loop and tail from a 4-inch wired ribbon and added it in between the pinecones.
Keep adding more loops and ribbons until it looks full and finished to you. I added three single-loop wired ribbons to my wreath, spaced equally between the pinecones.
7. Layer With More Flowers And Greenery
At this point, you might feel like your wreath is complete. Hang it up on a wooden easel and see if there are any spots in between the ribbons that you want to fill in. Keep adding different florals and greenery until you feel like your wreath is complete.
Watch The Video: How To Make A Christmas Wreath With Flowers
If you enjoyed this post, you might also like:
Like this post? Pin it for later!