How to Make A Funky Bow -Christmas Edition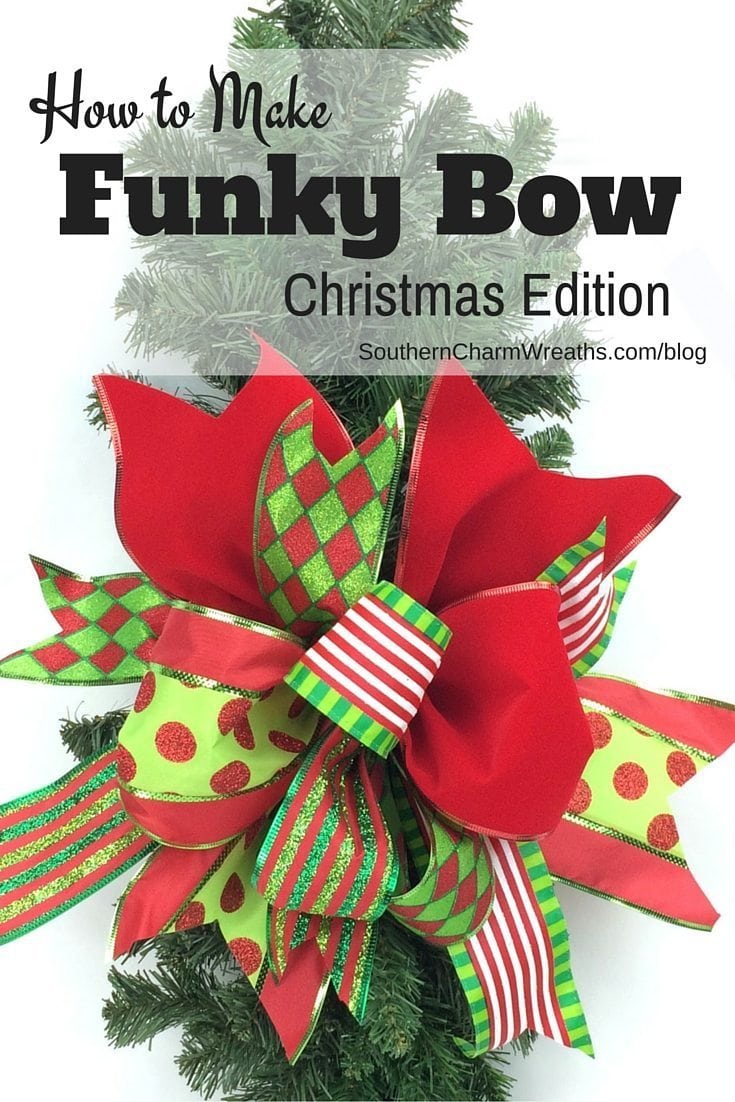 This bow is easy peasy! I know you can make this bow!
I developed the "funky bow" technique a few years ago when trying to help my ebook customers use up all of their materials. You see, I can't stand to throw away any ribbon, even scraps. Why? Because I'm a RIBBON ADDICT! There I said it, yet again!
This technique developed when I had long strips of ribbon but there was not enough to form a full bow and certainly not enough to add to a wreath. What's a girl to do?
Bam, it hit me…make a bow using all of my scraps…well not ALL of my scraps, just some.
See full video below.
[Tweet "How to Make a Funky Bow -Christmas Edition"]
Supplies Needed
5 -30" strips of ribbon in various sizes and coordinating colors. (I prefer a total of 5 but you can use more).
Scissors
Floral wire or pipe cleaner
Step 1 –Cut the ribbon
Cut the ribbon into 30" strips and dove tail the ends.
Step 2 – Form the Bow
9" from the bottom, pinch the ribbon in your fingers. Measure out 12" and loop the ribbon away from you securing in your fingers at the 12" mark. This forms a 6" loop with the tails below it. Twist the tail in the back so that the nice side of the ribbon is facing forward. Loop one is done.
Loop two…do the same thing with the next ribbon but in reverse so that the loop is facing downward and the tails are pointed upward. Hold both loops in the same hand.  Keep adding your ribbon strips in an alternating fashion with loops on top and below your fingers until all the ribbon is in your hands. Secure with a floral wire or pipe cleaner.
Step 3 – Attach and disperse tails
Once the ribbon is attached to your item (garland, wreath, etc.), you can move the bow tails around so that they are dispersed evenly.
Tips: Make the loops as large or as small as you like. If making larger loops, make sure that the wire in the ribbon is strong enough to hold the shape of the loop or your loops will sag. Also you will need to adjust the ribbon length if making larger loops.
The funky bows look great in wreaths, garlands, on lanterns, in Christmas trees, anywhere a bow is needed.
I want to see your funky bow pictures! Make sure to upload your picture on my Facebook Page Here

Like this tutorial? Then you might like my 9 Ways to Make a Bow Free Video!  Click HERE to download your copy.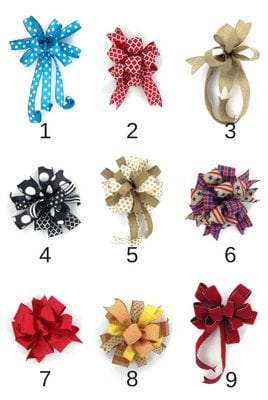 Let me know below if you enjoyed this tutorial.
Happy Wreathing,
Julie
If you enjoyed this post, you might also like:
How to Make a Bow with Multiple Ribbons
How to Add Ribbon Streamers to Deco Mesh Wreaths
How To Make A Simple Spring Wreath Bow