How to Organize a Wreath Making Craft Room
If you are a wreath maker you know you need lots of different things on hand to make your wreaths. With that comes the need for organizing and storing the tools and supplies in order to make beautiful wreaths and other arrangements. Today I am going to walk you through how I turned my garage into my own wreath making craft room. I sectioned off my garage for storage and use a section as my stage for lives and also for the process of staging finished projects!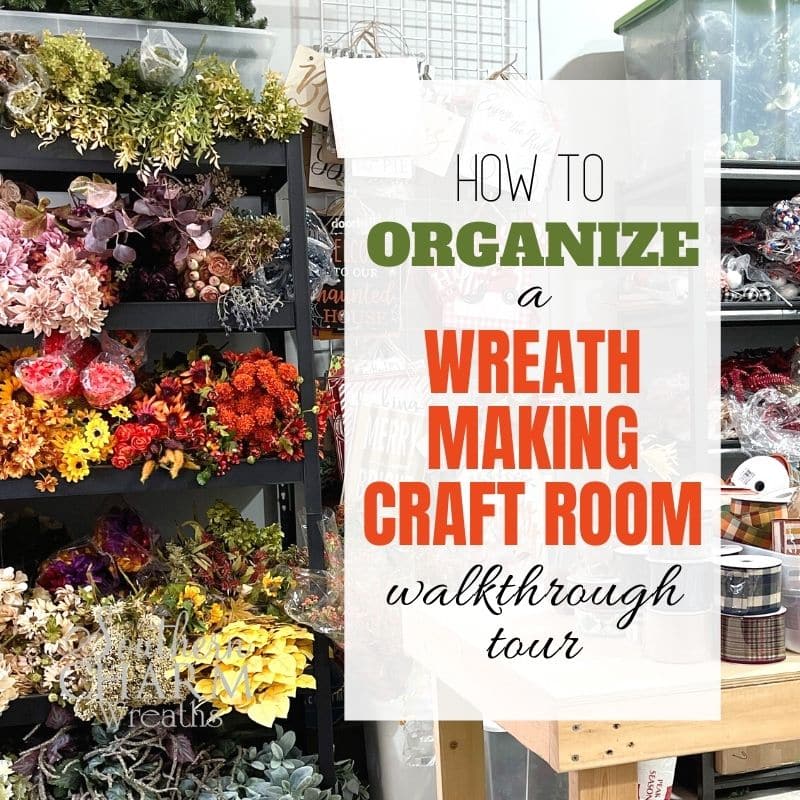 How to Organize a Wreath Making Craft Room
I can testify that in order to have a successful wreath making business you need to have an area dedicated solely to wreath making. This does not have to be a big area to start with just an area you can organize your tools and supplies. Here are the top things you need to in order to properly set up your wreath making workshop.

Top Items to Organize a Wreath Making Craft Room
Camera and lighting
I have made the perfect stage setup that works for me. I have a tripod and a camera that is hardwired into the wall that gives me a hardwired internet connection. I love my Mevo camera! It even has a handle that helps me angle it up and down so I can give all the views that I need to show my viewers.
I also have lots of lights that help with the lighting of the videos. I also suggest that you have a light shine on a wall that helps eliminate shadows that are easily cast on the walls from all the lights I use.
Worktable
My work table is actually two chef's tables I got off amazon. I ordered two to give me an L shape station to work in. Underneath I have two drawers that house my go-to tools. These tools include:
Ribbon holder
Remotes to anything I can control from my table
On the right side of my table, I have my hot glue pan. It is important to note that if you are looking to order a glue pot you want one that you can set the temperature. These can get very hot and you want to be able to adjust to temperature according to the amount of glue you have in them.
On the left side, I have my next project items laid out as well as a tired tray organizer that I got from harbor freight that spins. It houses more tools for me like:
Batteries for my microphone
Sticky notes
Tapes
Wires
Pens
Reading glasses
Note Cards
Behind the table, I have a 5-foot work easel that is also foldable. It can be stored or travels nicely. Also, I highly recommend some mats to stand on to help your feet and knees not be so sore from standing and working.
Trash cans
Yes, this is important to have in your wreath making workshop. I have one that is directly to the right me when doing my wreath making. It is easily accessible and can really help make clean-up a breeze when it is nearby. I also like to use trash cans to help store large picks and stems. That way you can just stand them right up in them. Trash cans are great for storage purposes and for trash!!
Hanging Grid Wall
With some S hooks and a grid wall mounted to your wall you can easily hang wreaths you are finished with and are waiting to be photographed or shipped to the buyer. When you hang them it allows you to have more room for storing others as well as not damaging your work.
I also like to store signs on these wired hanging grid walls. These are signs that I use in wreaths or other arrangements and need to easily access them or see when decided what design I am creating. I like hanging the one that houses my signs right beside my floral shelving.
Staging Photo Area
When you sell wreaths it is important you can take high-quality images to be able to post in your online shop. This is why I have an area dedicated to photo taking in my garage. I leave it set up all the time that way I do not have to set it up each time I need a photo taken.
I use a four-foot table and place it on bed risers to allow me a little more height. I purchased backdrops online and use those for staging purposes for my photos. I also have dedicated lighting that stays in my photo area to include boom lights above it and a barn light that shines to the right. I also have a ring light to shine on the table. Having an area dedicated to just taking photos is so helpful.
Wired Shelf storage
I have several of these in my garage and each one houses something different. They are sturdy and the perfect way to see what is stored and allow room to move around the workshop with ease. You will mostly find clear bins stored on these shelves and larger wreath making items.
Clear Bins
These are great for storing Christmas ornaments, mesh, and other items you will use in your wreaths from time to time but do not need every day. I like clear bins because you can see what is exactly in them and know exactly where something is when needed. They also fit great on the metal shelving I have in my garage.
Drawer Storage Bins
Drawer storage bins are where I highly suggest storing ribbons. You will find that I organize my ribbons by prints and colors. Dividing it by color year-round is the simplest way to organize your ribbons. If it is seasonal then it goes with that season in that location. I also have clear bags that I store extra ribbon in as well that you can find laying by my drawer storage bins.
Extra Supply Storage
I have a shelf I store lots of things on. I take clear totes and store things in this area on a metal shelving unit. I love to be super organized so you will find when looking at my storage bins you know exactly where everything is and where to find it! I suggest storing on these shelves things like:
grapevine wreaths
arrangement accessories
sprays
foam
greenery
any other items that work year round
pots and metal tins
When every place has a home you can more quickly and efficiently get your project done!
Floral Storage
You know in order to make wreaths you need lots of picks and stems. I organize mine by color and have certain shelves dedicated to colors and flowers. Like I mentioned earlier I even have trashcans near this shelf storing longer stems if needed in trash cans.
Shipping Area
With a dedicated area in your workshop just for your shipping boxes, stickers, mailers, and shipping tape you will be more efficient at packing your sold wreaths. I have a shelving unit in my garage just for these items and I love it.
Staging Areas
In my wreath workshop, you will find different items I use for staging. I have a fake mailbox for example I use in my lives when teaching certain techniques or use in photos of mailbox swag I have made. You will find that you will start needing to do the same thing in your workshop so make sure you have a dedicated space to store these staging pieces. They do come in handy, trust me!
Just being organized can really help your workflow. Start little by little organizing and staging your own wreath making craft room and before too long you will see the benefits of having an organized workspace.
Watch The Video: How To Organize a Wreath Making Craft Room
If you enjoyed this post, you might also like:
Liked this post? Pin it for later!