5 Wreath Bases You Can Embellish for Every Season
Behind every beautiful wreath is a wreath base. It could be a grapevine, styrofoam, metal wire, evergreen, or straw. Choosing the correct wreath base is important and a huge deciding factor when it comes to wreath making. There are many factors to determine before choosing your base like how much weight it will need to hold. If you are adding deco mesh or ribbons. Wreath bases are so very important when it comes to making a wreath. However, truly any wreath bases you can embellish for every season. Keep reading let me tell you how!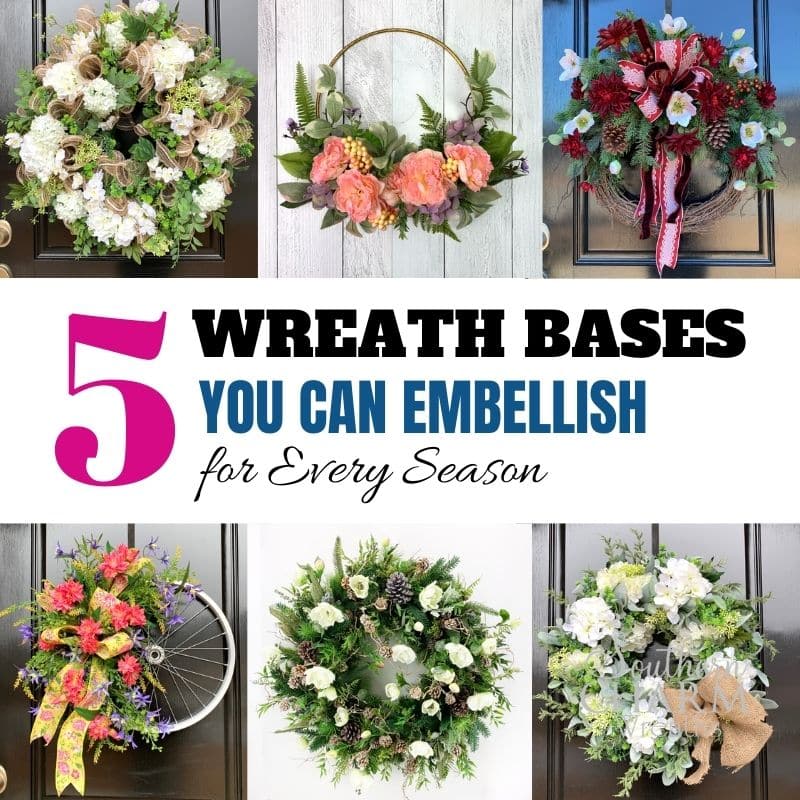 What is a wreath base?
A wreath base is what holds your flowers, greenery, ribbons, deco mesh, burlap, or other embellishments. Without the right wreath base, it can be very hard for you to achieve the style and look that you are going for. There are many different types of wreath bases to choose from. The most popular wreath bases are straw, styrofoam, grapevine, deco mesh, PVC evergreen (Christmas wreath), and metal hoops.
Most wreaths are always round but a crafter could also use a wreath base that is square, oval, teardrop, rectangular, diamond, cross, and even heart shaped. There are other shapes but these are the most common.
Why are some wreath bases better than others year-round?
It is not the wreath base that allows a wreath to work all year round, it is the embellishments added to it such as florals, ribbon, greenery, and ornaments that make it fit all year round.
Greenery is one element that is added to a wreath that works all year round. The types that are easily used all year round are:
Boxwood
Ivy
Tea leaf
Pine
Lambs ear
Nandina
Herbs
Succulents
And many more
Mixing different types of artificial greenery in one wreath adds textures and dept to a wreath as well as allows your wreath to looks very real and makes the wreath appear as if it is real and not artificial at all.
What florals can you include in your wreath and use all year round?
The best thing about artificial flowers is that the floral industry has made it easier to use some silk flower varieties year round by making them in different seasonal colors as well as adding some seasonal effects such as snow for the winter months. To name a few florals that would be great to use in a wreath base in every season would be:
Magnolias
Roses
Hydrangeas
Carnations
Allium
Peonies
5 Wreath Bases you can Embellish for Every Season
Grapevine Wreath Base
This is the most common wreath base and can really be used for every holiday and season. What I love the most about grapevine wreaths is that they can hold the weight of heavier attachments as well as longer stems. Learning how to insert long flower stems into the form of the grapevine wreath will make using a grapevine wreath an even easier wreath base as you start making wreaths for every holiday and season.
Styrofoam Wreath Base
Styrofoam wreath bases are perfect for making a wreath to hang indoors on a wall, draped over a mirror, or even sitting in a chair. These are super lightweight and are capable of producing a more compact wreath look.
Wire Metal Frame Wreath Base
Wire metal frame wreath bases are specially designed for creating deco mesh wreaths and come with needle ties spaced evenly apart on the wreath that you will use to secure the mesh and ribbon to the metal frame. These wire-metal framed wreath bases are perfect for creating your own base for your design using burlap, deco mesh, or ribbon.
PVC Evergreen Wreath Base (Christmas Wreath)
This is also known as a Christmas wreath. These can be used to make a year round wreath as well as another season such as spring or summer. When adding burlap and artificial greenery you would never know your wreath base was an evergreen wreath base unless you turn it around. You can even completely change the look of this evergreen wreath base by using spray paint to produce any look you are wanting. PVC wreaths make an excellent wreath to repurpose as well. They are much easier to decorate than a grapevine wreath but you must know how to fluff an artificial wreath to look full and beautiful before you start adding embellishments to them!
Straw Wreath Base
Looking for a wreath base that is simple to add greenery and flowers inot the base then this is the one! A straw wreath base isn't able to support heavier floral stems but is great for making a light and airy wreath style.
How to pick the perfect Wreath Bases you can Embellish for Every Season
When it comes to crafting remember there is no such thing as perfect! When selecting a grapevine wreath don't let the shape stress you out. Always remember that grapevine wreaths are not perfectly shaped. When working with grapevines you will have to spend a little time cleaning up your grapevine wreath before making your wreath. Preparing your grapevine is important before adding your embellishments.
When using a styrofoam wreath base I personally prefer to use the green base versus the white. That is because it is a lot easier to hide the mechanics of the wreath base when it is green. Just a little tip for you that I have learned over the years of making wreaths.
Wreath Bases you can display year round
There are many base options to choose from when making a wreath. However, when it comes to embellishing a wreath to withstand all the seasons I have compiled a few of my favorites to help you be inspired when you are ready to make your next wreath. These wreaths are ones that you can embellish for every season.
DIY Year Round Front Door Wreaths On Evergreen Base
DIY Year Round Wreath on Styrofoam Base
How to Make a Spring Hoop Wreath

Like this article? Pin it for later!