How To Wire Various Ornaments For Wreath Making
Tired of creating a wreath just to have the ornaments start dropping? Well, fear no longer! This is the most secure way to attach ornaments to wreaths. Learn how to wire various ornaments for wreath making so they don't move.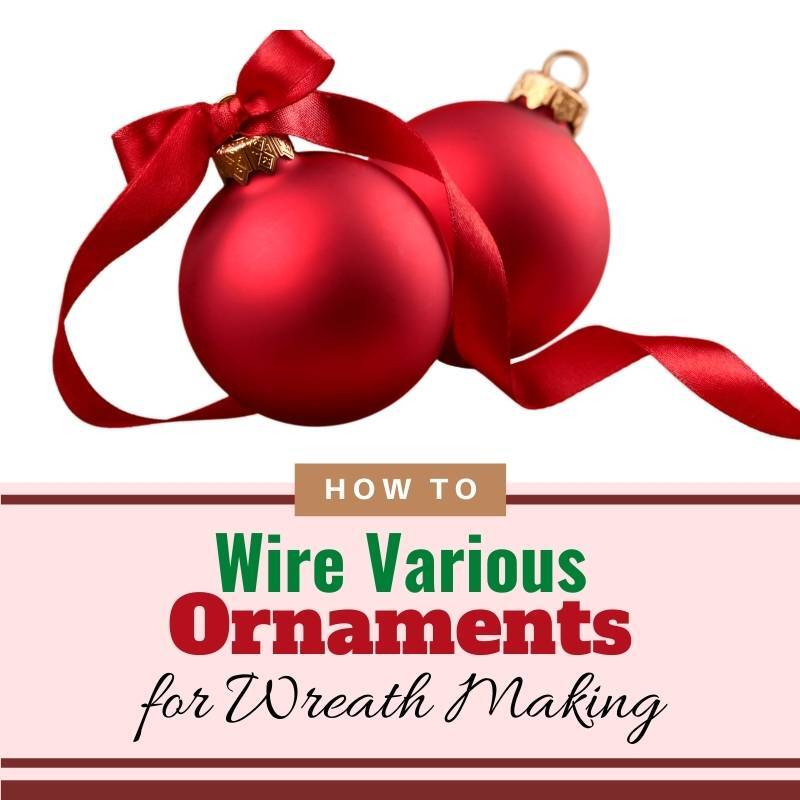 Have you noticed that many Christmas ornaments don't come with a way to securely attach them to a wreath? They are some of the cutest things you can add as decorations, but how do you attach ornaments to a wreath so they don't fall off?
In this guide, I'll show you the most popular type of Christmas ornaments and how I add wire to each of them so that they don't move and definitely won't fall off.
This post may contain affiliate links for your convenience. Click here to read my full disclosure policy.

Supplies Needed
How To Wire Various Ornaments For Wreath Making: Essential Steps
No matter which kind of ornaments you want to use on your Christmas or holiday wreath, I've got you covered. These tips will work for almost every kind of ornament you'll find.
How To Add Wire To A Pinecone:
Pinecones are brilliant for wreath making! I love their texture and color. They are so versatile, working for both fall and winter wreaths.
I like to use 22-gauge florist wire for all my projects, including this one. Place the middle of the wire through the bottom of the pinecone, pushing it in until it reaches the middle and stops. Once your wire is folded in half, and both sides reach the other side of the pinecone, twist the wire. Keep twisting a few times until it is really tight.
Now you have wire on your pinecone that you can use to attach to any type of wreath base. If your pinecone is heavier, you might want to attach the wire to the center, not the bottom.
How To Add Wire To Ornaments With Styrofoam Cores:
Next, let's look at how to add wire to any type of ornament that is made with Styrofoam. This is a really simple one to wire.
Just push an ice pick through the bottom of the ornament until it comes out the other side. Then, pull out the ice pick and push the florist wire through the hole you just made. Push the wire until there is the same amount poking through both sides of the ornament.
At this point, you can leave the two halves separated and attach them to your wreath this way or twist them together.
How To Add Wire To Plastic Or Glass Bulb Ornaments:
These ornaments usually come in huge jugs or boxes, and you can buy them at any major retailer. They are what I call typical bulb ornaments and usually have a small piece on top that is perfect for a hook or some wire.
To add wire to these ornaments, I grab some pliers and remove the plastic hook. Now there is a larger opening on top of the ornament. Wrap the florist wire around the lip of the opening you just revealed. Twist it tightly and leave extra wire hanging off of it, so you have some to use to attach to your wreath.
When the wire is secured, you can choose to add the plastic topper back to it or leave it out. Chances are, the wreath will cover up this small opening, and you won't need it.
How To Add Wire To Bulbs Without Hooks:
I like to save the hooks/tops from plastic or glass bulbs because you can use them on ornaments that don't have them. If you have a plastic bulb that is completely sealed and doesn't have a hook, just hot glue a hook topper from another ornament. Then, thread the wire through the topper and attach it to your wreath.
Watch The Video: How To Wire Various Ornaments For Wreath Making
If you prefer to watch a video, check it out below!
Final Thoughts
There you go! Once you learn a few tricks, attaching ornaments to your wreaths becomes so easy. Honestly, I think 22-gauge florist wire is a life-saver for this. It's really easy to manipulate and keeps things nice and tight. Plus, you can use it on a variety of different wreath forms too.
Like this article? Pin it for later!