How to Make a Mardi Gras Lantern Swag Centerpiece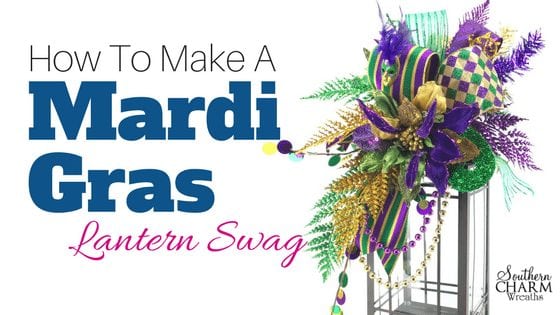 Today in the wreath shop, I'm showing you how to make a fun and easy Mardi Gras Lantern Swag Centerpiece. Mardi Gras is late February but I know people like to start decorating as soon as Epiphany begins.  Do you decorate for Mardi Gras?  Here in South Carolina, we don't do a lot of celebrating the Mardi Gras season.  Sure we have Shrove Tuesday at church but that about sums it up.  One year I went all out and decorated my front porch for Mardi Gras you can see HERE, and yea, my neighbors gave me strange looks that year! HA!  You know Mardi Gras is also the perfect way to add some color and fun to your home once Valentine's day is over. This post contains some affiliate links for your crafting convenience. Click here to read my full disclosure policy.
How to Make a Mardi Gras Lantern Swag
Today's video, we're creating a Mardi Gras Lantern Swag. You can use a lantern you already have on hand or purchase one from a home decor store like these from Pier One or a craft store. You could also attach this lantern swag to a wreath, add it to a garland, attach it to your mailbox and more! Here's how:
Supplies
20 inch lantern
Silk Poinsettia in Mardi Gras colors
Sequin picks
Glittered Fern bush
Tinsel picks
Optional accessories such as Mardi Gras beads, masks, mask pin
Wired Ribbon (several styles)
Rustic wire
Scissors
Zip Ties
glue sticks
[Tweet "How to Make a Mardi Gras Lantern Swag"]
How to Make a Mardi Gras Lantern Swag
Cut the leaves off of the poinsettia stem. Be sure to save them for later!
Prep all of your picks and florals by expanding their petals and leaves out because they are usually flat when they are shipped.
Cut the individual stems off of the glittered fern bush.
Start making the swag by layering the various elements. You'll want to begin with your largest piece, which for this swag is the poinsettia.
Slightly bend the stem of the poinsettia just below the flower. Add one of the sequin picks next to it.
Fill in the area between the poinsettia and sequin pick with fern stems.
Now begin adding items in the opposite direction, first with the small tinsel pick.
As you go, zip tie the pieces together. Use more as needed if you are having trouble holding them.
Now it's time for the funky bow! See the video below for detailed instructions.
Attach the ribbon to the swag. Note: If the ribbon doesn't lay exactly where you would like, place a small dot of hot glue to keep it in place.
Cut off any excess stems that stick out from the arrangement.
Attach rustic wire to the back of the swag to allow for easy hanging. I used about 23 inches of wire.
Use small leftover silk flower leaves in you want and hot glue them anywhere zip ties or wire is showing.
Attach the swag to your lantern. My lantern has a little round top to it that you can wrap the wire around. If you do not have that on your lantern, you can also attach it to the corner of the handle.
For a special touch, I added some fun accessories at the end: a Mardi Gras mask (make a hole in the mask and hook wire through the hole to attach), fern leaves (with hot glue) where it was looking a bit bare, some Mardi Gras beads and a small mask with feathers.
Don't forget to decorate the inside of the lantern! Add a battery-operated candle, Mardi Gras beads, whatever you would like. Just remember not to burn a real candle in the lantern as the heat from the candle is a hazard with the swag on the top.
How to make a Mardi Gras Lantern Swag Video…
I hope you enjoyed this Mardi Gras Lantern Swag tutorial. Do you decorate for Mardi Gras? Let me know if you enjoyed this and don't forget to join me on Facebook Live, Thursdays 7:30PM EST.
If you would like to join my wreath making of the month club, you can join here.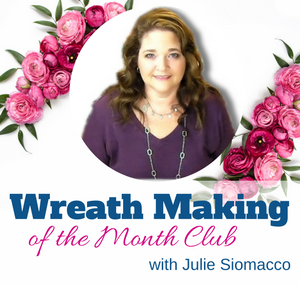 Happy Wreathing,
Julie
If you enjoyed this post, you might also like:
7 Ways to Be More Confident When You Feel Like a Failure
How to Make a Silk Flower Spring Wreath Video