How to Make a Rustic Winter Table Centerpiece
Can you believe we're past Thanksgiving already?? Now there's less than a month left until Christmas! Only 24 days to enjoy your Christmas decorations before the season is over. That's so short – especially when it comes to beautiful decorations that you made yourself.
So today we are going to be making a Rustic Winter Table Centerpiece that will take you through the holidays and into the rest of the snowy months. No need to take down after Christmas.
This post may contain affiliate links for your convenience. Click here to read my full disclosure policy.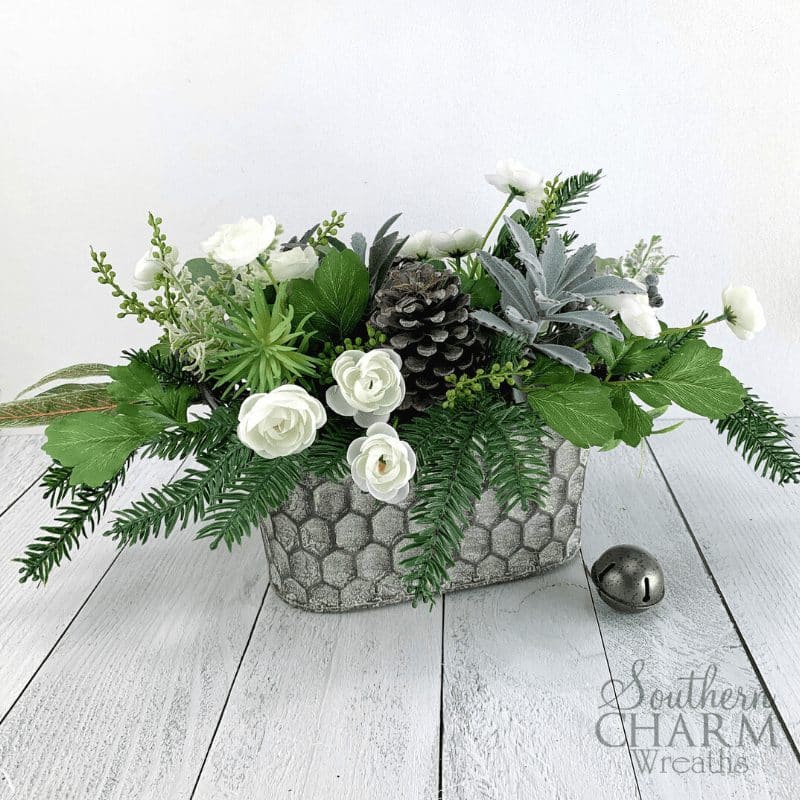 Let's get started!

Supplies for making the Rustic Winter Table Centerpiece
Metal Container (TrendzAndGemz)
Pine Greenery Spray (TrendzAndGemz)
Succulents (TrendzAndGemz)
Silk Ranunculus Bush (TrendzAndGemz)
Dry foam
Floral Pins
Wire cutter
Floral Wire
Hot Glue Pan
Hot Glue Sticks
You can find all of the TrendzAndGemz supplies that I use here.
Steps for Making a Rustic Winter Table Centerpiece
Step 1 – Glue blocks of foam into the bottom of the tub. Then add another layer on that to give it enough height for the container. You may have to cut up the blocks to make them fit in right.
Since I am making this for my own home, I'm just hot gluing the first layer in. If you're going to be shipping the container, you probably want to use something a little stronger. I've found that hot glue doesn't stick to metal very well.
To secure the second layer of foam, I stuck some wood dowels in the top through both layers while the glue was wet, then trimmed off the excess from the top.
Step 2 – Next you'll want to add a layer of moss over the foam and attach with floral pins. This will disguise the color of the foam in case there are any places you can see through the florals in your final arrangement.
Step 3 – Now we'll be adding the pine sprays. Before you place them onto the foam, be sure to fluff them up a little bit by slightly bending the branches. (Watch the video below to see exactly how I do this.) After you're happy with their fullness, you'll trim off the end of the stem, and secure the sprays into the foam with floral pins (I made my own with floral wire) in several places.
I placed the two branches so that they almost mirrored one another with the stems crossing in the middle and the branches spread out to hang over the edges of the container. You can also trim some pine branches off them like I did, and use them to fill in spaces on the edge.
Step 4 – The next step is adding in succulents throughout the greenery. I love the muted color of these succulents and I think they are just perfect to take your home decor into the winter months after Christmas.
Just pull each succulent off the stem and add some glue to the end, then stick it in into the foam wherever there is some extra space.
Step 5 – Finally, for a little pop of brightness, and a nice airy look, we'll add some of these silk ranunculus stems from TrendzandGemz. (I love TrendzAndGems for my silk flowers and greenery because you can really feel the quality.)
Attach them with longer stems like I did to make the arrangement seem a little bigger without overcrowding. (In the video, I use a SteelPix machine, but you can easily attach these with floral wire or glue. Feel free to add any extra greenery trimmings at this point to finish out the arrangement.
And that's it!
If you do like the look of this arrangement but you want to give it a more Christmas-y look, a few pops of red might be what you're looking for.
Plus that will give you the perfect excuse to make another arrangement for yourself in January! As if you need an excuse!
How to Make a Rustic Winter Table Centerpiece with TrendzAndGemz
If you enjoyed this and want to learn to wreath the professional way, join me in our exclusive Wreath Making of the Month Club!
Happy Wreathing,
Julie
If you enjoyed this post, you might also like:
DIY Rustic Farmhouse Christmas Centerpiece
Frosty Winter Lantern Swag Turorial
How to Make a Buffalo Plaid Snowman Table Arrangement
Liked this Rustic Winter Table Centerpiece? Pin it for later!