Shipping with Parcel Path
If you are like me and have been struggling with the cost of shipping your wreaths or any other product you make then I have a great solution for you! I have found an amazing shipping software called Parcel Path. Parcel Path shipping has been by far the perfect way for me to save money on my shipping costs.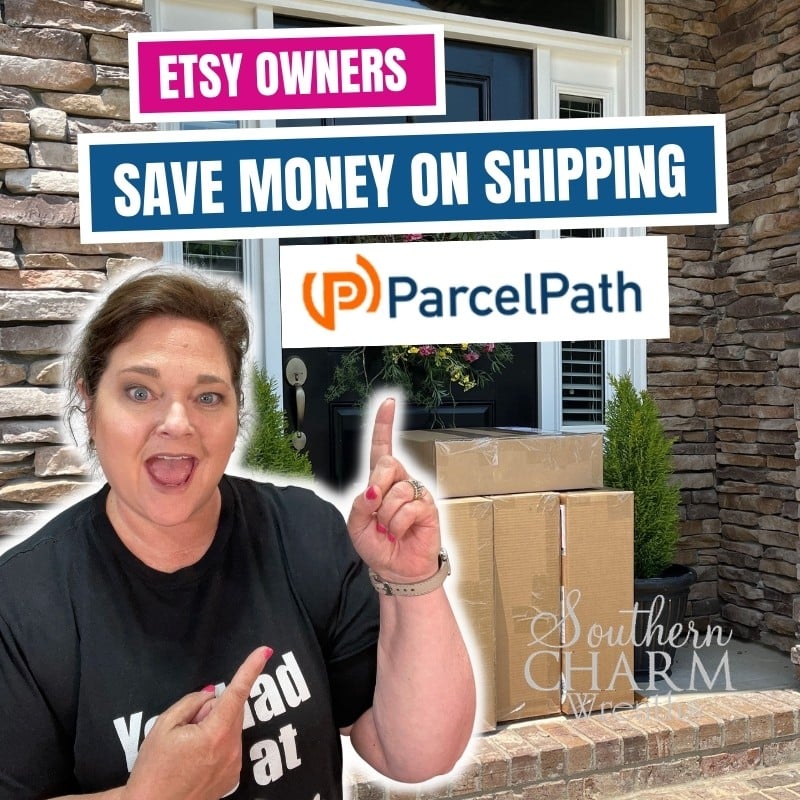 What is Parcel Path Shipping?
Parcel Path is a company that offers discounted shipping for small business owners like me. This company helps small businesses thrive by making door-to-door package delivery simple, reliable, and affordable. The best part is that it is a free service that allows you to search your closest pickup and drop-off locations which allows you to have more freedom in shipping your goods.
Does Parcel Path have a monthly fee?
Using Parcel Path requires no subscription fee or monthly fee. Parcel Path has not only allowed me to save 30-55 % when I ship my large wreath-sized boxes but also helps me cut down on unnecessary monthly fees that come with owning my own business.
How Does Parcel Path Work
Parcel path currently is capable of integrating with a Shopify store and will automatically fulfill the carrier information on orders when the client purchases. At this time it does not integrated with Etsy. However, you are able to go in and create your own shipping labels which is what I am currently doing and it is simple and easy to do.
What Does Parcel Path Offer?
Parcel Path is a shipping software that has no subscription fee, no contracts or hidden fees. This company also requires no prior shipping history to use their lower shipping rates, unlike the shipping carriers do. Luckily they also do not require you to set up accounts with shipping carriers in order to use it. Parcel Path also offers many great features like:
Batch Shipping
When using Parcel Path you can go in and create multiple labels at one time to optimize your shipping process by uploading a file once. They have easy-to-use templates when using the batching option allowing you to create hundreds of labels at once.
USPS Scan Forms
Having these USPS scan forms helps speed up the process no matter if you are dropping off at the post office or schedule a pick up at your own front door. With USPS scan forms it allows a single scan for all of your packages!
Pre Set Box Sizes
If you are like me you may use the same box sizes numerous times a day. This tool will help you save a lot of time entering box size and weight information on each package ensuring accuracy with pre-set packages.
Shipping Analytics
Being able to monitor and see your shipping history can allow you to see ways you can save. This can also help you improve your profit margins in your business. When you find ways to save on shipping you can put that money you are saving into marketing to customers or other areas of your business. This tool is so helpful for lots of different reasons. You will love this feature of ParcelPath.
Accepts major credit cards or ACH Bank Transfer
Having the ability to pay with credit and debit cards as well as a bank ACH transfer really is helpful when it comes to paying for the shipping costs for your business. They currently do not accept PayPal but you could use your PayPal debit card as a workaround.
Offers shipping insurance
You will be happy to know that ParcelPath offers one of the biggest discounts on shipping insurance out there. The cost to insure a package is $.60 per $100 of value. Shipping Insurance is available for all packages that are shipped through ParcelPath.
Multiple locations
You can quickly find pick-up and drop-off locations in your area. You will find this tool in your account under shipping and then package drop-off locations. There will be links that will show you the nearest locations. Having multiple locations makes it so easy to get your packages dropped off promptly.
How to get started with Parcel Path?
Get started today with your own Parcel Path account. Once you follow my link a form will come up. This fom will ask you to provide your name, address, email, and create your own password. Whereas for your URL for company name you would put your website address or your Etsy shop URL. (ie., https://www.etsy.com/shop/YOURSHOPNAME) When it asks who you referred you feel free to put Southern Charm Wreaths!
Once approved you will get an email from their support team. This email will have support videos and information on how to log into your account as well. I know you will love this software just as much as I have.
Watch the video to learn more about Parcel Path.
Parcel path is a great way to save on your shipping costs when shipping items from your shop. I love the savings I am seeing while using it for shipping and know you will too!
Liked This Post About How To Choose A Business Name? Pin it for later!