Spring Tulip Arrangements for Mother's Day
Freshen up your space with some stunning spring tulip arrangements. Beautiful silk flower tulips, calla lilies, and pink ranunculus make the perfect seasonal arrangement.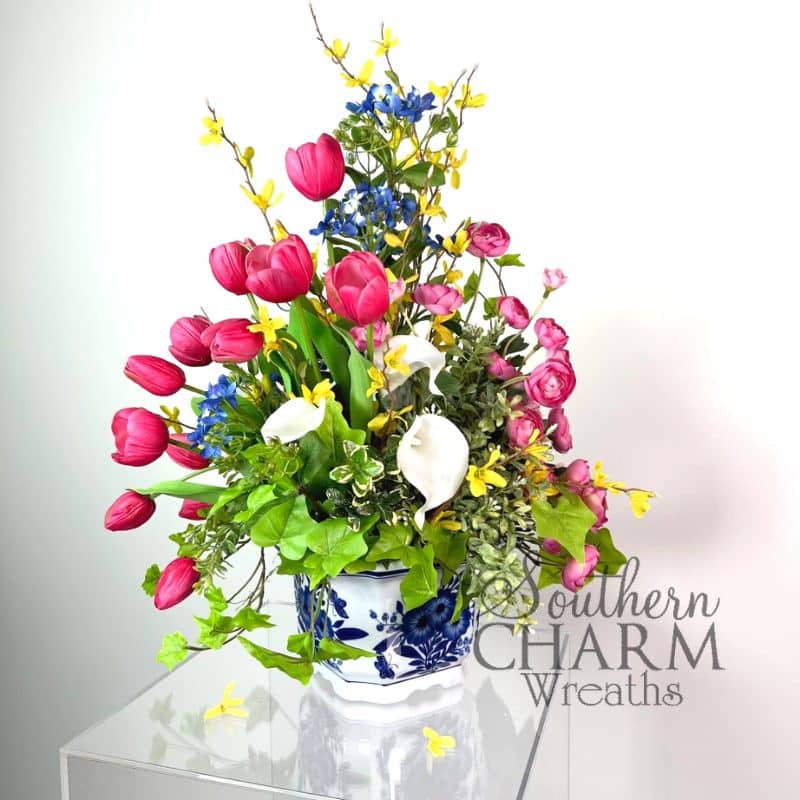 Spring tulip arrangements
You don't need fresh flowers to feel their benefits. A colorful faux flower arrangement can do wonders for your mood.
And this spring tulip arrangement is just what the doctor ordered!
Today, I'm going to be teaching y'all how to arrange tulips for a colorful display that celebrates the season.
Color bursts of pink tulips and ranunculus, blue silk flowers, yellow forsythia, and white calla lilies make a visually impactful arrangement that will catch anyone's eye.
This post may contain affiliate links for your convenience. Click here to read my full disclosure policy.

Supplies for this project
You'll need:
Glass pot
Hot glue gun
Pink tulips
Calla lilies
Artificial hosta plant
Blue silk flowers
Yellow silk flowers
Pink ranunculus flowers
Greenery

Variegated boxwood
Yellow-green clippings
Ivy
How to make a spring tulip arrangement: Step-by-step tutorial
1. Prep your base
First, grab your container of choice and fill it with a cutting of desert foam. You don't need to secure it with glue; simply duct tape it to the bottom. This way, you can reuse the container for future arrangements!
Apply a layer of decorative moss over the foam, hot gluing to secure it.
Then, take your hosta plant and insert it at an angle into one side of your desert foam.
2. Add silk flowers
Next, the florals!
Add blue silk flowers at various heights, evenly distributing them throughout the arrangement for depth and visual appeal.
Include some pink tulips, trimming and adding one at a time for a realistic touch. Make sure to vary the heights and bend the stems for more realism. Focus your tulips on one-quarter of the arrangement opposite your hosta plant.
Use any additional tulip leaves to fill in gaps for the perfect tulip flower arrangement.
Next, trim and add your calla lilies, adding them in two separate quarters opposite each other (between the tulips and hosta.)
Finally, insert faux forsythia pieces for a touch of elegance and whimsy. Distribute throughout for an even smattering of yellow and some added height.
3. Insert greenery
Add yellow-green greenery to the mix, adding small sprigs to the base of the arrangement. Then, include variegated boxwood greenery for more depth.
4. Add in pink ranunculus
When it comes to spring, a little extra pink doesn't hurt! Include pink ranunculus opposite your tulips. The different shades of pink, as well as the different sizes, will add great visual interest.
5. Finishing touches
Fill in any remaining spots with greenery. Add some ivy to drape down over your container, along with any other scraps of greenery that you have left over.
Fluff everything to perfection, and your first, of many spring tulip arrangements is complete!
Watch the video: How to make spring tulip arrangements for Mother's Day
If you enjoyed this post, you might also like:
Like this post? Pin it for later!