How To Make A Pink Spring Bicycle Wheel Wreath
Learn how to make a festive and simple pink spring bicycle wheel wreath. This fun wreath is the perfect thing for your front door!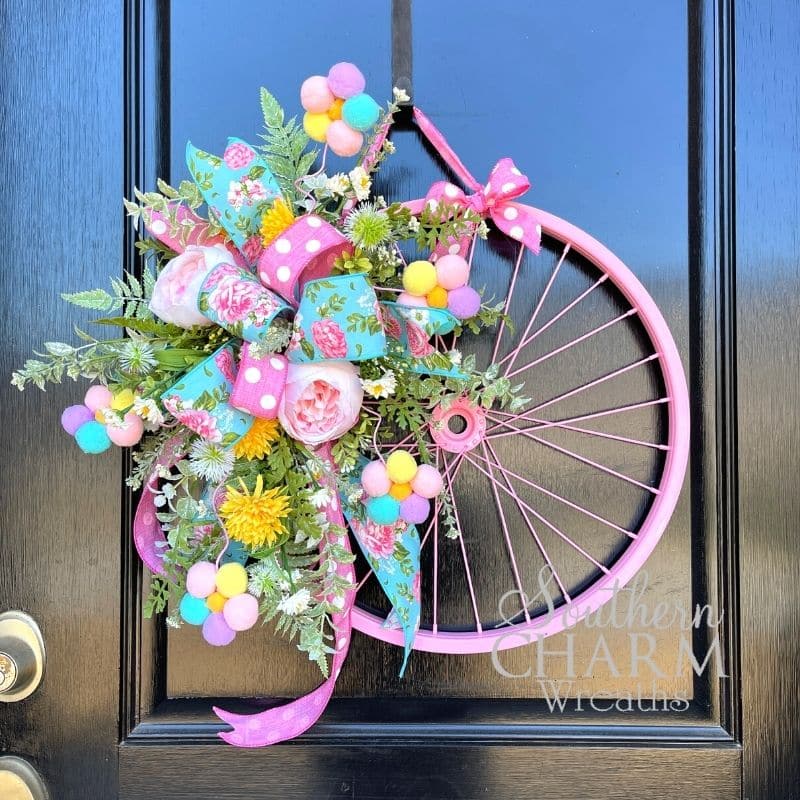 This post may contain affiliate links for your convenience.Click here to read my full disclosure policy.

How To Make A Spring Bicycle Wheel Wreath
I adore how this spring bicycle wheel wreath turned out. It has the perfect amount of vintage and rustic charm, while also staying true to contemporary trends. If you have an Etsy shop or sell wreaths at craft fairs, this is the perfect thing to make. It grabs people's attention and makes them stop and look.
Springtime is all about the weather turning from cold to warm. The skies turn blue and the flowers start to bloom. This wreath celebrates all of that – and more. It makes me think about my childhood, peddling around on my bike, the smell of wildflowers passing me by.
This wreath really does bring back some amazing memories – which is why it will sell so well in your shop!
Supplies
16-inch pink bicycle wheel wreath frame

Pre-made Multi-Ribbon Bow

Floral Foam
Spring Ball Pick
Zip Ties
Flower and Greenery Picks
Easy Spring Bicycle Wheel Wreath: Step-By-Step Tutorial
Here is a quick tutorial showing you how to make your own DIY pink bicycle wheel wreath.
1. Attach The Foam Black To The Wreath Frame
First, attach a block of florist foam to the top of the wreath frame. I used zip ties to secure it to the spokes. Find a spot where two spokes cross over each other and attach the foam block at the top.
2. Glue The Bow To The Foam Block
Next, dip your multi-ribbon bow's florist wire into some melted glue and stick the glued wire into your foam block. Fluff out the bow. This will be the main centerpiece of the wreath.
3. Add Spring Florals
If you need to, pull some flowers apart from pre-made picks. Then, attach a wire pick to the end of your flowers and attach them to your foam block. I always dip the wire pick into my melted glue first and then stick the flowers into the side of the foam.
Continue to add different types of flowers and greenery until it is as full as you want it to be.
4. Add Spring Picks
At this point, you could stop. If you are satisfied with how full your wreath is, you don't need to add more. I wanted to give my wreath more depth, so I added some fun spring flowers made out of foam balls. They are pastel and have lots of the same colors as the flowers and ribbon in my wreath.
6. Cover Up Your Mechanics
This last step is completely optional. If you are going to sell your wreath, I suggest covering up the foam on the back of your wreath. It elevates the wreath and makes it stand out as more professional. If you are just going to hang it up on your door, you don't have to do this step.
The best way to cover up the foam on the back of the wreath is to glue a large plastic leaf to it. The leaf covers it all up and matches all the other shades of green that I used.
Watch The Video: DIY Pink Spring Bicycle Wheel Wreath
Thanks for joining me today in the wreath workshop! Comment below and tell me what your favorite part was or let me know what I should make next!
Happy Wreathing,
Julie
More Spring Projects
If you enjoyed this easy DIY mesh spring welcome wreath, then here are some more springtime projects you will enjoy too.
Like this post? Pin it for later!