How to Use a Steel Pick Machine for Wreath Making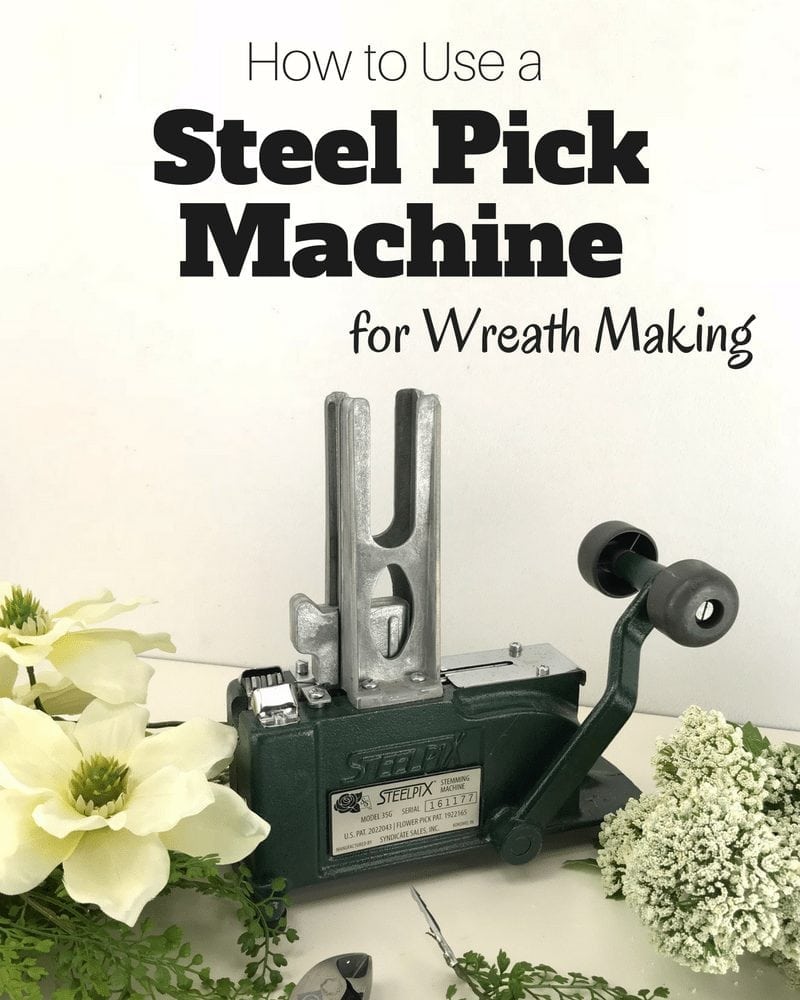 A week doesn't go by that I don't receive a question about my Steelpix machine! A floral pick machine can be a huge help to you in your wreath making business or hobby. This post contains some affiliate links for your convenience. Click here to read my full disclosure policy.
How to Use a Steel Pick Machine for Wreath Making
Today I'm taking a few minutes to walk you through using a Steelpix Machine. First, let's talk about what this machine is. The Steelpix or floral pick / stemming machine attaches steelpix to the ends of flower stems. Why would you want to do that? Simple – it allows you to insert your floral stem easier into your project and limits the amount of movement of the stem once it is in your arrangement.
Supplies
[Tweet "How to Use a Steel Pick Machine for Wreath Making"]
How to Use a Steelpix machine:
Start by loading the steel floral picks into your machine by first removing the weight, then insert the picks in the proper direction and add the weight back.
Each block of picks is covered in plastic. Once the picks are loaded, remove the plastic film. Note: I like to use an X-acto knife or screwdriver to get under the plastic.
Once the steel picks are loaded, plastic is removed and the weight is on, your machine is ready to go.
To add a steel pick to your flower stem, lift the handle to insert a steel pick where the "jaws" are.
Now lay the stem in the middle groove (between the jaws) and push the handle down. This crimps the steel pick onto the floral stem.
You are all set! I like to add a bit of hot glue to the stem to ensure a good snug fit into my arrangement.
The only maintenance required is oiling the machine every couple of weeks or so. This is simple to do and instructions can be found from the manufacturer of your machine.
How to Use a Steel Pick Machine for Wreath Making Video…
I know not everyone will want to make the investment in the Steelpix machine. If you are looking for a less expensive alternative, you can simply add wooden picks to your floral stems. Check out my tutorial, "How to Use Wood Floral Picks in Wreaths" for more information.
Let me know if you enjoyed this and don't forget to join me on Facebook so you can watch me Live!
If you enjoy watching me and/or learning to make wreaths of various styles, join me in my Wreath Making of the Month Club.
Happy Wreathing,
Julie
If you enjoyed this post, you might also like:
Frosty Winter Wreath Tutorial
DIY Pottery Barn Inspired Halloween Wreath Tutorial