How to make a Slim Storm Door Christmas Wreath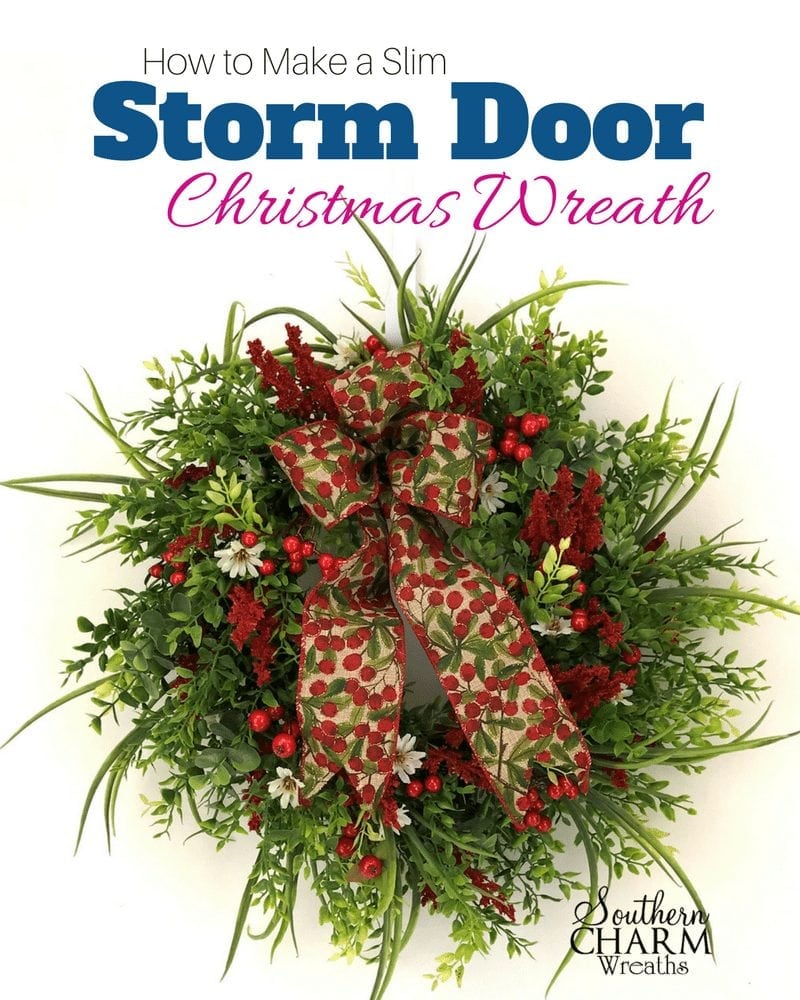 Fellow wreath makers always ask me how to make a thin wreath to fit behind a storm door or screen door!  My secret? Start with a premade evergreen wreath and add silk flowers to make an elegant Storm Door Christmas Wreath.  This post contains some affiliate links for your convenience. Click here to read my full disclosure policy.
How to Make a Slim Storm Door Christmas Wreath
In this video, I share simple steps to create a Christmas wreath that can fit behind your screen or storm door. Easy to complete in about an hours time! I'm sure we've all seen the wreaths that are completely crammed behind the screen or glass like it was in a collision, right?  Heck, no one wants that look!  I mean, my in laws did it all the time and it drove me absolutely crazy!  I wanted to fluff that poor wreath back to life every time I went through the threshold.  Can you relate?  Here's how to make a beautiful wreath that will fit properly.
Supplies needed
14″ Premade Tea leaf wreath from Hobby Lobby
rustic wire
greenery from Carolina Pottery
Astilbe (red) from Hobby Lobby
wired ribbon
floral wire
wreath easel (optional)
zip ties
wire cutters
scissors
hot glue gun
glue sticks
craft mat
[Tweet "How to make a Slim Storm Door Christmas Wreath"]
How to make a Slim Storm Door Christmas Wreath:
Start with a thin wreath, no more than 3 inches deep.
Fluff the wreath before you begin with your fingers. This makes it come to life.
Add additional greenery to the wreath to make it wider (I added grasses and green eucalyptus).
Remember the full depth of the wreath needs to be less than 4 inches, so add the greenery to the perimeter of the wreath.
When adding greenery and other florals to your wreath, clip individual pieces/sprigs versus using an entire bush. For more tips to save money on silk flowers, visit my blog- 7 Great Tips to Save Money on Silk Flowers.
Always place items in your wreath to test them out before gluing!
Don't be intimidated by bows…watch the video to see how to make a very simple flat bow for this wreath.
Place your flowers so that they go in the same direction on the wreath – it is much more pleasing to the eye.
Be sure to add flowers to the sides and not just on the top of the wreath – you want it to look good from all angles.
Hot glue a leaf (or leaves) to the back side of the wreath to hide any mess from hot glue and wire, etc.
Save your scraps! Save any leftover flowers or stems and use them for future projects. Nothing goes to waste.
A wreath this size would make a great gift! Think about making one of these for friends, teachers, a nursing home door or to give as a hostess gift!
Ok, here we go, to the Facebook Live replay of the video….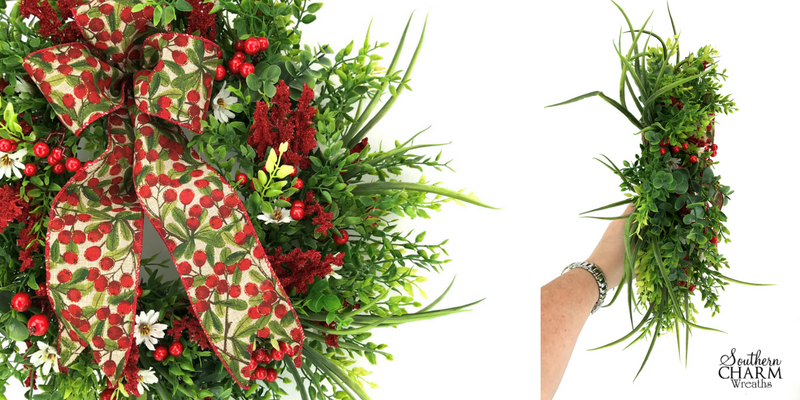 As I mentioned in my video, one of the keys to wreath making is color. For help on choosing colors for your wreath, check out this blog post – Wreath Making – How to Choose Colors.
Also mentioned, my coaching and mentoring services for your creative business with my Success Circle Membership Group.
I hope you enjoyed this tutorial! Make sure to comment below and tell me if you like it so that I know to keep making more tutorials like this. Don't forget to share this with your family and friends!
Join my mailing list and/or follow me on Facebook where I'm LIVE most Thursdays so that you can join in on the conversation www.facebook.com/southerncharmwreaths.
Happy Wreathing,
Julie
If you enjoyed this post, you might also like:
How to Make a Fall Door Hanger
Save
Save
Save