7 Ways to Be More Confident When You Feel Like a Failure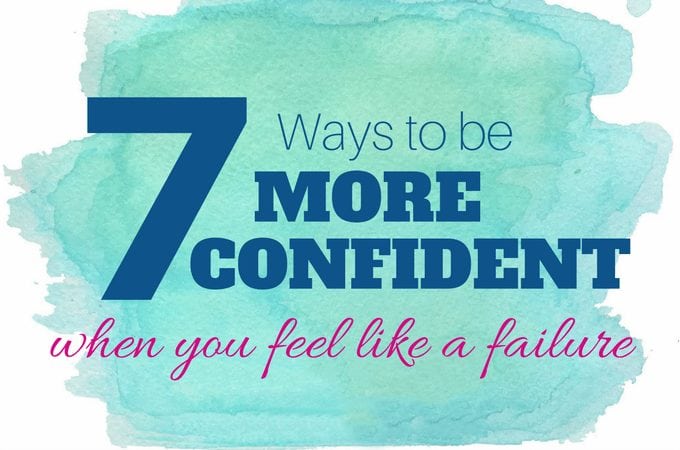 For my Etsy shop success tip this month, I want to share with you my ways to be more confident.  If we're honest with ourselves, most of us go through periods in our lives when we don't feel confident.  And if you suffer from depression like I do, these moments are increased.  Beyond that, we might feel like we just are not where we want to be at all and wonder if we'll ever get there. During those times, we might feel like a complete and utter failure. Let me tell you, when your confidence is that low, it can be difficult to work up the motivation to get anything done. However, we can't just let temporary setbacks become our new story. We must figure out a way to regain our confidence so that we can pick ourselves up again and move forward. Here are seven mindset shifts you can make that might help to boost your confidence.
Below are my 7 Ways to Be More Confident
Stop Calling Yourself a Failure
The first thing that you need to realize is that you are more than this experience. Even if you have had some legitimate setbacks or made some mistakes, that doesn't mean that those things define you. You may have EXPERIENCED failure, but that does not mean that you ARE a failure. Those are two completely different things. Once you realize that, you can choose to acknowledge the negative, but focus on the positive. Not just the good things that you have done and experienced, but the things that you can still accomplish and experience.
Reflect Back on Your Successes
When I start to lose confidence in myself, I take time to reflect back on the successes in my life.  Even counting the smallest successes and wins help to move me out of that negative mindset.  We all have successes; whether it's finishing a large project at work or just getting the grocery shopping done for the week.  You have to train your mind to notice the successes and be able to pat yourself on the back when you accomplish them.  If you can't take pride in your wins, then tell them to a trusted friend who is there to help cheer you on.
Don't Let a Mistake Go to Waste
I am a firm believer that you can learn a good lesson from just about any mistake that you make. These lessons can help you to make changes in your life that enable you to move forward. View your mistakes as learning opportunities. Dig through them in your mind to figure out how you can use what you have learned to affect positive change in your life. Also, remember that everyone makes mistakes. Even people that you look up to are not perfect. So, when it comes to learning from your mistakes, you are in very good company.
[Tweet "Everyone makes mistakes, even people you look up to. But each mistake you make is a step towards success."]
Remember That This Is Temporary
Have you ever heard the saying "this too shall pass"? I know that it may seem like one of the biggest clichés in the world, but there is truth to it. If you take the time to stop and think about your situation, chances are you will realize that it is not permanent or set in stone. Ask yourself if the situation can be changed or improved upon in the foreseeable future. Then ask yourself what you need to do to bring about that change and focus on that. Just the realization that a situation can get better can be enough to motivate you to take action.
Find a Good Role Model
Another way to be more confident is when we're going through a challenge, whether it is a positive one or a negative, we are often comforted, encouraged, and even inspired by people who have already dealt with that challenge successfully. Seeing that someone else went through what we are going through and survived or thrived can give us hope and make us feel more confident that we can do the same. No matter what you are going through, chances are you are not the first. Seek out those people who have successfully navigated the same obstacles and look to them for encouragement.  For example, in my Success Circle Membership Group, I'm helping creative entrepreneurs navigate the ups and downs of running an online business, how to market and how to overcome the doubt that comes with being a new business owner.
Seek Support
Other ways to be more confident, is to reach out to people in your life who can remind you that you are loved and that you have a lot of great qualities. It can be so easy for us to forget those things – especially when we feel like we are doing everything wrong. Having people in your life who won't let you forget is a great way to pull yourself out of a funk.  I find that support in my friends, my church family and by reading my Bible on a daily basis.
[Tweet "7 Ways to Be More Confident When You Feel Like a Failure"]
Embrace the Possibility of Moving On
You should also keep in mind that sometimes a failure means that perhaps the path you are on needs to be rerouted. It doesn't mean that you must give up on your goals. It just means that perhaps you need to come up with another way to reach them. Honestly, sometimes having a new plan of action can make you feel even more confident – especially if you have realized that the old plan was not going to work. So, don't be afraid to change things up and move on to a bigger and better plan.
These are my 7 ways to be more confident.  I hope they helped you.  Are there any tips that help you to be more confident? If so, comment below and share…I would love to know.
Julie
If you enjoyed this post, you might also like:
10 Proven Productivity Tips for Successful Etsy Shops
How to Stay Motivated When You Feel Like Giving Up
How to Quickly Make Your Etsy Shop Photos Stand Out