For a sale to take place, many factors need to line up — there needs to be the right product, for the right price, the the right person, at the right time.
But first, you need to learn more about who your customer will be:
Ideal Customer Profile (ICP)
As a wreath seller, a customer who is 30 years old will want something different than a customer who's 55 years old and a customer who's household income is $200,000 a year will want something different than a customer who's household income is $50,000. There are always exceptions but you want to develop your ideal customer profile in your mind so that everything you produce speaks to that ideal customer.
Wreaths liked by a 30 something

vs. Wreaths liked by a 50 something

Your photo stylings and brand colors should speak to this ideal customer avatar you create. Everything you do from product development, branding, marketing, packaging, etc. needs to be mindful of your avatar (ICP).
Let me show you how I came up with my ICP
Use this link to go to Facebook Ad Insights to find more information about your ideal customer profile.
https://business.facebook.com/ads/audience-insights/
Find more training on determining your ideal customer profile in the portal here.
Read about my ICP, Beth, and download a blank Ideal Customer Profile Worksheet for yourself here.
Now what type of door would my ideal customer have? I googled front door ideas for the rich and found a sampling. However you can also google front door ideas for the middle class, for the millennial, for the renter, for the mobile home, etc. Use search terms for YOUR ideal customer. If you don't sell wreaths, search for places where a buyer would display your handmade product.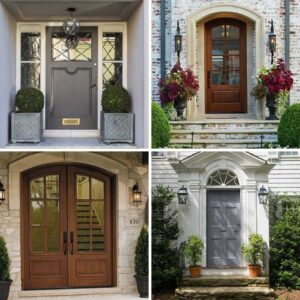 The next thing I did was go to google maps and switch from satellite view to street view in a neighborhood where my ideal customer would live and looked at their yards in relation to their doors.
Idea Generation –
Most new handmade businesses start knowing what they want to make to sell because they've been making for their personal use for years. One way to know you've got a good idea for a product is when people tell you to sell your designs, or they ask to buy them or have you make them one.
And based off the research for my ICP, I see there are doors with double doors, doors with glass on top, some on sides, and some that are all glass, and their yards could be much bigger..sitting further off the road and door colors are earth tones and not brightly colored. So I brainstorm on what types of products I can make to sell to this type of customer that will work with their various door styles. So making sure it looks nice on the back of the wreath, a smaller wreath to fit under a window, swags to match the wreath for either side of the windows on the side of a door, bright colored to pop on a dark brown or black door, etc.
Also consider style, my ideal customer would probably not be interested in any heavily themed wreaths unless they're planning a party or event using that theme. Example, luau, cinco de mayo, etc.
Determine a price point –
Once you know who your customer is, you'll be able to determine a price point of what they're willing to pay for your products. If my customer pays $180 on one sweater (which is what I found after researching one of their catalogs they read for clothes), they won't have issues with buying a $180 wreath.
When you determine an average price point you can take that number and divide it by 3, this should be your average cost per item. You'll want to make some of your products at this price point but also some at a lesser price point and some at a higher, giving your shoppers options.
Check your competition –
Go to Etsy and search for a wreath using good keywords and sort the listings from high to low price and find items that are within your determined price point range. Ask yourself if your items look similar in design. If yes, then you are good. If your designs don't have the same elements or quality about them, how can you improve your quality or change up your ICP to fit.
Regardless if you sell on Etsy, Facebook marketplace or craft shows, this is a good technique. Look at their Etsy shops and ask yourself… how are they branded, how do their photos look, what kind of tags and keywords are they using? How many sales have they had?
Use this information to improve your products/shop by finding the weaknesses in your competition.
Customer Service –
Customer service should be top notch no matter what you sell or who you sell too. There are many ways to provide customer service and you can review them in the portal here: https://southerncharmwreaths.com/bsc/etsy-customer-market-experience/
Time is everything –
If you sell holiday and seasonal items, you'll want to make sure to produce your items well ahead of when a shopper will search for them on Etsy (facebook, ebay, etc.). Use the handmade design planner here to know when to start production times of holiday and seasonal items.
Keywords –
When selling online, keywords are important. Keywords are the words buyers use to search for an item while shopping online. You can find common keywords shoppers use by following these instructions.
For my ICP, I can use keywords such as: large luxury door wreaths, elegant door wreaths, high end wreaths, quality door wreaths, etc.
Photos –
During product development, make sure to take photos to share on social media and in the online listing process. For a wreath maker, this could be attaching the sign, making the bow, the flowers and greenery bundled together, etc.
Once the product is made, giving ideas to the shopper on how to use and display your product in their home will help the buyer envision using it and increases the chances of selling. Review on what photos to take of your products here: https://southerncharmwreaths.com/bsc/etsy-product-photography/
Descriptions –
When you write your descriptions, remember your ideal customer profile. My ideal wreath buyer does not know or care necessarily about the technical terms of wreath making. Use of terms such as poof method, ruffle method, elevated wreath frame, etc. are a foreign language to a shopper.
What they are interested in is, how big is it, where can it be used, what are the reviews, why they should buy it, etc.
So when you write your descriptions, write them with your customer in mind. Example for MY ICP:
"And because you enjoy the finer things in life, we've searched for the best quality florals and greenery when constructing our wreaths. Including using quality wired ribbon and greenery that can be reshaped if needed."
"Your busy, so let us take the stress of decorating your door for spring off your shoulders while giving your home a warm and inviting atmosphere."
Packaging –
Put yourself in your buyers shoes. What kind of reaction do you want them to have when you receive their new purchase from you? Take the time to package your product nicely (ribbon, branded tape, branded stickers, branded handouts, etc) and securely. Include information on how to order from you again and make them a repeat customer by providing a coupon off their next purchase.
https://southerncharmwreaths.com/wreathcustomer/
In conclusion, always keep your ICP in mind when creating your products, listing them and shipping them.
Conclusion –
Get to know who your ICP is and what the need. What do they stress over and worry about, then find the way to help them with your products.