How to Clean Up Grapevine Wreaths for Wreath Making
Did you know you're supposed to clean the dead leaves out of your grapevine wreath bast before you start decorating it? If not, don't feel bad. I've run across plenty of experienced wreath makers who've never heard of doing this before. But this is one of the quickest tips I can give you to seriously up your wreath making game, and give you a more professional finished product. So here's this week's quick Tip Tuesday: How to Clean Up Grapevine Wreaths.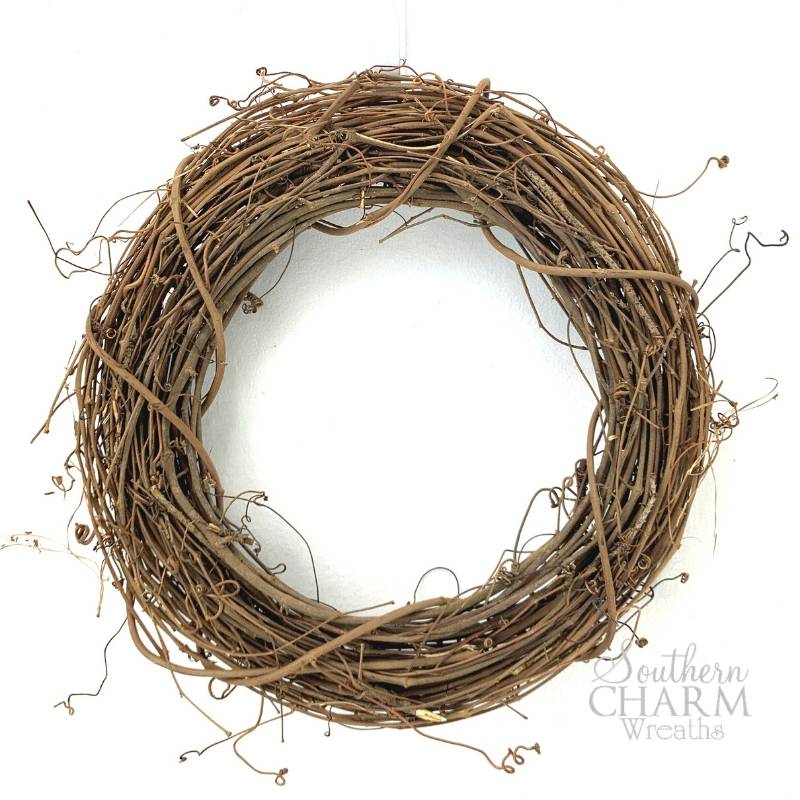 This post may contain affiliate links for your convenience. Click here to read my full disclosure policy.
Why You Should Clean Your Grapevine Wreath Before You Use It
There are a few reasons you would want to clean up a grapevine wreath. The most important being that over time, the leaves inside will break up and fall out. Not only does this make a mess for your customer and make your wreaths appear less professional, but it can also cause issues to the structure of your wreath.
When you hot glue any stems or decorations into a grapevine wreath with lots of leaves in it, the glue is most likely going to stick to those leaves instead of the wood of the vines. Then, when those leaves break down or detach, your decorations will have nothing to stick to and may fall out.
It's also an easy way to clean up the look of wreaths where you plan to leave the grapevine partially exposed, or wreaths you may want to spray paint. Both of these look much better once they are cleaned up.
The ability to clean out the leaves can also save you some headache when picking out your wreath base at the craft store (or when you buy online and don't get to see the grapevine you're getting before you buy). No more picking through dozens of grapevine wreaths trying to pick out the best one! Just grab one, take it home, and clean it up yourself!
What You'll Need to Prepare Your Grapevine Wreath
Obviously, you're going to need a grapevine wreath. You can get those just about anywhere, but I almost always get mine from Deco Exchange now. They have good quality materials for beginner and professional wreath makers, and I couldn't recommend them enough.
You'll also need an awl or something similar like a screwdriver. This is the one I use.
If you're not doing this outside, I recommend working over one of these craft mats to make the clean up easier.
How to Get the Leaves Out of Your Grapevine Wreath
Like I said, this is super simple. Feel free to watch the video below if you're more of a visual learner, but here's how it's done:
Hold your wreath steady on your work surface (Outside is best if you've got good weather!) and use the awl to poke down inside the wreath where the extra leaves are hiding. Slide the awl back and forth along the vines until you break up the leaves and they fall out. Keep doing this around the wreath and on all sides until there's few to no leaves remaining.
You may have to be a little rough about it. Don't worry, grapevine wreaths are pretty sturdy. In the live video, you can see me jabbing my icepick back and forth and banging the wreath on the table to get the remnants out several times.
(Need to relieve some frustration while you craft? LOL)
You may have some parts of your wreath that are too thick to get your tool through. If you need to get behind there, it's ok to take some clippers and cut out a section or two of vine. This will be helpful later on too, since odds are that if you can't get your awl in there, you won't be able to get silk flower stems in either.
Don't forget to subscribe to my Youtube channel do you don't miss any more Tip Tuesday tutorials!
Craft Tip Tuesday Video – Clean Up Grapevine Wreaths
If you enjoyed this and want to learn to wreath the professional way, join me in our exclusive Wreath Making of the Month Club, seats open soon!
Happy Wreathing,
Julie
If you enjoyed this post, you might also like:
How to Use an Electric Skillet Glue Pan
How to Foam and Moss a Container
How to Make a Hanger on the Back of a Wreath
Was this Tutorial Helpful? Pin it to save for later!