How To Make a Hanger on the Back of a Wreath
Today in the wreath shop, I'm answering one of the most common questions I get from new wreath makers: "How do I make a wreath hanger for my wreath?" Keep reading or watch the video below and I'll teach you how to make a hanger for a grapevine wreath and how to make a hanger for a deco mesh wreath.
This post may contain affiliate links for your convenience. Click here to read my full disclosure policy.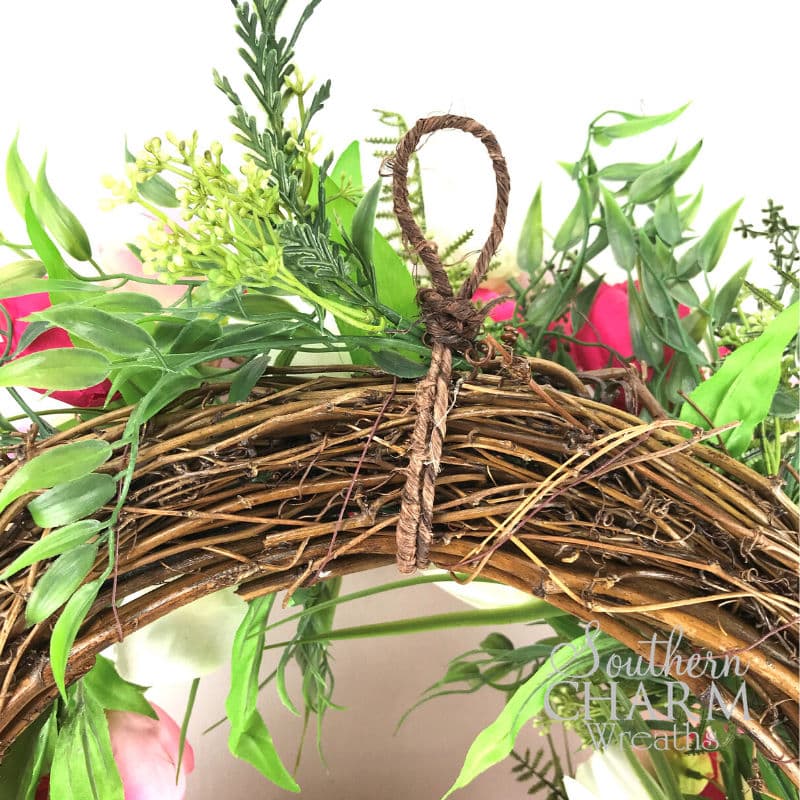 DIY Wreath Hangers Tutorial
Let's start with the grapevine wreath.
You can make this hanger with any thick wire, but you can get this Rustic Wire on Amazon that matches the grapevine and gives the wreath a more professional finish.
First, cut your rustic wire to 25″ and fold it in half. Lay your wreath on top of the hanger, and pull the tails of the wire up and around the top of the wreath.
Then twist the tails of the wire tightly around the loop to secure it.
Now just tuck the tails down at the back of the wreath and you're all set!
Now let's make a hanger for a deco mech wreath. (Or any wreath on a wire base.)
For this one, you just need a regular pipe cleaner.
First, fold in both ends, then fold the middle in the opposite direction to form a W shape. Then pinch the bottom corners of that W together.
Slide the tails under the top wire of the wreath base. Pull it up to the loop and twist them together a couple times until it's secure.
Piece of cake!
Wreath Hanger Video Tutorial
If you enjoyed this and want to learn to wreath the professional way, join me in our exclusive Wreath Making of the Month Club!
Happy Wreathing,
Julie
If you enjoyed this post, you might also like:
Nine Ways to Make a Bow for a Wreath
Top Wreath Making Tools for Beginners
How to Choose Colors for your Wreath
Was this Tutorial Helpful? Pin it to save for later!