DIY Buffalo Plaid Deco Mesh Wreath
For a design that will look perfectly seasonal, all winter long, try this buffalo plaid deco mesh wreath; it will add just the right touch of warmth and welcome to any front door.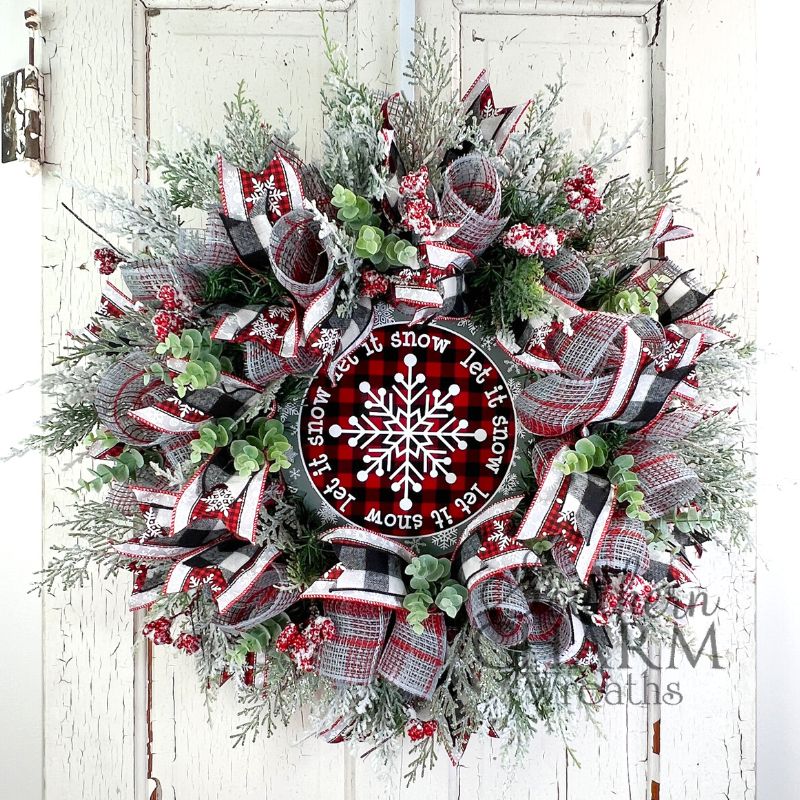 Buffalo plaid deco mesh wreath
Is your door feeling a little bit underdressed now that the Christmas season has ended?
Well, not anymore! This buffalo plaid deco mesh wreath is perfect for the winter season with warm plaid details, frosted berries, and icy greens.
The design is cheerful, welcoming, and wintery, without being Christmas-themed. 

Supplies for this project
You'll need:
How to make a buffalo plaid deco mesh wreath: Step-by-step tutorial
1. Prep your base
Begin by preparing your base wreath; fluff it up so it's full and ready for decorating.
Then, add your decorative winter sign to the center of the wreath using wire anchors.
2. Add your mesh
Next, cut your 10" plaid mesh into 10" strips. You can use a rotary cutter or scissors. You will need approximately 20-30 strips altogether.
Prep your mesh piece by rolling the edges inwards, scrunching it together in the middle, and securing it to your wreath using needle ties.
Space your mesh pieces out evenly in two rings; one at the outer edge of your wreath, and one closer to the middle of your wreath.
Keep going until you've made it all the way around, using 10-15 pieces in each ring.
3. Include ribbons
Time for ribbon!
Cut 20 streamers of your snowflake ribbon at 12 inches long and 20 streamers of your plaid ribbon at 10 inches long.
Layer a streamer of plaid ribbon on top of the snowflake ribbon, pinching in the middle and securing to your wreath with a tie.
Separate your ribbons, fanning them out like an "x." Continue adding them evenly throughout your wreath.
4. Layer your greens
Next, layer your greens for added texture and depth. Attach them using hot glue, ensuring you're attaching them to the wreath base.
Add flocked greenery around the outer edge and middle ring, use frosted greenery around the perimeter and add snow-covered berries throughout for some pops of color.
5. Finishing touches
Time to put the finishing touches on your winter wreath!
You can fill in any excess space with some clipped pieces of eucalyptus; this adds a final bit of texture to the wreath and covers up any bit of base that you don't want to be seen.
Fluff your wreath, clip any loose edges, and you're done!
Watch the video: How to make a buffalo plaid deco mesh wreath
If you enjoyed this post, you might also like:
Like this post? Pin it for later!