DIY Snowman Winter Wreath For Winter (Video)
If you want a wreath that can last all winter long – not just during Christmas – make this cute DIY snowman wreath!
After the holidays are over, what do you put on your door during that time between the end of December and February? Consider making a cute winter-themed snowman wreath! This is a really cute and perfect winter door decor.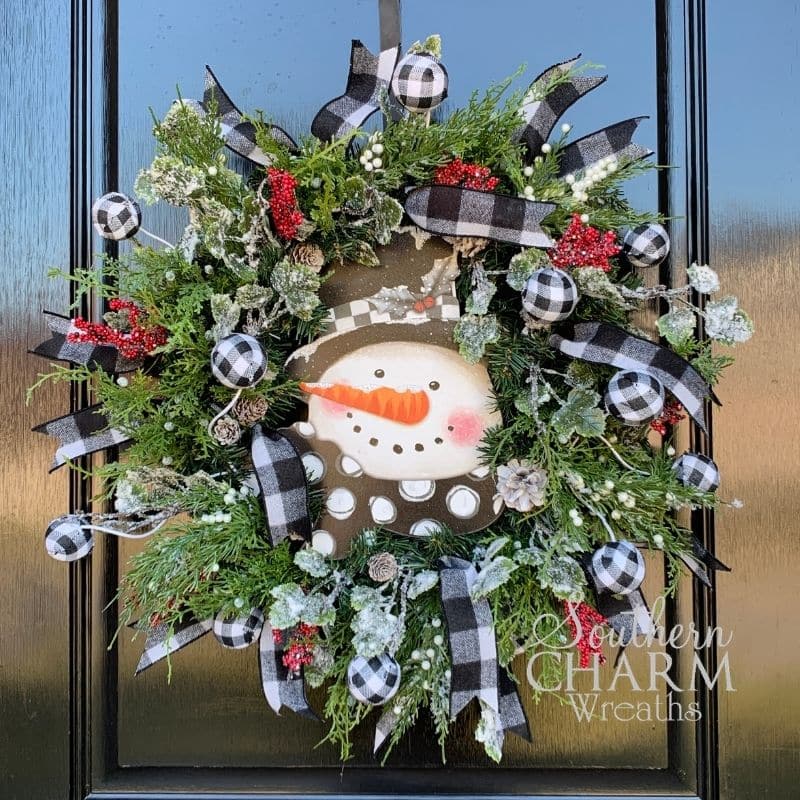 How To Make A Snowman Wreath
This is the perfect thing to make and sell during the wintertime. Many people don't know what to hang on their doors after Christmas yet they refuse to leave their door plain and without a wreath.
Give them this fun option!
Supplies
18-inch evergreen wreath
Snowman sign
Wires
Juniper greenery
Greenery with red berries (from Greenery Market)
Black and white wired ribbon
Black and white ornaments (optional)
Hot glue sticks
Hot plate
Watch The Video: Snowman Winter Wreath
Are you a visual learner? I made a video where I made this wreath step-by-step. Watch it and make your own wreath along with me.
DIY Snowman Wreath: Step By Step Tutorial
Here's how to make this winter wreath.
1. Attach The Snowman Sign
Use wire to attach your snowman sign to the middle of the wreath. Since we are using an evergreen wreath form, you might have to move some of the evergreen branches out of the way to get your sign to sit just right.
2. Add More Greenery To The Base
I always melt hot glue sticks in a skillet on a hot plate, and then I dip my pieces into the glue and attach them to my wreath.
Dip your greenery pieces into the hot glue and add them throughout the wreath. This adds more texture, height, and color to the wreath. Plus, when you add more greenery you don't have to buy an expensive base.
I also added some pretty greenery picks with red berries on them from Greenery Market. Don't be afraid to use red berries in a winter design!
3. Decorate With Wired Ribbon
Cut some wired ribbon to about 13 inches long and add them throughout your wreath as streamers. I picked out this ribbon because it is flannel and matches the print on the Santa's hat on the sign.
Flannel also adds a soft texture to this wreath. Add as many streamers as you want.
Since I worked with an evergreen base, I just crimped the ribbons instead of glued them.
4. Add Whimsical Ornaments
You could stop after adding the ribbon. This looks like a complete wreath that lots of people would just love! If you want to add one more layer to the wreath, you can add some ornament picks.
I found some that have the same black and white plaid print as the ribbon and the snowman's hat, so I thought they would be the perfect last addition.
Since these are optional (and you will be adding them to a wreath that is nearly finished), I suggest sticking them into the wreath without glue first to try and perfect the placement.
It might be tricky to find the perfect spots that aren't already used by your other pieces.
Trim a few bulbs off and use them as single decorative pieces throughout the wreath. This is a really fun part because the wreath is already finished, you are just added one last touch of flair!
If you enjoyed this and want to learn to wreath the professional way,
try our Wreath Making 101 Workshop!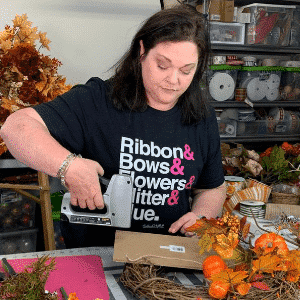 Happy Wreathing!
Julie
More Winter Projects:
Liked this Snowman Winter Wreath Tutorial? Pin it for later!