DIY Christmas Cardinal Wreath on Grapevine (Video)
Make a stunning wreath that you can hang on your door all winter long. This Cardinal wreath uses bright red and white ribbons on grapevine.
Honestly, this wreath is more of a winter wreath than just a Christmas one. Cardinals are birds that don't fly south for the winter. The colors in this wreath celebrate the beauty of their red feathers against the cold white snow.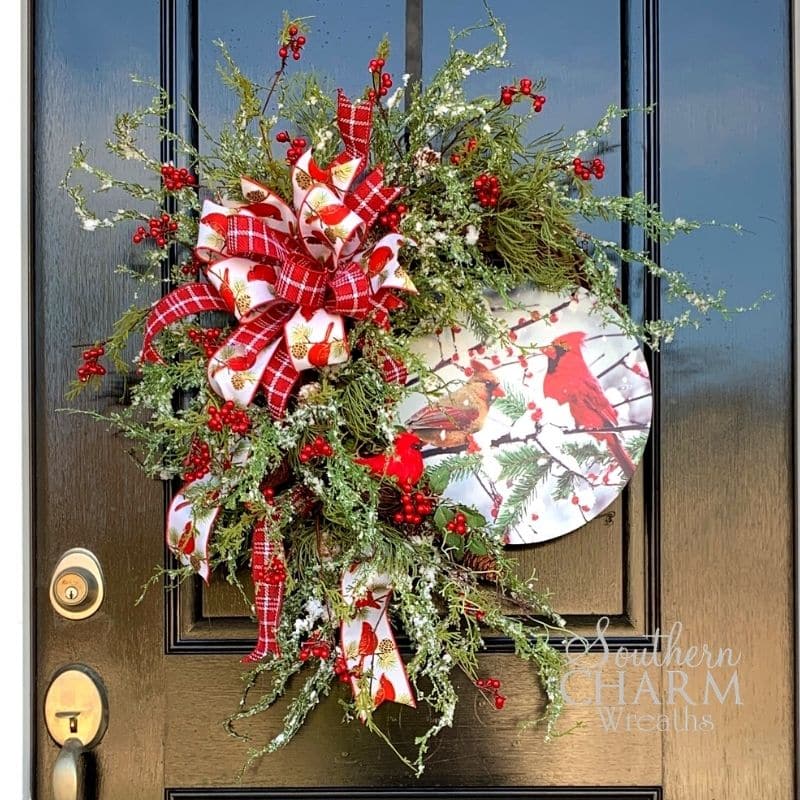 Grapevine Christmas Wreath
I love decorating wreaths with grapevine. It's such an easy base that you can use in so many different ways. This wreath turns out different each time I make it – here's how to make your own.
Watch the Video: DIY Christmas Cardinal Wreath
If you are a visual learner, I've put together a simple video for you showing you how to make a Christmas cardinal wreath on grapevine, from start to finish.
Tips And Tricks For This Cardinal Wreath
Use The Right-Sized Wreath
I used a 15-inch grapevine wreath to go with my cardinal sign that I bought from DecoExchange.
Tighten Your Sign To The Wreath
Signs can be tricky. The trick to making sure your sign isn't wobbly on your wreath is to use wire and twist it as tight as possible. Try to avoid any large knots in the wreath and tie it very tight.
In fact, if you still think your sign isn't tight enough, you can add another hole to the sign and use another piece of wire to attach it to the wreath. Don't forget to trim the extra lengths of wire that are leftover on the back. This way it won't scratch your door.
Make Your Bow With Wired Ribbon
I used a 2 1/2-inch wired ribbon with cardinals on it that I bought from Trendy Tree. I paired it with a 1 1/2-inch red plaid ribbon.
For my larger ribbon I chose one with a white background because I really like how it matched the white background on my sign.
I used a mat to measure 12 inches for each loop. You don't have to use a mat, but some people like using one to see exactly how long they are making each loop and tail.
Every time you make a loop, twist the ribbon. This will give your bow some lift.
Layer The Ribbons
If you are using more than one ribbon in your bow, I have a tip that will help everything stand out.
When you start out making the bow with the second layer, create it in the opposite direction. That means start out with the tail on the top instead of the bottom like your first bow. Then, fold and twist in the opposite direction that you did the first time.
Don't worry too much about perfecting the bow until you add the wire to the middle and secure it together. At the end you fluff and twist and lay all the loops out exactly how you want them.
Add More Greenery & Decorations
The bow and sign are the most difficult parts, this next part is so much fun! If you don't like grapevine wreaths for Christmas, start adding layers of evergreen branches and picks.
Fill in the wreath with more decor. I added different types of evergreen branches and covered the grapevine wreath completely.
At the very end, I glued a lovely little cardinal to the wreath too!
Show Off Your Wreath
This is such a beautiful way to celebrate the winter colors! Start with your favorite sign and begin choosing accent ribbons and picks that coordinate with it.
More Christmas Projects:
Liked this Christmas Lantern Swag Tutorial? Pin it for later!