How to Make a Christmas Lantern Topper
My husband and I just moved into a new home (although if you're not new around here, y'all definitely knew that already!) and that can only mean one thing. It's time to make myself some new Christmas decor! I have had this oversized lantern from Carolina Pottery for several years now and I think I'm going to give it a little makeover with this easy Christmas Lantern Topper.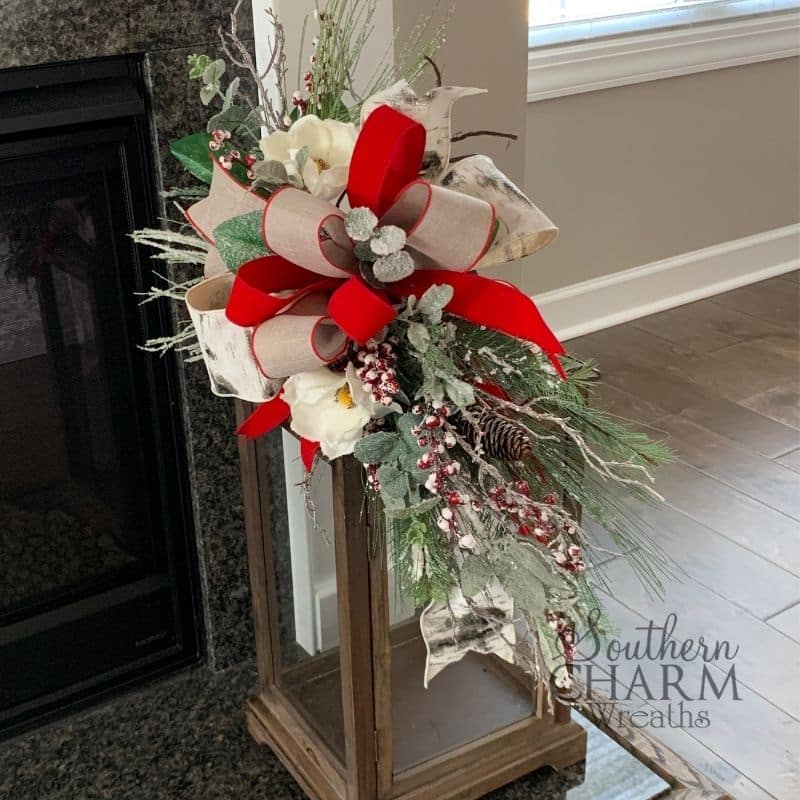 In my Wreath Making of the Month Club, I like to post not just tutorial videos, but show my process on how I make decisions in designing my projects. And I'm sharing one of those same types of videos with you today.
To watch my actual process, click on the video at the end of this page. To get a straightforward tutorial on how to make this exact swag, read the step-by-step instructions below.
Let's get started!
This post may contain affiliate links for your convenience. Click here to read my full disclosure policy.
Supplies for Christmas Lantern Topper
I got all the materials for this project from Carolina Pottery and Greenery Market.
Materials:
2 Coordinating Winter Greenery Sprays
2 Winter Floral Sprays
3 Coordinating Christmas Ribbons
Florist Wire
Rustic Wire
More of my favorite places to look for unique supplies: Deco Exchange and Trendy Tree
Tools:
Steps for Making a Christmas Lantern Topper
Step 1 – To start out, use your three ribbons to make a bow that's about the same width as your lantern. I had the bow for this project made ahead of time, so the process is not covered in the video, but you can find my free bow making tutorial here.
Step 2 – Now we can start making the actual swag. You want the top of the swag to be full, and trail off as it drapes down the lantern.
So what you will do is layer your four swags together so that three of them face up, and one faces down. (The one facing down should be one of the flower swags since the flower is a focal point of the arrangement.)
Start by layering your two greenery swags together and fluffing them up so that they get some good dimension and all the elements are visible and look like one large swag.
Step 3 – Next, add one of the flower sprays to the top of those, just a little bit further down so you can still see the greenery behind it. If your floral swag has big leaves on it, you may need to do some trimming so that everything stays balanced and visible.
Step 4 – Now, holding the stems of your arrangement, add the other floral spray facing the opposite direction. The stems should overlap, but still leave enough space four your bow to sit comfortable in between.
Step 5 – Secure everything in place (not on the lantern) using multiple zip ties. You could do this with wire if you like, but I much prefer the zip tie method and use it almost every time I make a lantern swag.
Step 6 – Then attach your bow in the stem gap and secure it with florist wire.
Only one more step now!
Making your Swag Removable
Step 7 – If you want to be able to remove your swag and swap it out with other seasonal ones throughout the year, I recommend making a rustic wire hanger in the back of your swag instead of permanently attaching it.
Learn how to make a hanger for your arrangements here.
And that's all there is to it!
How to Make a Lantern Topper for Your Christmas Decor
If you enjoyed this and want to learn to wreath the professional way, join me in our exclusive Wreath Making of the Month Club!
Happy Wreathing,
Julie
If you enjoyed this post, you might also like:
Frosty Winter Lantern Swag
DIY Tobacco Basket Christmas Wreath
Rustic Farmhouse Christmas Centerpiece
Liked this Christmas Lantern Swag Tutorial? Pin it for later!