DIY Simple Bumblebee Door Hanger
This bright yellow and black DIY door hanger is shaped like a playful bumblebee. Follow this tutorial and you'll be able to make just like it.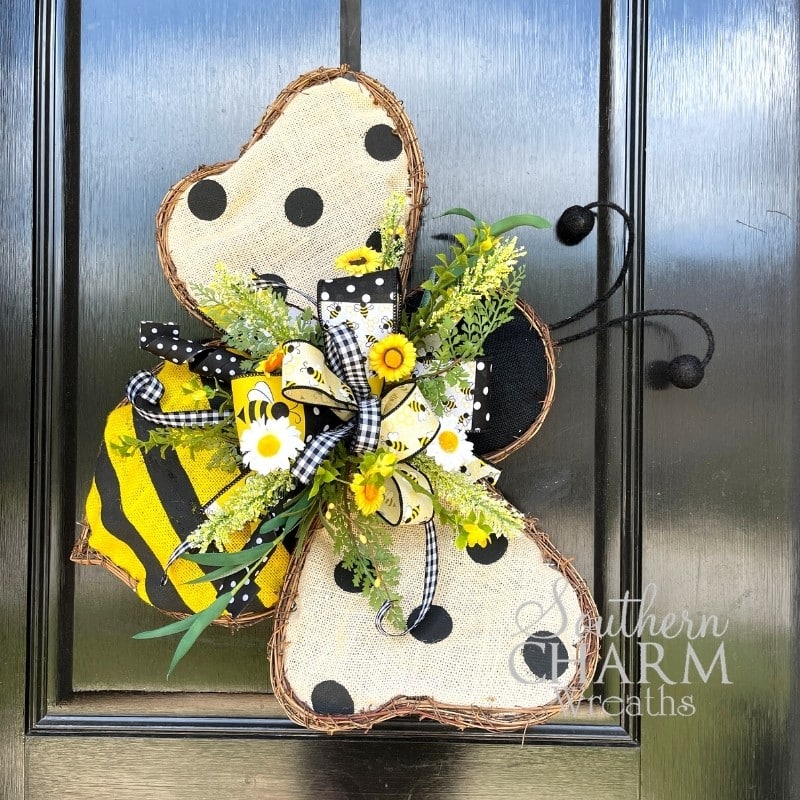 How To Make A DIY Simple Bumblebee Door Hanger
This simple bumblebee door hanger will add rustic charm to your front door. From the grapevine wreath around the outside to the burlap fabric and whimsical ribbons, this is a can't miss!
Plus, it's actually really easy for beginners, too. It looks really involved and difficult, but I promise, it really isn't. Follow this tutorial and you'll be able to make one just like it.
If you are a visual learner, I have a video where I make it for you down below. Pause the video and rewatch it as many times as you need.
Supplies For This Project
Florist Wire
2 1/2-inch wired ribbon
1 1/2-inch wired ribbon
5/8-inch wired ribbon
Ribbon Holder
Pre-made Bumblebee Door Hanger
Wire Cutters
Silk Flowers
Greenery
*all supplies came from Greenery Market

How To Make A DIY Bumblebee Door Hanger – Step By Step Tutorial
1. Create The Bow
I love to make bows with a variety of different-sized ribbons. It gives the bow depth makes it stand out. Plus, I just love the way the loops pop in each layer.
For my bow centerpiece, I use 2 1/2-inch, 1 1/2-inch, and 5/8-inch ribbons. Then, I placed all three spools of ribbon on a ribbon holder. The ribbon holder isn't required, but it sure does keep everything steady while I make the loops for the bows.
I left an 8-inch tail and started out with 10-inch loops. I did this until I had 3 loops at 10-inches each. Cut that off and use the smaller 1 1/2-inch ribbon to make more loops. For this ribbon, I still made them 10-inches. Make another 3 loops and then cut the ribbon.
At this point I had 3 loops above my thumb and 3 loops below my thumb.
Finalize the bow with a coup of loops out of the 5/8-inch ribbon. I made them 10-inches as well and made another 3 loops.
When you have all of your loops, use some florist sire to keep them all bound together.
Now you have a bright and large bumblebee bow to add to your door hanger.
2. Attach The Bow
Use the wire to securely attach the bow to the middle of the bumblebee. I place the bow right below the bee's head and poked the wire through the door hang to the back, where I twisted it nice and tight.
If you have extra wire, cut it so it doesn't scratch your door.
You could stop here if you wanted, but I just really wanted to add some flowers.
3. Add Some Flowers And Greenery
This is such a fun part! Separate and make individual stems of fern and other leaves and your favorite yellow flowers.
Then, dip the bottom of the greenery into some melted glue sticks and place them inside of your loops. Trim the greenery so they aren't all the same length. I love using different types of greenery because it adds texture and different shapes to bow.
I used a spray from Greenery Market that has multiple yellow flowers attached to it. Then, just trim and glue the spray underneath your bow's loops.
If you wanted to glue and add some floral sprays to the bumblebee first, you could have done that and then put the bow on top.
I added floral sprays all around the bow. Wherever I found an empty spot, I added more flowers.
4. Trim and Fluff The Door Hanger
After you step back and think your bow and florals all look full enough, start fluffing everything out. Move the ribbons so they aren't laying flat. Move the bumblebee's wings up a little bit to give the allusion of the bumblebee starting to fly away.
It's at this point that you can start adding more flowers if you think it still needs some more. Always keep your door hanger or wreaths as simple as you want them.
If you are selling at craft shows, embellishing door hangers with florals and ribbons is a super-fast thing you can make. It doesn't take long and everyone loves to buy them.
Watch The Video: DIY Simple Bumblebee Door Hanger
If you enjoyed this post, you might also like:
Liked this DIY Bumblebee Door Hanger Tutorial? Pin it for later!