DIY Farmhouse Table Centerpiece
In this video, learn to make a DIY Farmhouse Table Centerpiece that is perfect for spring. This post may contain affiliate links for your convenience. Click here to read my full disclosure policy.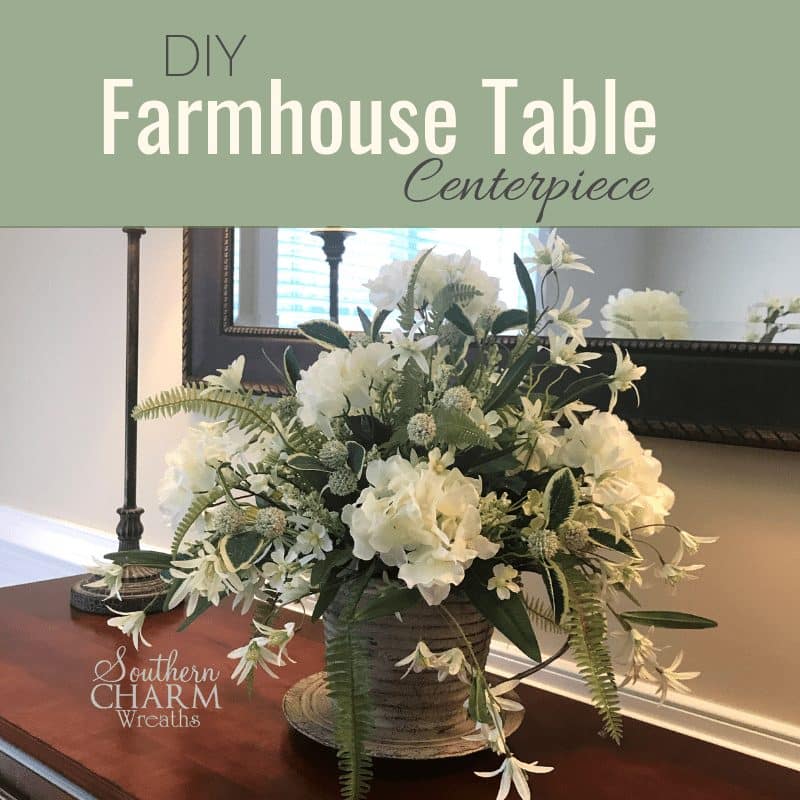 This is a beautiful, simple centerpiece for your table featuring silk Hydrangeas. This would also be a great wedding centerpiece or an arrangement for your foyer table. 
[Tweet "How to Make a DIY Farmhouse Table Centerpiece"]
Supplies
Saucer Planter
Hydrangeas (Wholesale House)
Mixed Green Cream Bush
Delicate White Flowers (Wholesale House)
Fern
Styrofoam
Moss
Floral pins
Floral picks
Steel Pick Machine
Silicone mat
Wire Cutters
Hot Glue Gun
How to Make a DIY Farmhouse Table Centerpiece
Step 1 – Prep the Saucer Planter
Start by cutting Styrofoam to fit inside the saucer. Next, add the Styrofoam to the saucer by stacking pieces of the Styrofoam until it comes almost to the top. Before adding, you can add a bit of hot glue to the bottom to secure it even more and also between the layers. However, if you would like the ability to change out the arrangement you can skip the hot glue. Add floral picks through the layers to secure them together. If the floral picks are sticking out of the top layer you can cut them off. 
Next, cover the Styrofoam with moss using floral pins.
Step 2 – Add Hydrangeas
Trim stems of the Hydrangeas from the bush. Take a moment to adjust the flowers and make sure they are open and looking natural. 
Start with the longest stem and place it in the middle adding a bit of hot glue to the stem before inserting into the Styrofoam.
Continue adding the flowers at different heights. I used approximately 8 Hydrangea stems.
Step 3 – Add Filler
Cut stems from the other bushes you are using. Add hot glue to the stems for more adhesion before inserting. 
Continue adding silk stems until you are happy with the result. Remember to vary the heights of the stems and use different textures. I used some smaller white flowers and greenery including fern stems.
Note: For an arrangement like this one, it is helpful to use a lazy Susan to spin it around so you can easily see all angles.
Step 5 – Finish
Check out the arrangement all the way around and fix any areas where stems need to be added. You're done!
Video How to Make a DIY Farmhouse Table Centerpiece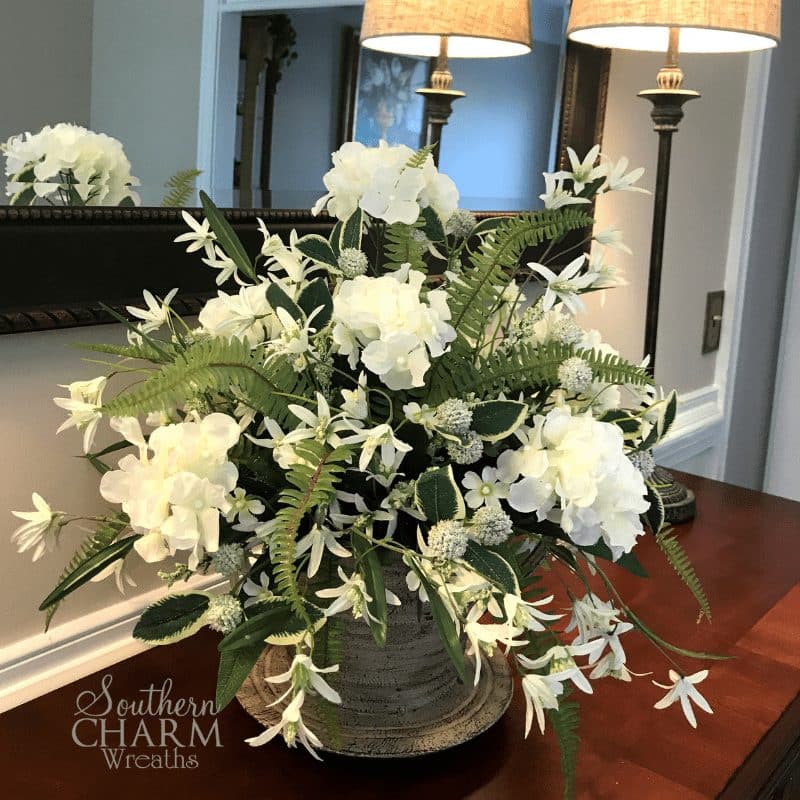 As always, you can easily switch up this arrangement with your own choice of flowers and colors. This would be beautiful for Mother's Day either as is with the white flowers or with some pretty spring colors.
Let me know if you enjoyed this and don't forget to join me on Facebook so you can watch me Live!
If you enjoy watching me and/or learning to make wreaths of various styles, join me in my Wreath Making of the Month Club!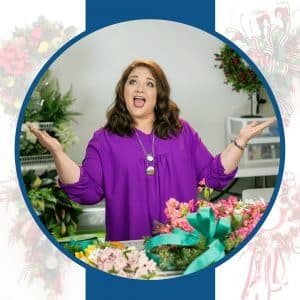 Happy Wreathing,
Julie
If you enjoyed this post, you might also like:
How to Make an Easter Egg Door Hanger
20 Unique Mother's Day Gift Ideas
Let's Make a Farmhouse Tire Spring Wreath