DIY Masculine Valentine's Day Wreath
This masculine Valentine's Day wreath has a design that anyone would enjoy with an eye-catching geometric sign, velvet ribbons, and red silk flowers.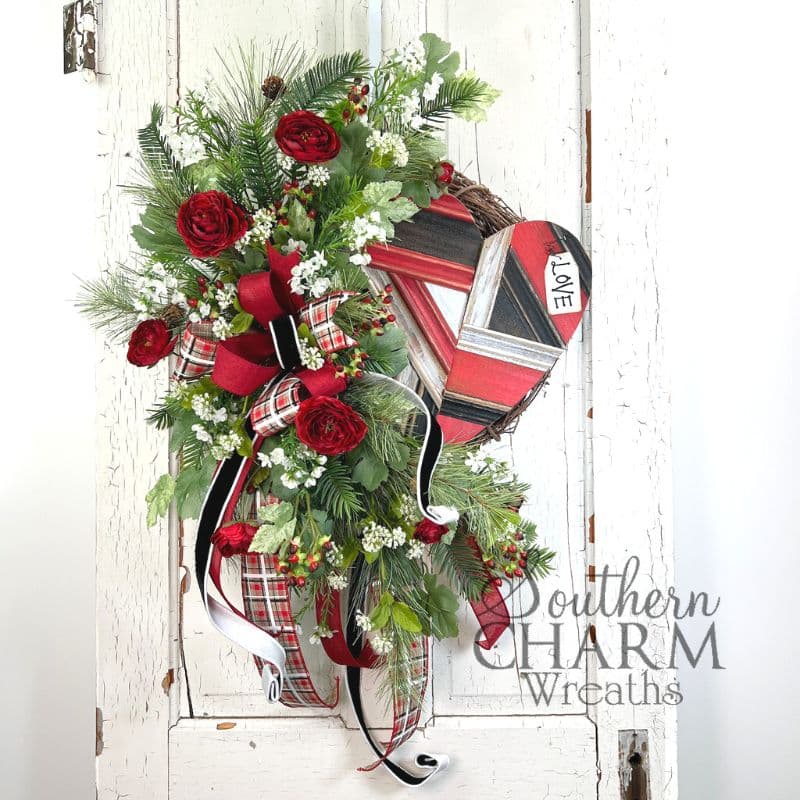 Masculine Valentine's Day wreath
While most Valentine's Day decorations are filled with feminine florals and glitzy touches, I wanted to make a wreath for everyone. So, this masculine Valentine's Day wreath was born.
This unisex design isn't super blingy but remains perfect for the holiday with subtle romantic touches, a geometric heart centerpiece, and a classic Valentine's Day color palette.

Supplies for this project
You'll need:
1 – Geometric Focal Heart Sign
2 ½" Wired Plaid Ribbon
1 ½" Wired Red Ribbon
1" Wire Black Velvet Ribbon
Long Needle Pine Greenery
Viburnum Greenery
Hemlock Greenery
Red Silk Ranunculus Flowers
White Wax Flowers
Red Hypericum Berries
Anchors
Hot Glue
Wire Clippers
How to make a masculine Valentine's Day wreath: Step-by-step tutorial
1. Secure your focal sign
Begin by adding your focal sign to your grapevine wreath, stapling to attach, and securing with florist wire and anchors for extra stability.
Attach the sign off-center to one side of your wreath. We're going to be building the design using the opposite side!
2. Create your ribbon
Measure a 20" streamer of your plaid ribbon, pinch and pleat it into your hand.
Then, measure out an additional 12" and twist to make a 6" loop. Repeat this step for another 6" loop. Trim your ribbon, leaving an 8" streamer.
Next, use the same measurement for your red ribbon, building on top of your plaid base. This time, make an extra loop (3 red loops in total).
Finally, take your black ribbon and measure a 10" section and make a single 5" loop. Trim the end, leaving a streamer.
Secure your bow with your florist wire, ensuring all of your loops are even. Dovetail some of your ribbon streamers for visual interest.
Attach your bow to the side of your wreath, opposite your sign, feeding your wire through the grapevine.
3. Set the greenery foundation
Next, set your wreath's foundation by attaching various greenery with hot glue and sticking the ends through the grapevine.
Start by adding long needle pine behind your bow, one piece going up, the other going down.
Next, layer in your viburnum greenery, filling in around the long needle pine.
Finally, add your hemlock, bending pieces as you go for realism.
4. Add flowers and berries
Using your bow as the centerpiece, add in your red focal flowers, fanning them out naturally as if they were growing from the bow.
Next, add some more subtle color and interest with hypericum berries, spacing them evenly throughout the greens.
Finally, lighten up the design with your white wax flowers, fanning out from the ribbon like the focal flowers; this is going to give your wreath depth and keep it from looking too dramatic.
5. Finishing touches
Next, make sure everything looks perfect and visually balanced.
I decided to add a couple of additional ribbon streamers to draw the eye down and balance out the bottom of the wreath.
Twist and place your ribbons so they're how you'd like them. Then, fill in any missing spots with additional greenery. That's it—your masculine Valentine's Day wreath is complete!
Watch the video: How to make a masculine Valentine's Day wreath
If you enjoyed this post, you might also like:
Like this post? Pin it for later!