How to Make a Deco Mesh Valentines Wreath
Hey y'all! Today we're going back to my roots and making a Deco Mesh wreath for Valentine's Day. (Did you know one of the things that kicked off my business was this Deco Mesh Ebook?) We're layering in lots of pinks and reds and a lot of different textures in this wreath and I just love how it turned out.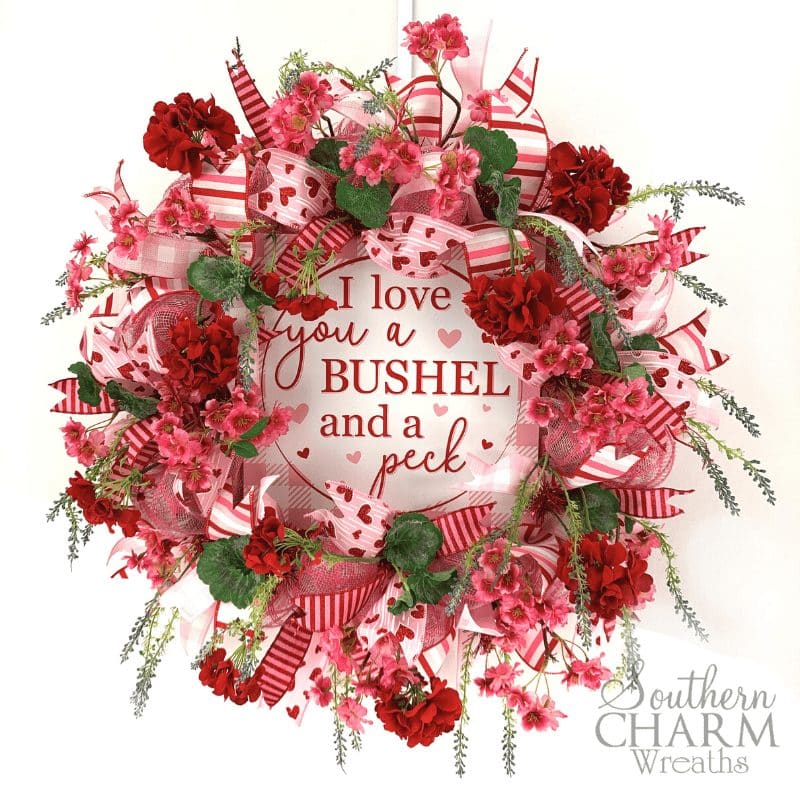 This project is also a great example of layering your work. You could actually stop after any step and have a beautiful wreath. Don't like silk flowers? Don't add them. Prefer it without the sign? Forget it! Don't be afraid to play around with it and find your style. I'll show you every step that I took to make this wreath, and you go make it your own.
Let's get started!
This post may contain affiliate links for your convenience. Click here to read my full disclosure policy.

SUPPLIES FOR THE DECO MESH VALENTINES WREATH
24" Work wreath (wholesale)
10" Deco mesh
Valentine's Sign
Pipe cleaners
Coordinating ribbon
Silk Flowers (wholesale)
Hot glue pan and hot glue

STEPS FOR MAKING A DECO MESH VALENTINES WREATH
Step 1 – Go around the work wreath and open up the twist ties so you can easily tie on the deco mesh. Tuck in the end of your deco mesh into one set of ties and twist to secure. Then measure 10" of mesh, pinch together, and secure at the next set of twist ties. Continue working around the wreath this way until you get back around to the beginning. Then create a bridge from the inner ring to the outer ring and duplicate the steps on the outer ring as you did the inner ring. Then to make sure the wreath is nice and full and you can't see the frame, create a third row by adding the mesh to the outer ring one more time. Then just snip off the end and tuck it underneath one of the loops.
Step 2 – Now we'll add the ribbon. I precut a stack of ribbon pieces that were about 13" long. Then, for every other set of stems, I pinched together two pieces of ribbon in the middle and attached them to the wreath.
Step 3 – Next we'll add on a sign. You'll have to staple 4 pipe cleaners on the back of this sign due to the size, one in each corner, and that's how you'll attach it to the wreath base. Make sure you have the pipe cleaners wrapped around the actual metal frame of the wreath, not the mesh, so that it stays secure.
Step 4 – Now for the flowers. There's no right or wrong way to do this. Choose flowers that you think go well with your wreath and hot glue them onto the wreath in a way that you think looks beautiful. If you like how my wreath looks, start by gluing in the lavender around the outside. Then add in the red geraniums closer to the sign to draw the eye in. Then add in some of the smaller pink blossoms and some leftover greenery to finish out the wreath.
And that's all there is to it!
Watch the live video to hear all the little tips and tricks I give to my youtube subscribers along the way.
HOW TO MAKE A VALENTINES DECO MESH WREATH
I love how the wreath looks on my door, don't you??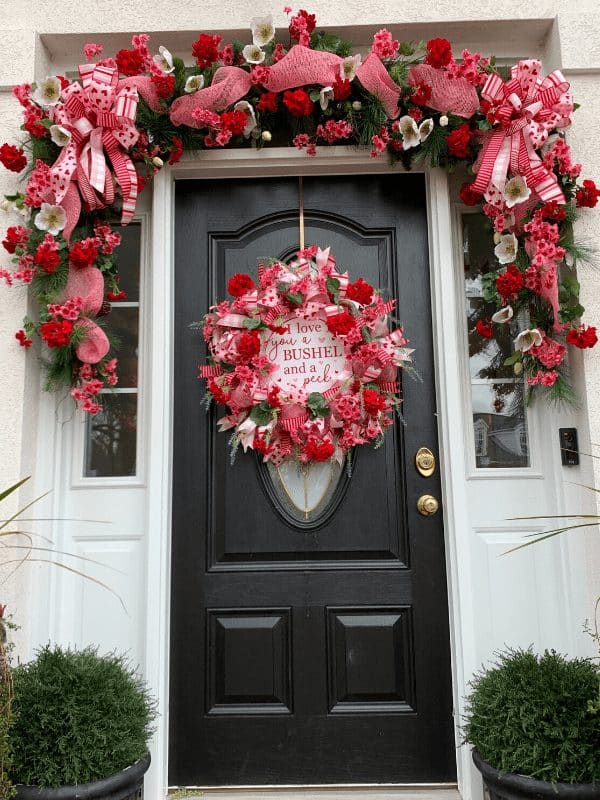 Happy Wreathing,
Julie
If you enjoyed this post, you might also like:
How to Make a Valentines Multi Ribbon Bow
How to Add Ribbon to Deco Mesh Wreaths
Liked this Deco Mesh Wreath? Pin it for later!