DIY Deco Mesh Rustic Valentine's Day Wreath
Valentine's Day doesn't have to be all shiny and glittery. Today I'm showing you how to make a Deco Mesh Rustic Valentine's Day Wreath that will complement any farmhouse décor. This post may contain affiliate links for your convenience. Click here to read my full disclosure policy.
Do you decorate for Valentine's Day?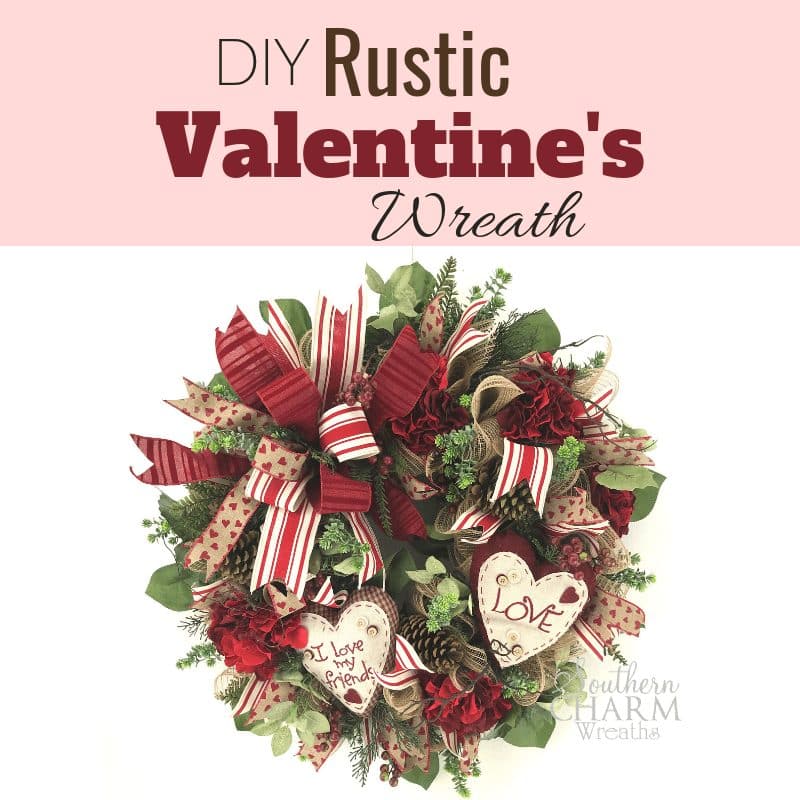 Just when we're feeling like our homes feel bland after the holidays, Valentine's Day comes along and gives us a chance to add a splash of color! Wreath friend, you'll be the envy of the neighborhood with this fun and stylish Deco Mesh Rustic Valentine's Day wreath.
[Tweet "DIY Deco Mesh Rustic Valentine's Day Wreath tutorial"]
Supplies
10 inch Deco Mesh (jute)
24-inch evergreen wreath base
Plush Hearts (Hobby Lobby)
2.5-inch Red Farmhouse Ribbon
1.5-inch Burlap Heart Ribbon
Silk Flowers
Assorted Greenery
Rotary Cutter
Scissors
Floral Picks
Silicone mat
Wire Cutters
Hot Glue Gun
DIY Deco Mesh Rustic Valentine's Day Wreath Steps
Step 1 – Attach Deco Mesh
Begin by cutting Deco Mesh into 20-inch sections. Ruffle each section of the Deco Mesh pieces, pinch in the center and then attach onto wreath base by twisting the branches of the wreath base around it.
Step 2 – Add Ribbon
Cut 14-inch strips of ribbon and attach onto the wreath base by twisting the branches around it and separate in an X shape. Tip: I like to layer two pieces of ribbon on top of each other to add more dimension and interest.
Step 3 – Add Plush Hearts
Remove the hangers and tags. Use the wire hanger you just removed or florist wire to pierce through the back of the heart and thread through. Then use that wire to attach the hearts to the wreath base.
Step 4 – Make a Bow
Next, make a bow. I made a Funky Bow using three different ribbons and 12-inch loops.
Secure the bow to the base with florist wire.
Step 5 – Fill In with Silk Flowers
Trim long stems from flower bunches and hot glue flowers onto wreath base.
Step 6– Finish
Add additional greenery pieces, pinecones, etc. that you want to fill in your wreath. This adds dimension to your wreath and also helps to hide the base. Simply separate each piece from the main stem, trim stems as needed and hot glue to the base.
The result is a beautiful DIY Rustic Valentine's Wreath for your door!
Video DIY Deco Mesh Rustic Valentine's Day Wreath
You can customize this to go with your colors and décor. If you find something fun to put on your wreath instead of the hearts that I had, go for it! That is the fun part of making something yourself, you get to make it yours.
Let me know if you enjoyed this and don't forget to join me on Facebook so you can watch me Live!
If you enjoy watching me and/or learning to make wreaths of various styles, join me in my Wreath Making of the Month Club, learn more here.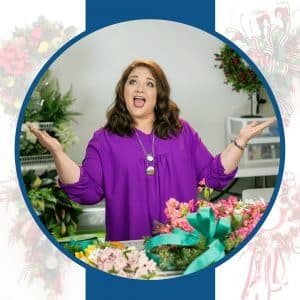 Happy Wreathing,
Julie
If you enjoyed this post, you might also like:
How to Make a Deco Mesh Valentine Wreath
14 Valentine's Day DIY Wreath Ideas
Valentine's Day Mantle Décor Idea
Save