DIY Patriotic Screen Door Wreath
Discover how easy it is to make a fun patriotic screen door wreath. Instead of making a wreath with a bow, this one uses flowers – and you will love how it turns out!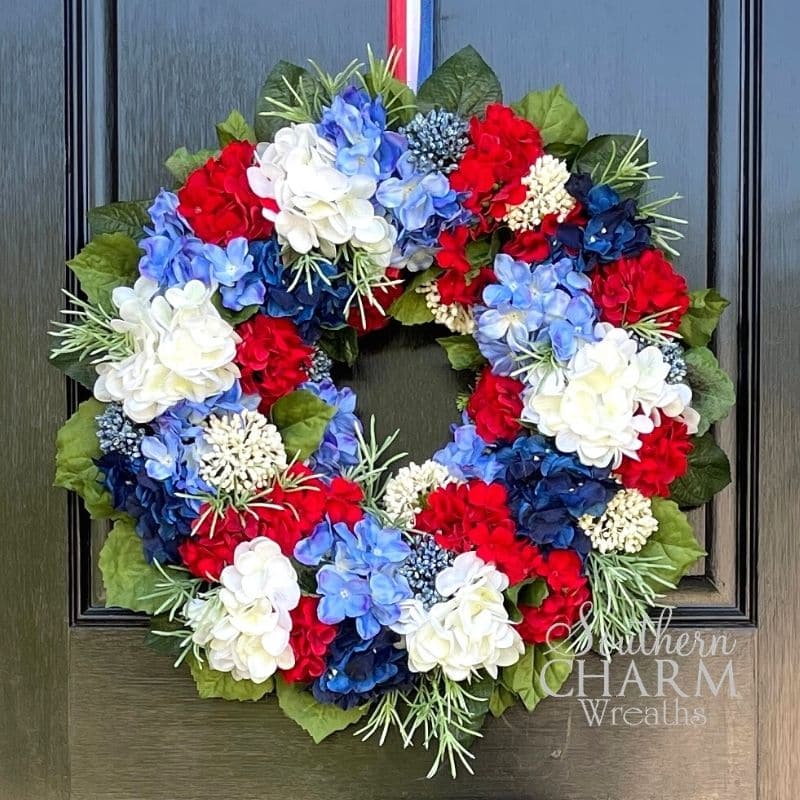 How To Make A Patriotic Screen Door Wreath
Have you ever wondered how to hang up a wreath on a screen door? Well, today I am going to show you how to make a wreath that will hang up perfectly on a wooden door or a screen door. The base for this wreath is a basic Styrofoam wreath form. Then, I built everything on top of it.
The secret to making a wreath that will hang up between your door and screen door is to make sure it isn't too thick. It needs to be flat enough to fit in between the main door and your screen door.
Are you ready to make one for your screen door? Let's get crafting!
Supplies for this project:
Styrofoam Wreath Form
#9 Wired Ribbon
U-Shaped Wire Floral Pins
Greenery
Red, White, and Blue Flowers

How to Make a Patriotic Wreath For A Screen Door: Step-By-Step Tutorial
1. Attach Ribbon To The Wreath Form
First, use floral pins to attach your favorite wired ribbon around the outside edge of the wreath form. The perfect size of ribbon is going to be #9.
Other names for floral pins are greening pins. Keep using these pins to attach the ribbon until the entire wreath form's outer edge is covered.
2. Cut The Flowers
The next step is to cut the flowers off their bouquets so you have floral picks to use on the wreath. Also, cut off the leaves from the bouquet so that you can use them later on the wreath.
I used white and blue hydrangeas because they are a stunning color but also because you are also able to smash them without it making the wreath look too flat.
For red, I used red geraniums. I love how the deep red color paired perfectly with the vibrant blues in the other florals.
3. Attach The Flowers To The Wreath
At this step you could add moss to the wreath form. I did not, but if you like how the moss looks, you can certainly add it to the base. I just added the florals and the greenery, without the moss.
The easiest way to do it is to add your flowers to the wreath first, and then add the greenery second.
Dip the floral stems into the glue pan and then insert them into the wreath form. I started with the dark blue flowers, spacing them out evenly around the wreath, leaving room for other colors of flowers.
I like how the dark blue and light blue look together, so I put them next to each other on the wreath.
Keep adding flowers to your wreath until it is full. You can do it in any pattern that you choose, as long as you fill up the wreath and don't leave any empty spots.
4. Attach Greenery Layer
After all your flowers are on the wreath, insert the greenery picks behind them, around the outside edge. This can be as little as a few sprigs of evergreen or as much as leaves that pop out around the entire outside edge (like I did).
That's the fantastic thing about wreath making – it's so fun to be creative and make up your own designs.
5. Hanger Is Optional
I usually don't add a hanger onto a screen door wreath, but you can add a hanger like you would any other wreath that you make.
That's it! That's how to make a beautiful screen door wreath with red, white, and blue flowers.
Watch The Video: How To Make a Patriotic Screen Door Wreath
If you enjoyed this post, you might also like:
Like this post? Pin it for later!