DIY Patriotic Moss Wreath
Make a festive patriotic moss wreath out of flowers and ribbons. Follow this easy tutorial and master the art of bow making too.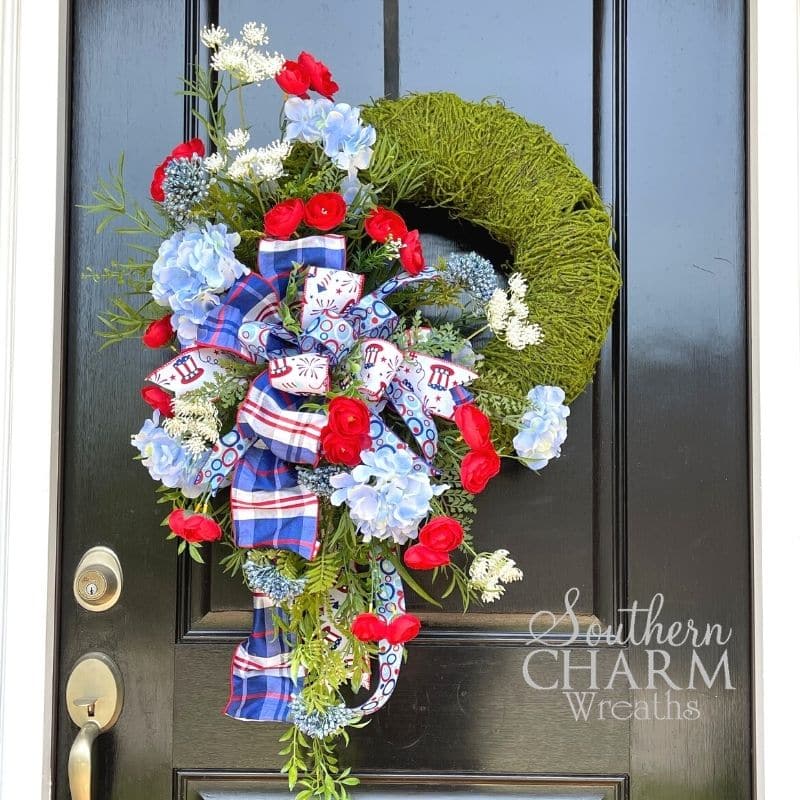 How To Make A Patriotic Moss Wreath
Jazz up your front door with this stunning red, white, and blue wreath. The base is a lovely moss wreath and it uses three different sizes of ribbons.
This is a very simple wreath this is really easy to customize. Just follow this quick tutorial.
Supplies For This Project
1 Moss Wreath
4-inch Wired Ribbon
3-inch Wired Ribbon
1-inch Wired Ribbon
Floral Wire
Greenery
Flower Picks
Glue Sticks
Hot Plate

How To Make A Patriotic Moss Wreath: Step-By-Step Tutorial
1. Make Your Large Bow
I always like to make the largest item on the wreath first and then build out around it. If you don't want to use a bow as the focal point, you can use a patriotic sign.
For the bow, I used 4-inch wired ribbon that I bought from Greenery Market.
My bow has a 26-inch tail and 14-inch loops. Whenever I make a bow with more than one type of ribbon, I use a ribbon holder. This keeps my spools of ribbon in place and easier to pull from.
Then, just pinch, twist, and loop. For a detailed tutorial about how to make bows for wreaths, check out my bow-making tutorial.
After making 3 loops, cut the ribbon from the bolt. Keep adding ribbons of different sizes to your bow. I used a 3-inch ribbon with 3 loops and a smaller wired ribbon with 3 more loops. When you are satisfied with your bow, secure everything together in the middle with some florist wire.
2. Place The Bow On Your Wreath
Use an easel to hang up your moss wreath. Then, lightly attach your bow and see if you are happy with the placement. Stand back and try it at different spots until you are happy with the location.
When you find the place you want to place your bow, place the wire through the moss wreath. Fluff and reposition the bow loops.
3. Add Greenery
Longer greenery stems will direct people's eyes around the wreath. If you want their eyes to go upwards, place the stems towards the top of the wreath. Place it all around the bow – the top and sides of it.
The greenery also gives your wreath more dimension. The green literally sprouts out of the bow.
To attach the greenery permanently to the wreath, dip the picks into melted glue sticks before you stick them into the wreath.
4. Insert Flowers
Since this is a patriotic wreath, I chose flowers that are red, white, and blue too. I used a baby blue hydrangea to lighten up the wreath. I also just love the pretty and showy blossoms they have.
Insert the flowers one at a time around the bow on your wreath Since they are so big and fluffy I used them to draw my eyes into the center of the bow.
Keep layering with more of your favorite flowers. To make it easier to choose which flowers to use, look at the colors in your ribbons and try to pull those out. Since blue is the main color in my ribbons, I used mostly blue flowers. Then, I kept red as the accent colors.
Flowers are also a fantastic way to add texture to your wreath too. Vary the size and shape of your flowers to give it more visual interest.
That's it! Keep layering flowers until you are satisfied with the finished product of your wreath.
Watch The Video: Patriotic Moss Wreath
If you enjoyed this post, you might also like:
Liked this How to Make a Moss Wreath? Pin it for later!