DIY Pottery Barn Inspired Halloween Wreath Tutorial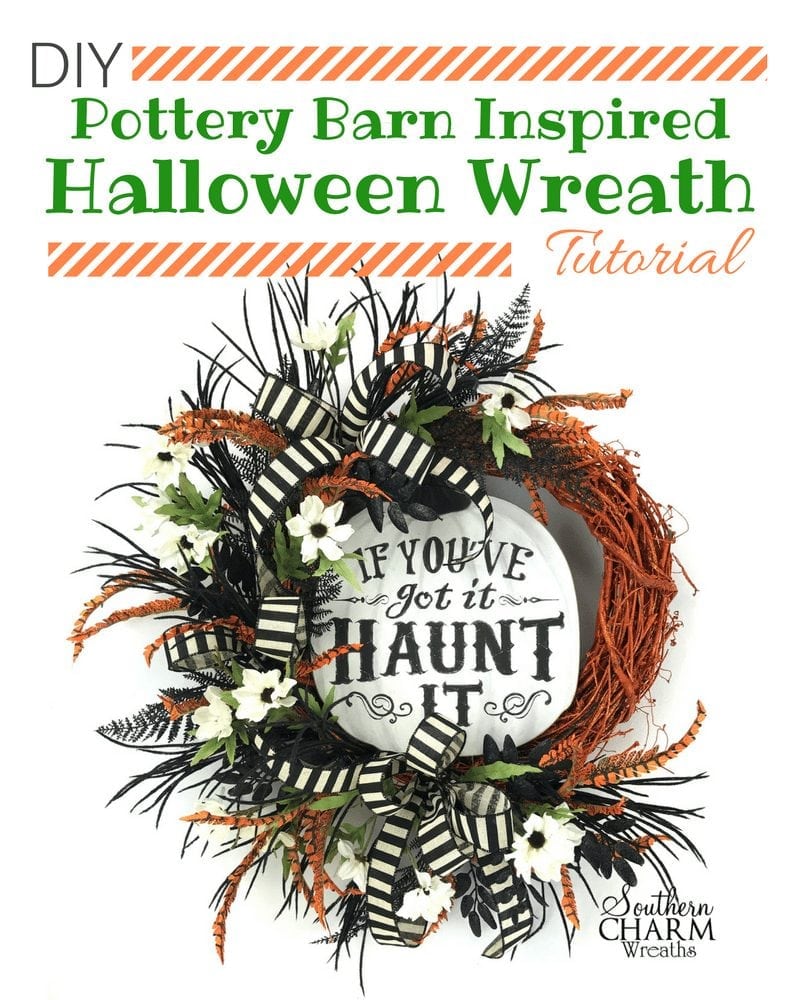 Today in the wreath shop we're making a Pottery Barn inspired Halloween wreath! Orange with pops of black and white, this wreath is perfect for your door this season to welcome the Trick or Treaters. This post contains affiliate links for your convenience. If you click a link and make a purchase, I could earn a few pennies in commission. Click here to read my full disclosure policy.
DIY Pottery Barn Inspired Halloween Wreath Tutorial
In this video, I'm sharing how to make a Pottery Barn Inspired Halloween Wreath. The focal point of this project is a fun Halloween sign – I found mine at Michael's. Then add pops of color with Halloween picks, ribbon and a few silk flowers. Here's how to make it:
Supplies
[Tweet "How to make a Pottery Barn Inspired Halloween Wreath!"]
How to make a Pottery Barn Inspired Halloween Wreath:
The grapevine wreath I chose to use was already painted orange and has a glitter side and a plain orange side, you can use either side you would like. Note: You could also buy a grapevine wreath and paint it yourself.
Determine sign placement and then staple pipe cleaners to the back of your sign. Add a bit of hot glue over the staple as well.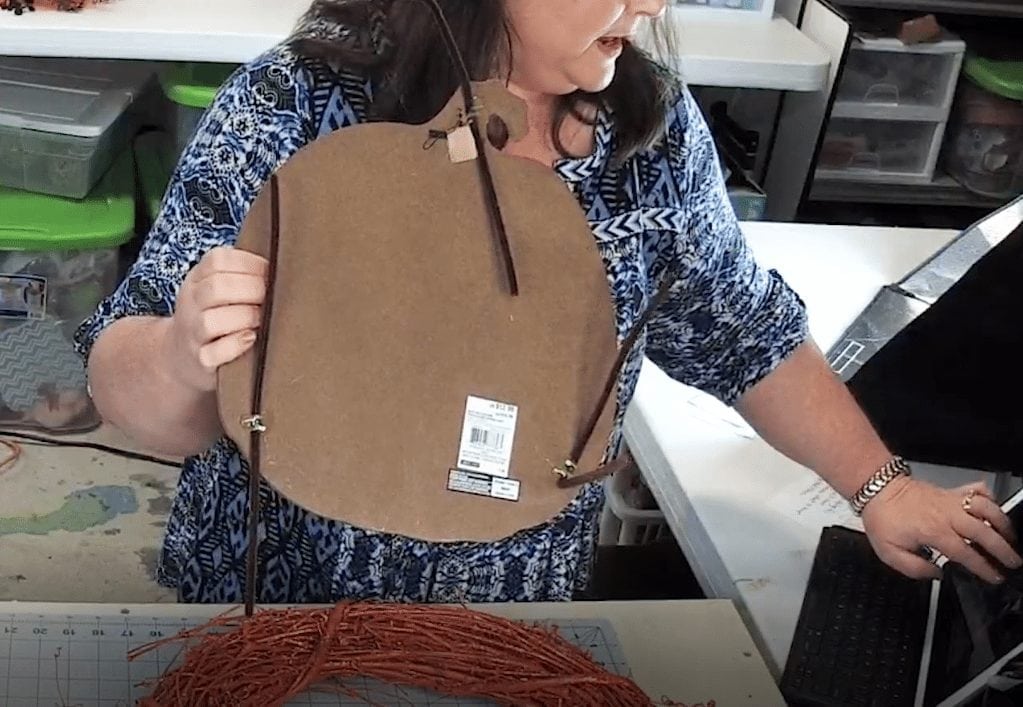 Next, attach your sign to the grapevine using the pipe cleaners. Trim off any excess from the pipe cleaners. Note: I secured mine in three places.
Now it's time to add the Halloween picks. I started with the black fluffy pieces and arranged them so they fan out from the wreath. Be sure to trim the stems as needed. It is important to lay the pieces out where you want them before you add the hot glue and secure.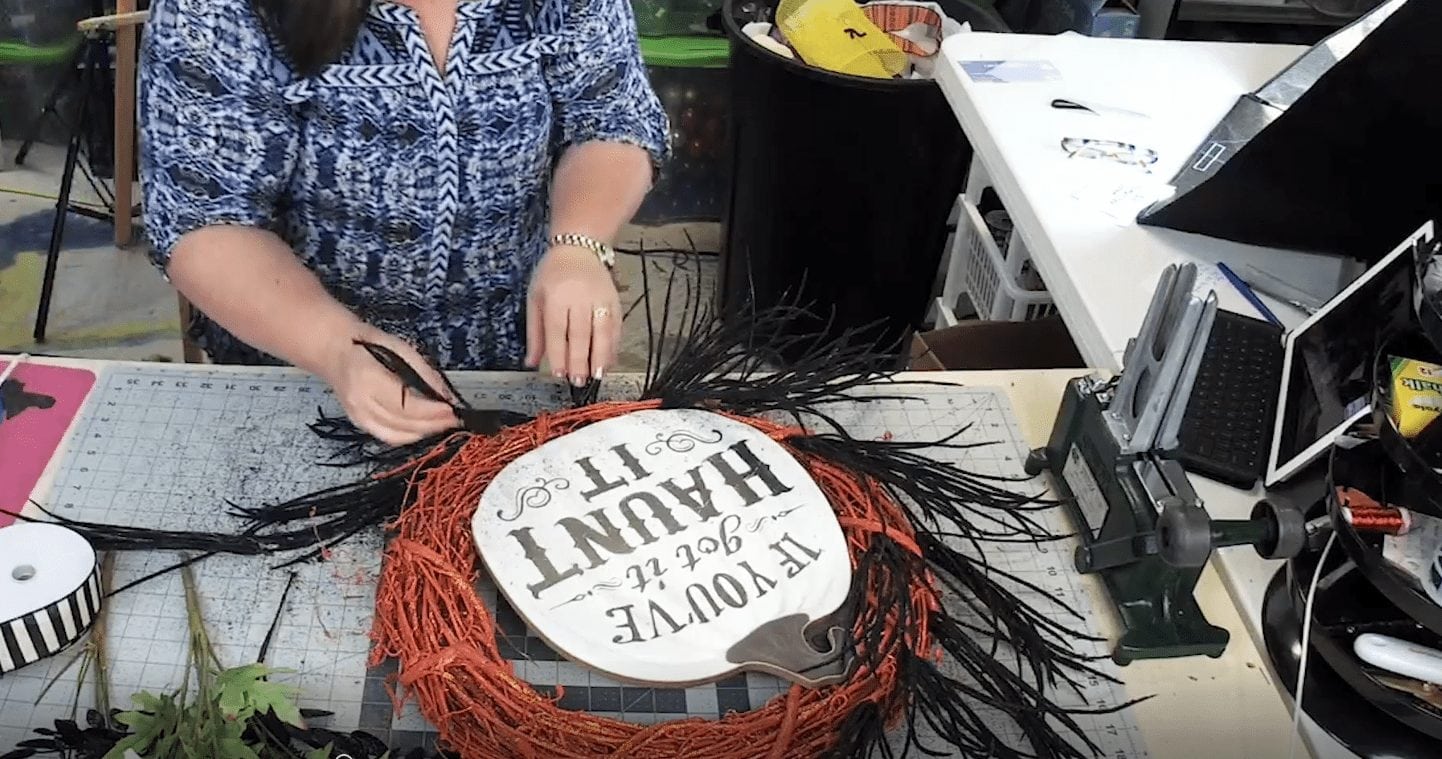 Continue adding the Halloween picks, first laying them out to be sure of where you want them and then hot glue the ends to secure. Note: Stop every once in a while and stand back to get a full view of the wreath.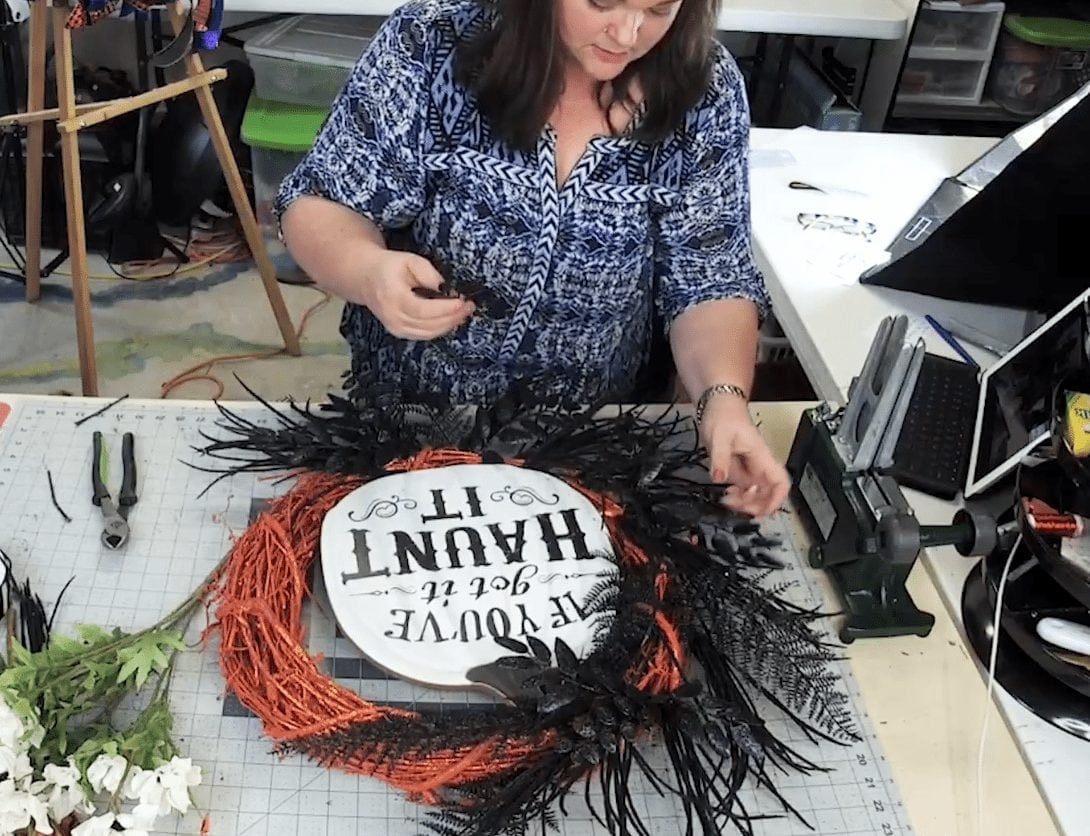 Now it's time for the ribbon! I used a black and white striped ribbon but you can use whatever suits your style. I put together a small bow using two 12″ loops plus a tail.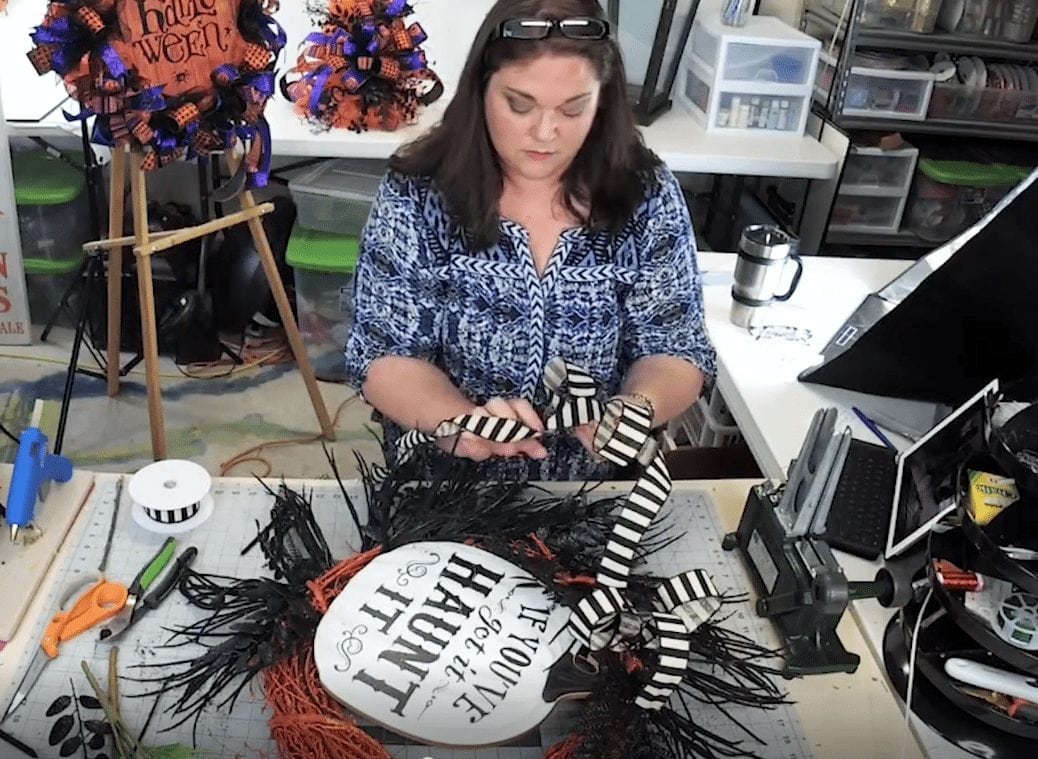 To attach the bow, I added a pipe cleaner and then added a pick to that using my Steelpix machine (you could use a floral pick). Add a bit of hot glue to the pick and insert into the wreath where you would like the bow. I added this bow to the top corner of the wreath.
Next, I trailed the ribbon in a bit of a curl down the wreath. Then stop part way down that side and make another small two loop bow. Attach the same way you did above.
Continue trailing the ribbon around, stopping at the bottom center for one more bow.
If you would like, you can now add white silk flowers (I found some with black centers). Remember to lay them out to decide where you would like them before hot gluing them in place.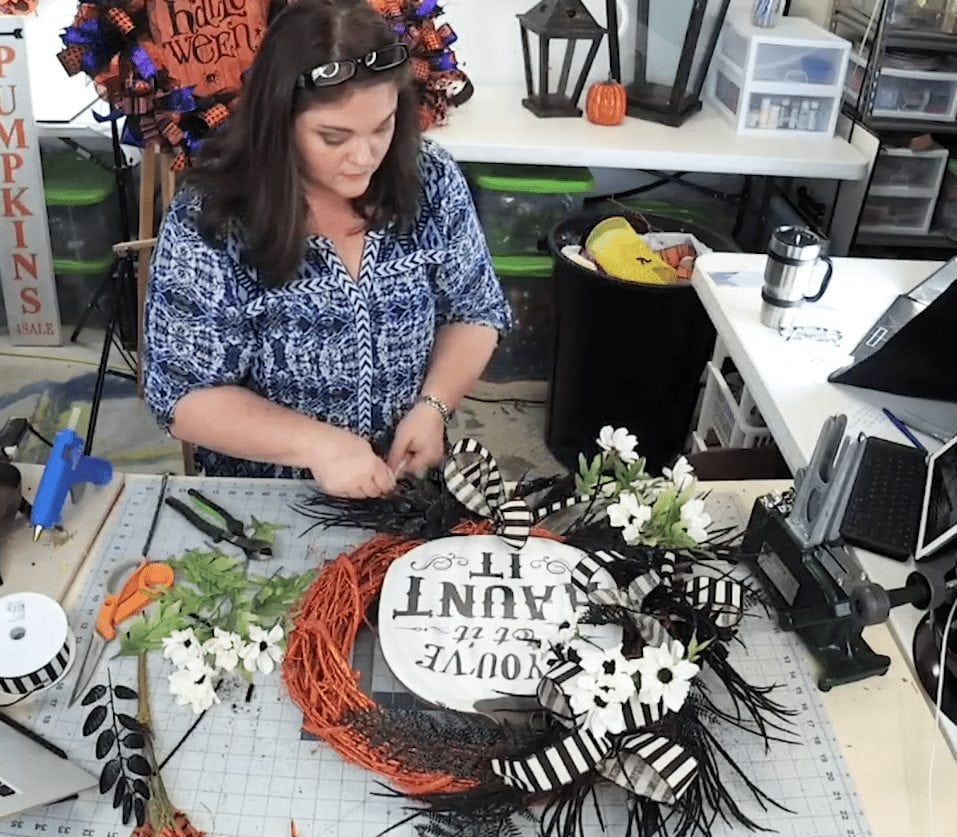 Take remaining Halloween picks and use them to fill in any empty spaces you may have. Turn the wreath around all sides to ensure you have the necessary areas covered.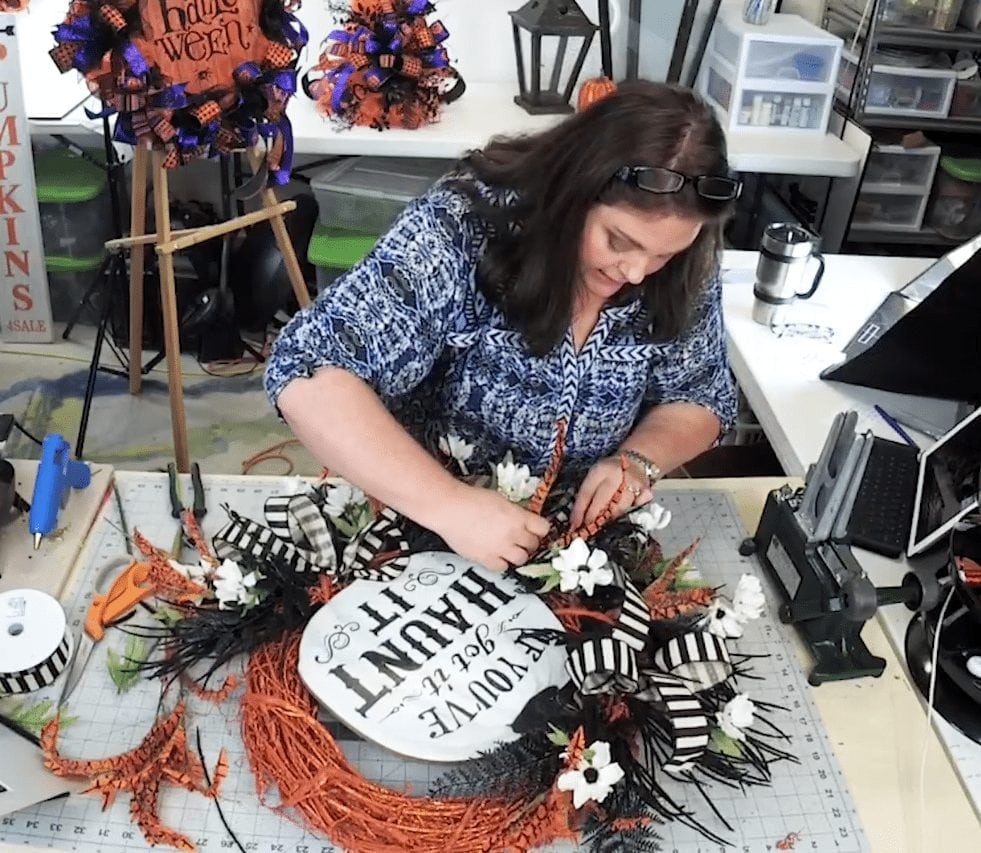 Lastly, for added dimension and color, I added some orange feather picks throughout. I also added some additional ribbon pieces for added softness.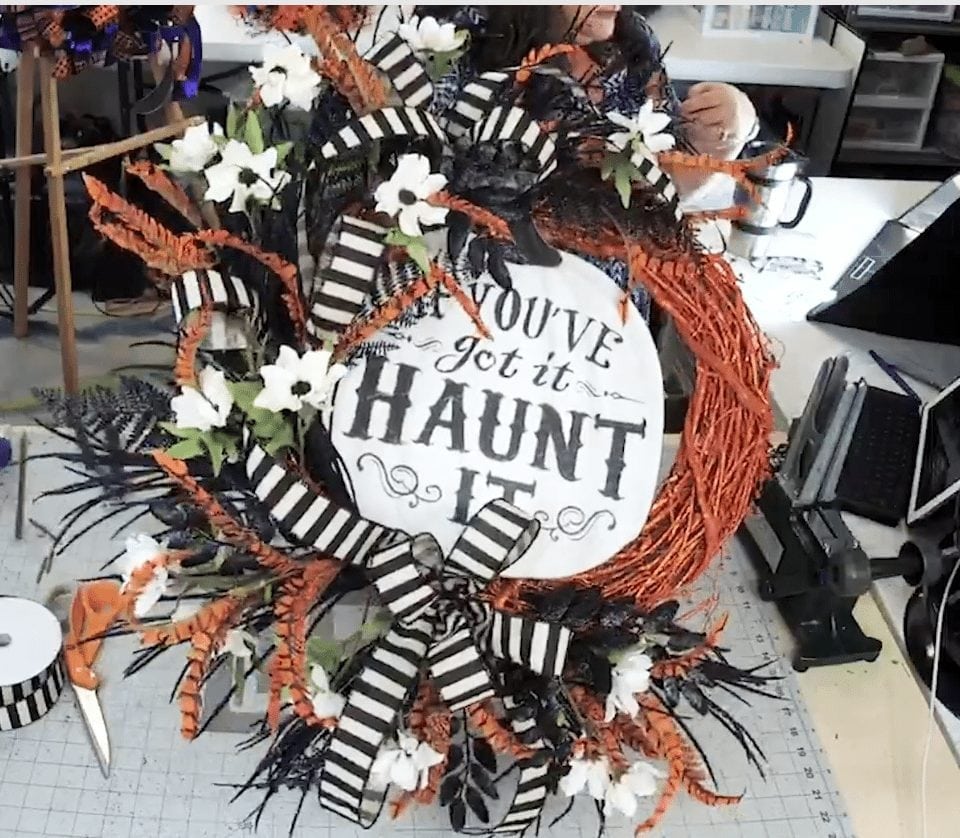 How to Make a Pottery Barn Inspired Halloween Wreath Video…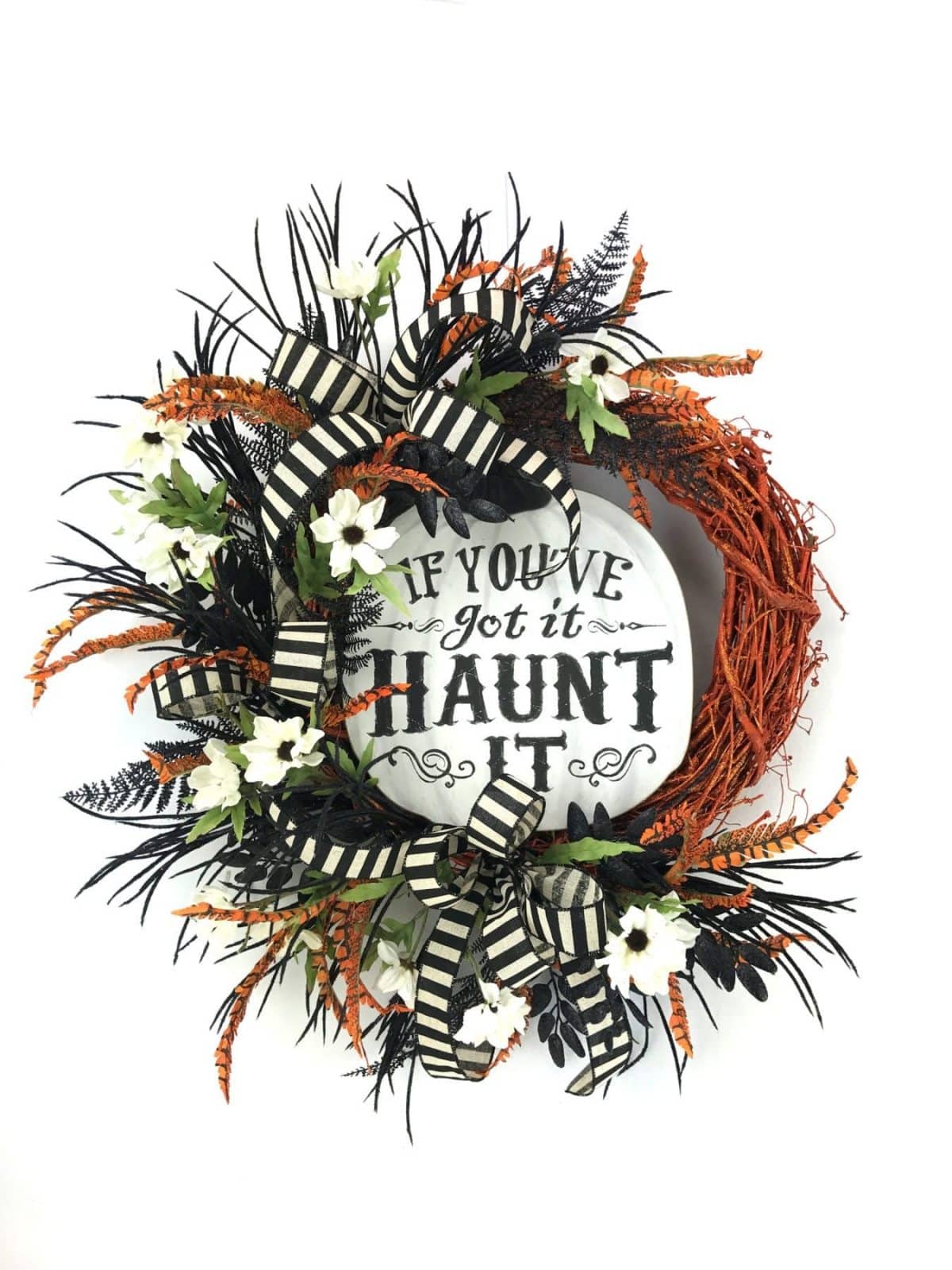 Do you put a Halloween wreath on your door or do you keep a Fall one up all season? I love that this is fun and not too spooky.
Let me know if you enjoyed this and don't forget to join me on Facebook so you can watch me Live!
If you enjoy watching me and/or learning to make wreaths of various styles, join me in my Wreath Making of the Month Club!!
Pin this project to refer back to it later.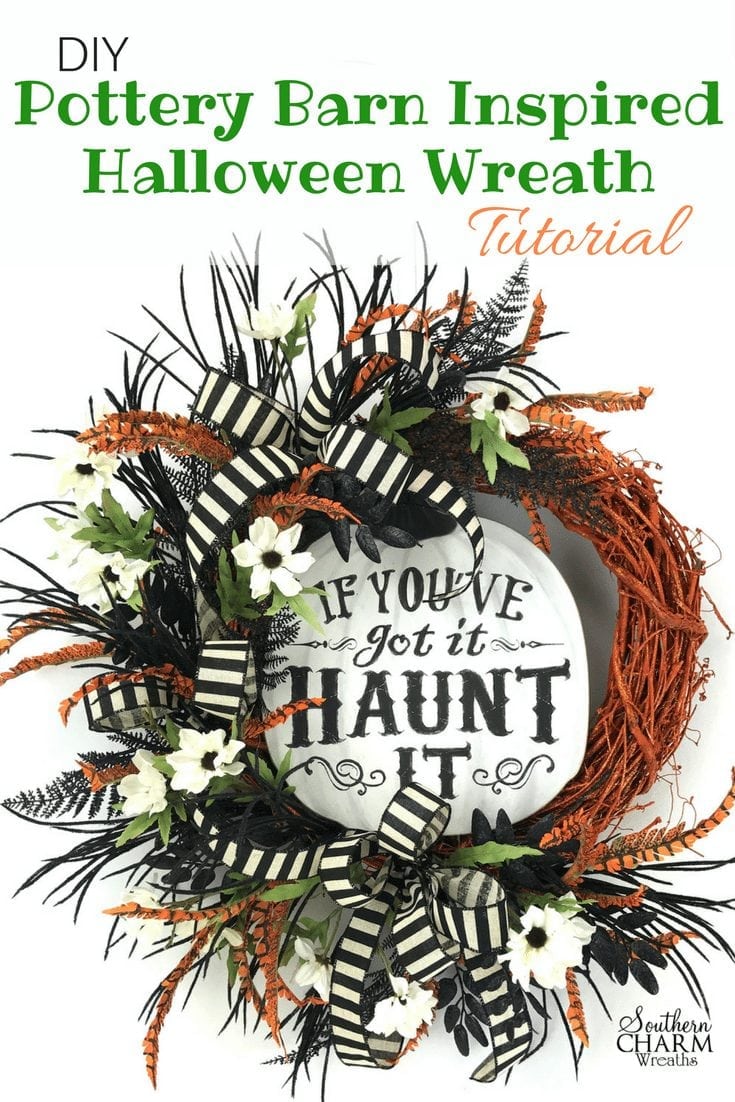 Happy Wreathing,
Julie
If you enjoyed this post, you might also like:
30 Minute Fall Wreath Tutorial
15 Gorgeous Fall Porches to Inspire You