Celebrate spring with this easy DIY rain boot wreath. April showers bring May flowers – and beautiful wreaths!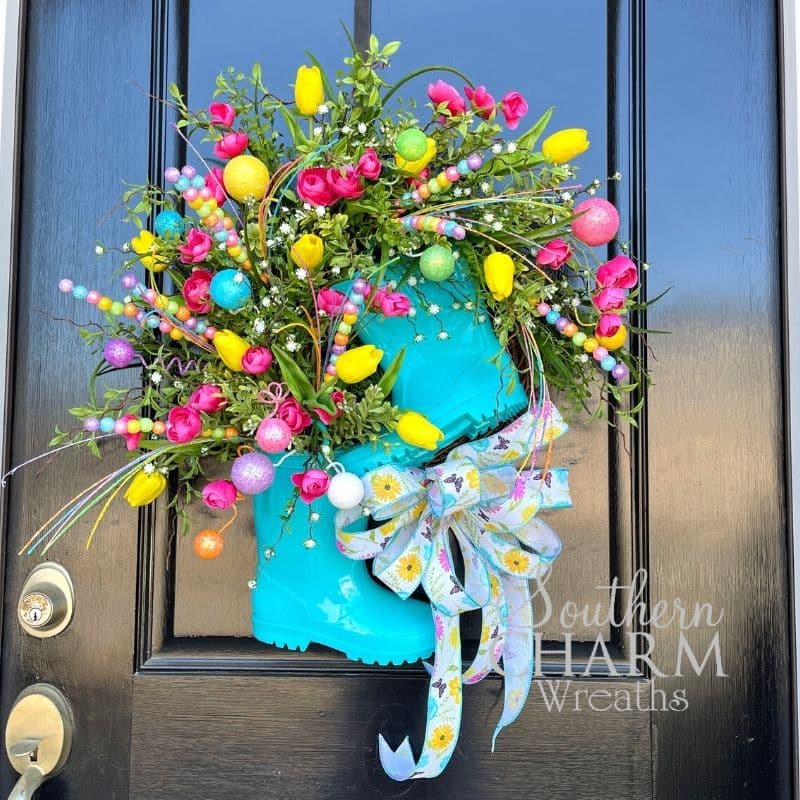 How To Make A DIY Rain Boot Wreath
Sometimes you find inspiration in the craziest places! Whether it's after seeing a cute window display downtown or watching a YouTube video (thank you!) sometimes you just get the best ideas.
I came up with this idea for a fun rustic spring wreath after Deco Exchange included these turquoise rainboots in their monthly box. One look at the gorgeous rain boots and I knew I had to use them on my next spring wreath!
You will love how fun this wreath is to make. It comes together effortlessly, each piece and design builds naturally upon each other.
This is an attention-grabbing wreath that is easy to sell on your Etsy shop, at craft shows, or to give away as a gift.
This post may contain affiliate links for your convenience.Click here to read my full disclosure policy.

Supplies
Grapevine Wreath
Rainboots
Pre-Made Bow
22 Gauge Florist Wire
2 1/2-inch Wired Ribbon
U-Shaped Wire Floral Pins
Tulip Picks

Greenery
How To Make A DIY Rain Boot Wreath: Step-By-Step Tutorial
Follow these steps to make your very own rain boot wreath that is perfect for your Etsy shop or just to dress up your front door for spring.
1. Attach The Rain Boots
The very first step is to attach the rain boots to your wreath. I'll be honest, it took me a hot minute to figure that part out. I uploaded images showing how I did that in my wreath-of-the-month club group. If you join the group, you can see how I attached the boots.
I basically attached wire to the grapevine wreath and then twisted the wire to the hands. I also attached wire to the back of the top boot near the toe.
2. Make And Add Your Bow
Now that you have the boots attached, you can see where the bow is going to go – right in between the boots, under the foot of the first boot. Sometimes I will make bows with more than one size of ribbon, layering the different sizes and patterns together.
For this wreath, I just made a bow quickly with one type of ribbon. I used a 2 1/2-inch blue check ribbon. If you are new to wreath bow-making, here is a super-quick tutorial:
Pinch and pleat the ribbon between two fingers on your non-dominate hand. Then, measure 12 inches and loop it away from you and pinch that with your same two fingers. This is the start of your bow's first loop. Since you folded it in half, this is now a 6-inch loop.
Repeat this process two more times so that you have three loops. Trim it and keep this bow in your hand.
Shape your bow as you go. Place the ribbon tail behind your loops so that the loops are on the top.
Tie all the loops and layers of your bow together with a 22-gauge florist wire. If the florist wire feels slippery and you need something with a thicker texture to grab onto, you can use florist tape or pipe cleaners. I found that florist wire feeds better through a grapevine wreath.
3. Insert Greenery
Before you add the greenery, place some foam into the bottom boot. This fills out the boot and makes it easier to attach the florals because they can stick right into the foam.
Start adding greenery directly to the grapevine wreath at the top of the bottom boot. This establishes the line of sight, pulling your eyes from the bottom boot around to the top one. Continue adding greenery picks around the top of the wreath, pulling your vision in a continuous circle.
4. Add Florals
Keep adding flowers inside the bottom boot until it's as full as you want it to be. You can stop at just a few flowers or make it super full and overflowing – there is no wrong answer.
Continue to add flowers around the side and top of the wreath, following the same pattern you did with the greenery.
Watch The Video: DIY Rain Boot Wreath
Thanks for joining me today in the wreath workshop! Comment below and tell me what's your favorite part or let me know what I should make next!
Happy Wreathing,
Julie
If you enjoyed this post, you might also like:
Liked this wreath? Pin it for later!