How to Make an Elegant Spring Cross Wreath
Follow along with me in my wreath shop as I make this elegant Spring Cross Wreath. Watch how I use a blend of greenery and white flowers of all sizes to give this simple arrangement life. This beautiful monochromatic wreath would be great for Easter decor or even as a graveside decoration.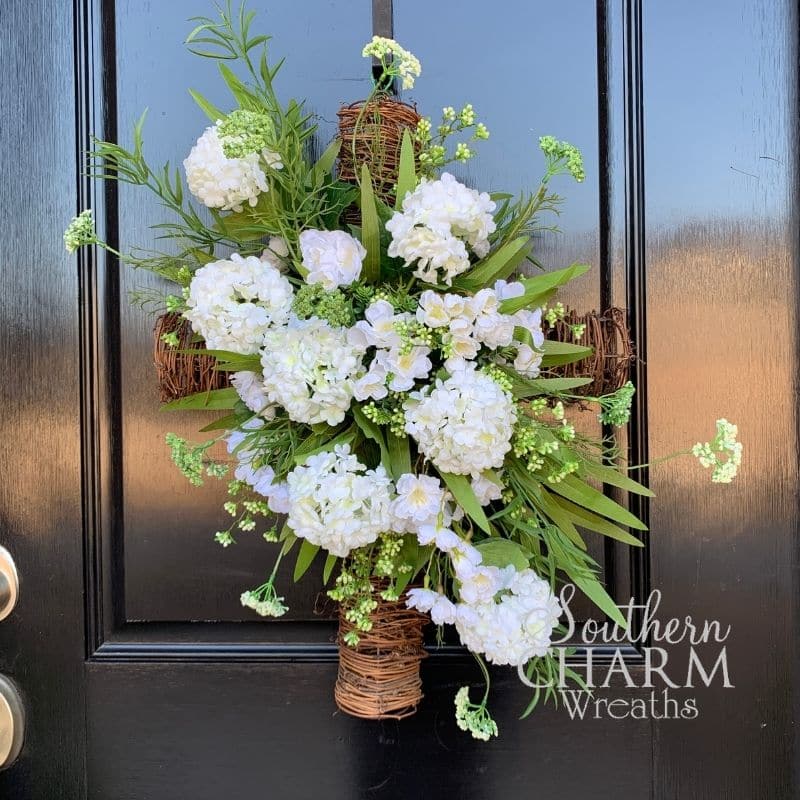 What do you think? Ready to make one for yourself?
This post may contain affiliate links for your convenience. Click here to read my full disclosure policy.
Supplies for this Project
24" Grapevine cross (Carolina Pottery)
Various greenery (I used bamboo and rosemary)
Silk Snowball flowers
White Cherry Blossoms
Queen Anne's Lace
Elegant Spring Cross Wreath Step By Step Tutorial
This wreath is super quick and easy to make. There's minimal prep and the whole thing took me less than an hour – even when I was explaining the steps as I went!
The hardest part for beginners will probably be not losing the shape of the cross in your arrangement. Learning how to balance your arrangements just takes some practice, so let's get going!
Step one: Prep Your Cross
Start by placing the cross face up on your hot glue mat.
Press a small piece of foam in the center. Slide a zip tie inside the middle of the cross so that it lines up with the foam block. (I did this backwards in my video… whoops!)
Before closing the zip tie, remove the foam, glob some hot glue onto the back of it, and press it back into place.
Then tighten the zip tie around it.
For an added layer of security, use a few floral pins to hold the grapevine tight up to the foam from the back.
Next, use a few more floral pins to cover the foam with a layer of moss. You need just enough to keep any of that shiny Styrofoam green from showing through the final arrangement.
Step two: Add Greenery Base
Trim greenery stems nice and short and glue them into the outside of your foam to create a base layer for your arrangement.
I like to have them a little longer on a diagonal (top left to bottom right) to give the arrangement a nice shape. That also helps when you're deciding where to place your flowers later on.
Be careful not to completely cover up the short sides of the cross.
Pro tip: Use multiple kinds of greenery to give your wreath texture.
Step three: Finish with Flowers
Next, trim your large flowers down to short stems and glue into the foam. I had a hard time getting the stems into the foam, so I had to use my steelpix machine to get them to stick.
Sometimes when you add hot glue to a silk flower stem, it causes it to sort of shrivel up and it becomes difficult to stick into foam. Read about my solutions to that here:
How to Use a Steel Pick Machine for Wreath Making
How to Use Wood Floral Picks in Wreaths
Spread the hydrangeas (or snowball flowers) throughout the area you have covered with greenery, and in the middle. Be careful not to overload your arrangement with big flowers though.
Next, use the queen anne's lace and white cherry blossoms to fill in the gaps between your hydrangeas. This will help fill out the wreath without making it too bulky.
A variety of flowers also lends your arrangement some nice dimension.
Finally, use a few long stems of the hops to help blend the green and white together and create texture.
And that's all there is to it!
How to Make an Elegant Spring Cross Wreath (Video Tutorial)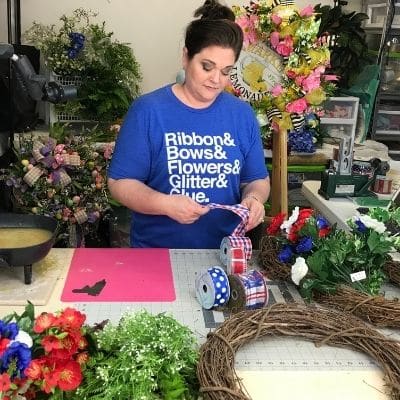 If you enjoyed this and want to learn more on how to get started with wreath making, try my Wreath Making 101 Workshop!
Happy Wreathing,
Julie
If you enjoyed this post, you might also like:
DIY Rustic Spring Silk Flower Arrangement
How To Make a Spring Butterfly Wreath
Liked this Spring Cross Wreath? Pin it for later!