How to Make a Silk Flower Spring Door Wreath
In this video, we'll make a silk flower spring door wreath complete with a birdhouse, ribbon, and silk flowers! This post may contain affiliate links for your convenience. Click here to read my full disclosure policy.
When do you decorate with spring decor for the coming spring season?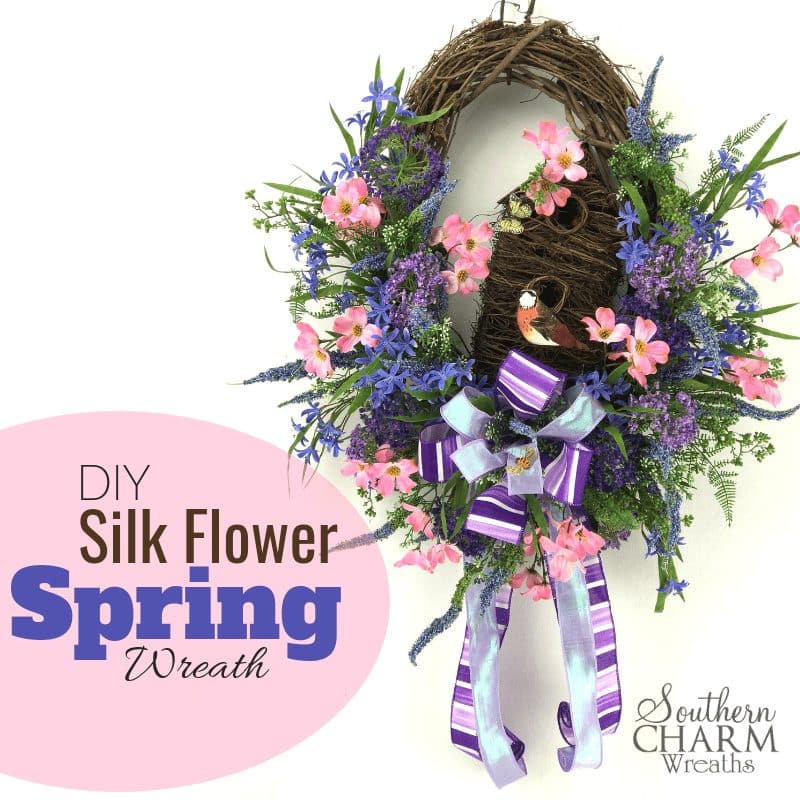 We've had a few warm days lately and it makes me want to start decorating for spring. Anyone else ready? Today we're going to jump into spring color with this a gorgeous Silk Flower Spring Door Wreath. There are even a few critter surprises at the end!
[Tweet "How to Make a Silk Flower Spring Door Wreath"]
Supplies
1 14-inch oval grapevine wreath
1 Grapevine Birdhouse
1 Pink Dogwood Bush
1 Purple/Lavender Snowball
1 Mini Lily Bush Purple Blue
1 Green Budding Lilac Bush
1 Blue Astilbe Bush
1 2.5-inch Purple Watercolor Ribbon
1 1.5-inch Lavender Ribbon
Critters such as bird, butterfly, bee, etc.
Scissors
Floral Picks
Florist Wire
Silicone mat
Wire Cutters
Hot Glue Gun
How to Make a Silk Flower Spring Door Wreath
Step 1 – Attach Birdhouse to Wreath
Begin by attaching the birdhouse to the wreath using florist wire. Add as many pieces of wire as you would like until it feels stable. Trim off any excess wire.
Step 2 – Make and Attach the Bow
Next, make a bow. I used two different ribbons for mine and made a 27-inch tail and 12-inch bow loops. I also have a free how to make a bow for a wreath tutorial for those needing more help.
Secure the bow with florist wire and use the wire to attach it to the wreath.
Step 3 – Add the Flowers
Now it's time to add the flowers. I started with the yarrow, trimming off some of the stems that were too long. Place the flowers first and then go back and add hot glue to the stems to glue them in.
Continue adding flowers. First trimming the stems, then placing them and finally using hot glue to secure them to the wreath. Don't forget to spread them out giving them an airy look and moving up the side of the wreath.
Step 4 – Add Greenery
For a beautiful finished look, add greenery throughout filling in the holes and making a full lush and real looking wreath. You can also hot glue bits of greenery into the bow loops to make the bow blend with the wreath.
Step 5 – Add Critters
Add a bird, butterfly, and bee where you would like on the wreath using hot glue for a special touch.
Now you have a fun Silk Flower Spring Door Wreath!
Video How to Make a Silk Flower Spring Door Wreath
If you prefer different colors, or even different critters, as always please make your wreath perfect for you. I hope this inspired you to get started with your spring decorating plans.
Let me know if you enjoyed this and don't forget to join me on Facebook so you can watch me Live!
If you enjoy watching me and/or learning to make wreaths of various styles, join me in my Wreath Making of the Month Club, learn more here.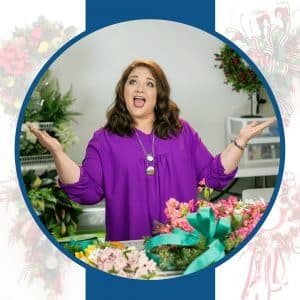 Happy Wreathing,
Julie
If you enjoyed this post, you might also like:
DIY Compact Decorative Spring Wreath Idea
How to Make a Mother's Day Flower Arrangement in a Cup
Let's Make a Farmhouse Tire Swing Wreath
Save