DIY Simple Fall Farmhouse Table Arrangement
If you're like me, you are ready for Fall and excited to decorate the house with all of the Fall goodies. It's easy to get started with this DIY Easy Fall Farmhouse Table Arrangement! This post may contain affiliate links for your convenience. Click here to read my full disclosure policy.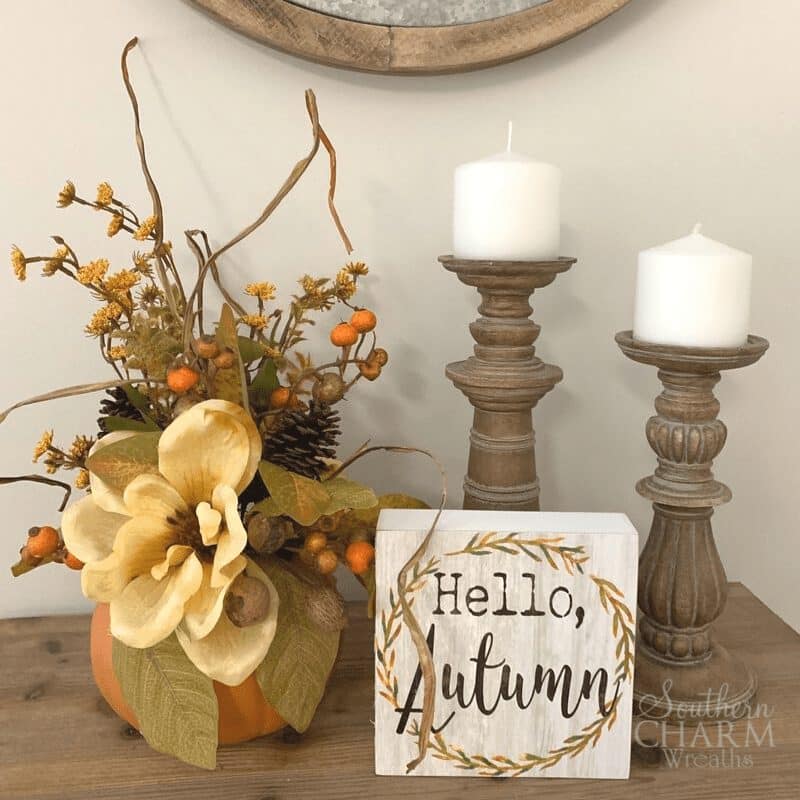 This fall farmhouse table arrangement is simple to make and only requires a few items. In the wreath shop today, we're making a Simple fall Farmhouse Table Arrangement using products from Carolina Pottery!
[Tweet "Check out this DIY Easy Fall Farmhouse Table Arrangement!"]
Supplies for DIY Easy Fall Farmhouse Table Arrangement
Pumpkin container (Carolina Pottery)
Silk flowers (Carolina Pottery)
Styrofoam
Wood floral picks
Floral pins
Hot glue gun
Glue sticks
Craft mat
Steps for making a DIY Simple Fall Farmhouse Table Arrangement
Step 1 – Cut Styrofoam to fit inside the bottom of the pumpkin container.
Step 2 – Add hot glue to the bottom of the Styrofoam and place it in the bottom of the container. Repeat with another piece of Styrofoam, stacking one on top of the other to give height.
Step 3 – Hammer two wooden picks into the Styrofoam to secure both pieces together. Trim off any of the wooden picks that are sticking out of the top.
Step 4 – Add moss to cover the Styrofoam and attach with floral pins.
Step 5 – Prep silk flowers by first laying them out with the container to determine how you will use them and if needed, cut the pieces to separate the stems.
Step 6 – Put hot glue on the end of the stem and add to the container. Continue to add stems wherever you would like. Tip: Use a variety of flowers, grasses, leaves, etc. for texture and interest in your arrangement.
Watch the video below for detailed instructions.
Video of the DIY Simple Fall Farmhouse Table Arrangement
I hope I inspired you to try something new today! If you're new to making flower arrangements, this is a fantastic one to start with.
If you enjoyed this and want to learn to wreath the professional way, join me in our exclusive Wreath Making of the Month Club!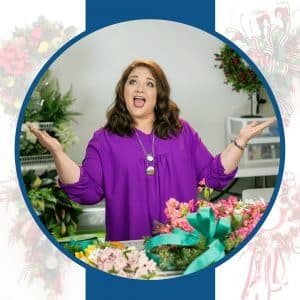 Happy Wreathing,
Julie
If you enjoyed this post, you might also like:
DIY 6 Minute Fall Wreath for Beginners
How to Make a Fall Funky Bow for Wreath
How to Fall Oval Front Door Wreath
Liked this DIY Simple Fall Farmhouse table arrangement tutorial? Pin it for later!