How To Fall Oval Front Door Wreath | Easy Fall Wreath Tutorial
In this step by step fall oval front door wreath tutorial we'll have your front door ready for fall in no time.  I love the fall colors of gold, moss green and orange!
And if you want to make more fall decor, try our other DIY Fall Decor ideas; DIY Fall Door Wreath Idea, How to Make a Fall Lantern Flower Arrangement, Fall Cornucopia Centerpiece Tutorial
This post contains some affiliate links for your crafting convenience. Click here to read my full disclosure policy.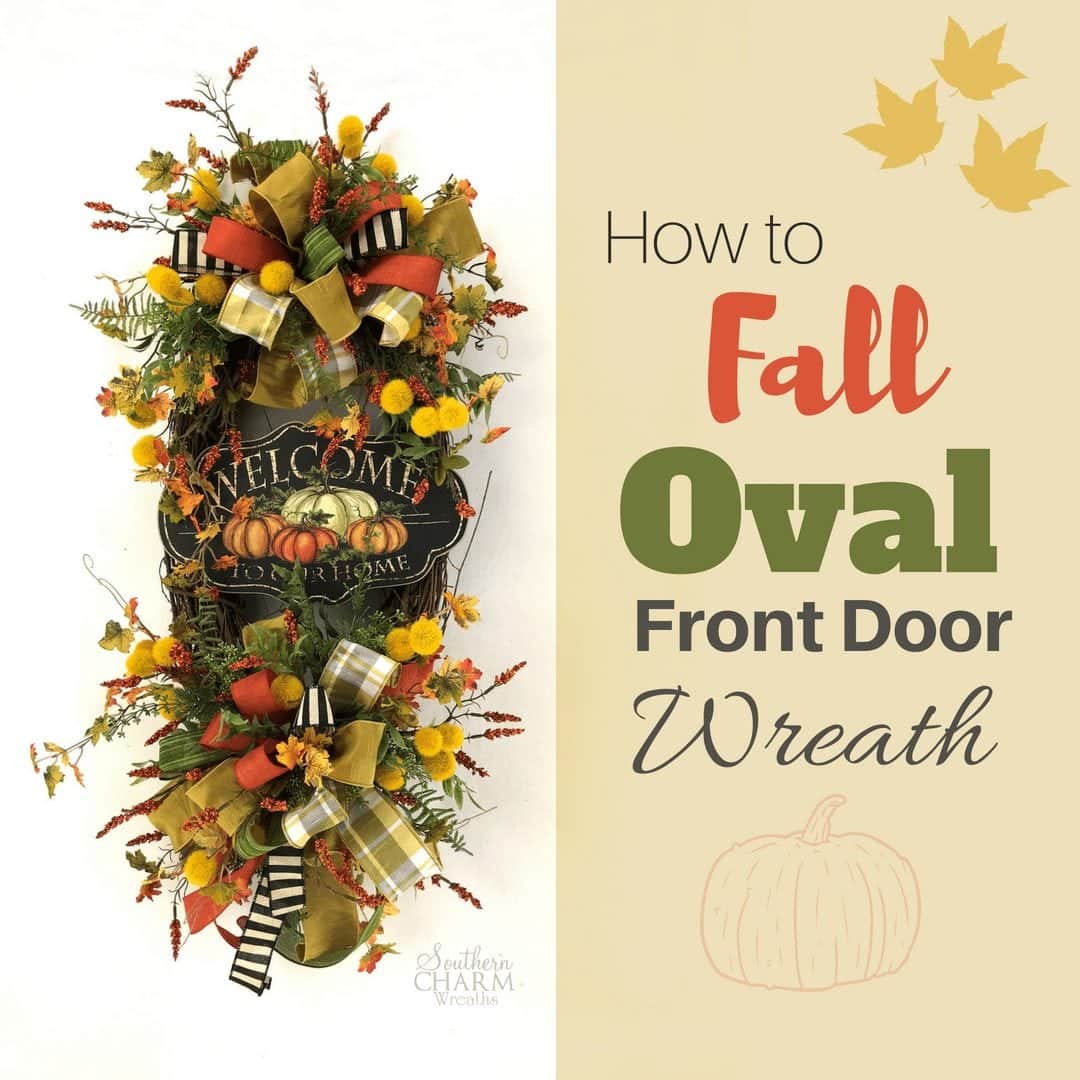 How To Make a Fall Oval Front Door Wreath
In this video, we're are making a Fall Oval Front Door Wreath. You'll be the envy of the neighborhood when you put this beautiful wreath full of Fall colors on your door. Here's how to make it:
Supplies
Welcome sign (Hobby Lobby)
Oval grapevine wreath – 12″w x 24″l
Florist wire or pipe cleaners
Assorted wired ribbon (Carolina Pottery)
Assorted silk greenery & flowers (Trendy Tree, Carolina Pottery, Hobby Lobby, Michaels)
[Tweet "How to make a stunning Fall Oval Front Door Wreath #howto #falldecor"]
Steps for How To Make a Fall Oval Front Door Wreath
First, attach pipe cleaners to the back of your sign using a staple gun. Add hot glue over staples to ensure it is secure. Set aside to cool. Note: Check first to see if your staples will go through the sign. If they will, you can build up a cushion using ribbon between the sign and the staple.
Make two of the same bows.  I used my Funky Bow method with 12 inch bow loops.
Attach the sign across the center of the grapevine using the pipe cleaners.
Attach one of your bows to the bottom of the wreath and one to the top using the wire you wrapped around the center of your bow. Note: Don't forget to take a moment to roll the tails of the ribbon and spread out/fluff up the ribbon loops.
Now add greenery. I used my favorite greenery – a mixed greenery bush from Trendy Tree. Start by cutting the stems from the bush and fluffing each one up so it isn't flat. Dip the stems in hot glue and place them under the bow loops in a triangle.
Add silk Fall leaves around the bows leaving a few pieces long so they would drape down the wreath.
Continue filling in the wreath around the bow using silk flowers and hot glue.
For a beautiful finishing touch, add sprigs of greenery or silk flowers into the bow loops using hot glue.
Video on How to Make a Fall Oval Front Door Wreath Video…
Did you enjoy this Fall DIY wreath tutorial? Even though it may still be hot where you are, it's not too early to start planning for your Fall décor!
Hey, you can learn more about wreath making and how to become a professional wreath maker to help supplement your income in my Wreath Making of the Month Club.
And join me on Facebook Live, for my other DIY tutorials. Even better, join our messenger bot HERE and we'll send you a message on Facebook the next time we go live. It's always more fun to join in on the conversation.
Happy Wreathing,
Julie
If you enjoyed this post, you might also like:
How to Make a Fall Lantern Flower Arrangement
How to Jazz Up a Store Bought Fall Door Hanger Using Flowers
Quick 30 Minute Fall Wreath Tutorial