Decorating your Front Door for Winter
The holidays are over and it's time to take down the Christmas decorations. So I'm out of my workshop today and on the front porch instead. But that doesn't mean I don't have any helpful tips for you. The weather is pretty good here ( It's a little windy as you can see and hear in the video, but not like it is up North!), so I've set the camera up outside, pulled up a ladder and I'm going to be decorating my winter doorscape without even removing the Christmas garland I use as a base! Watch the video below to see the transformation.
This post may contain affiliate links for your convenience. Click here to read my full disclosure policy.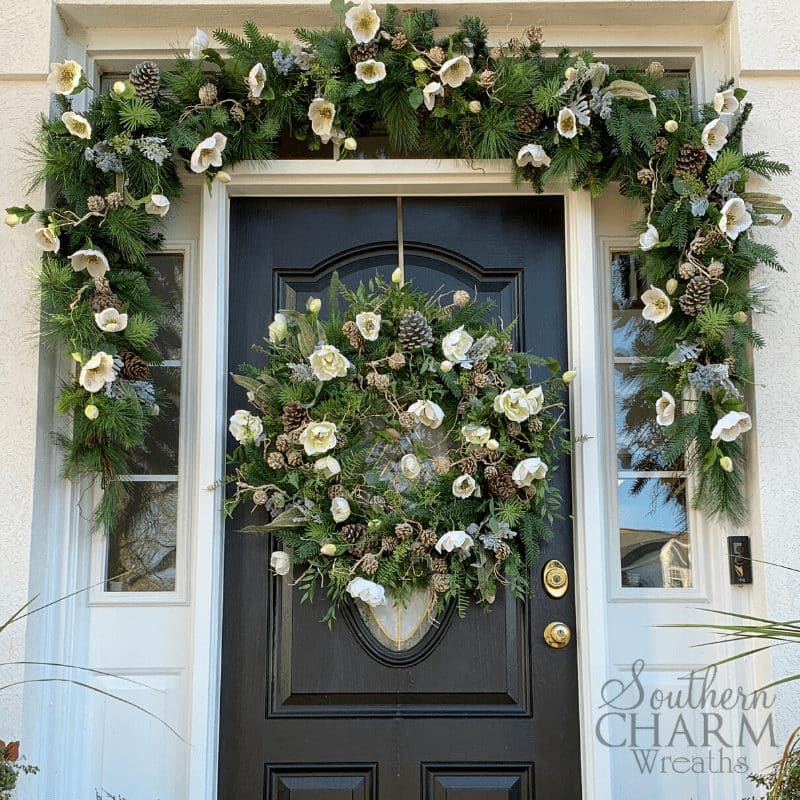 I purchase most of my supplies from one of my favorite online suppliers found here.
I prefer to decorate all of my garlands while they are hanging but if your winter where you live isn't as mild as it is here, you could easily unhook your wreath and garland and make all these changes inside.
Either way, here are the steps I used and my tips for making the transformation:
Steps and Tips for Transforming your Christmas Doorscape for Winter
Step 1 - Remove any Christmas pieces from the wreath and garland. When I made this doorscape, I used the wire in the pine garland to attach the pieces that way they are always removable, saving the base garland for future decorations.
Tip 1 - Red gives off a much more Christmas-y feel than probably any other color you might have in your decorations. To really transform your door away from Christmas, remove any red pieces. One exception to this is red berries, as long as you don't leave too many and they are small in size. White, on the other hand, is beautiful for a winter wreath and garland. If you have any of that in your doorscape, you can leave that in.
Tip 2 - You might want to consider using a black/white or gray as a color palette as well.
Tip 3 - Bring a trash bag outside with you. As you pull off each piece, inspect it for wear and damage. If you wouldn't use it again, throw it in the trash bag before you even go inside, that way it doesn't find its way back into your stash.
Step 2 - Fluff the new pieces you are adding to give them a little more volume and character. Your goal is always to make them look at real as possible. Then add them to your garland. When decorating over a door, I like to find the center of the garland and make sure when you are adding in the pieces, they are all facing away from that point.
Tip 3 - Wrap the wire in the garland branches around the pieces to attach them instead of using any extra wire or glue. This will keep them secure even during very windy days, but allows you to remove them when you're ready to redecorate the garland for another season or next year.
How to Make a Winter Doorscape from Your Christmas Decor
If you enjoyed this and want to learn to wreath the professional way, join me in our exclusive Wreath Making of the Month Club!
Happy Wreathing,
Julie
If you enjoyed this post, you might also like:
Liked this tutorial? Pin it for later!