DIY St. Patrick's Day Grapevine Wreath
Follow this tutorial and learn how to make a festive and fun St. Patrick's Day wreath from a grapevine base.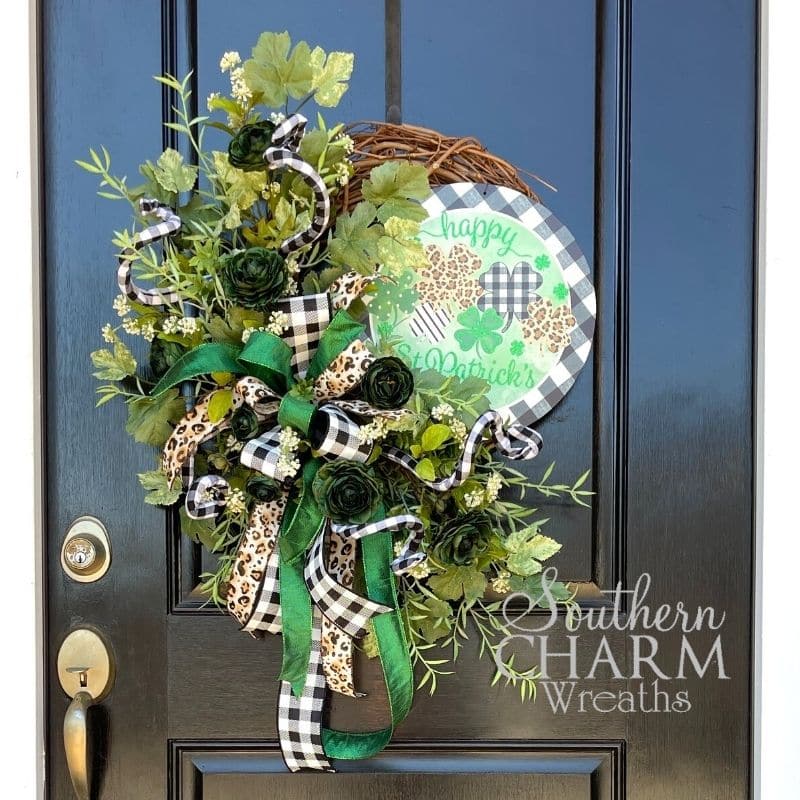 How To Make A DIY St. Patrick's Day Wreath With Grapevine
Bring the luck of the Irish to your front door. This lovely rustic wreath has a sturdy grapevine base. It's a cinch to assemble, and you can make it as loud or as meek as you wish.
If you follow my example, you'll have a cute wreath with regal jade tones that harken from the Irish isles. It's a combination of whimsical and charming that will sell really well on Etsy or jazz up your own front door.
This post may contain affiliate links for your convenience. Click here to read my full disclosure policy.

Supplies
16-inch Grapevine Wreath
Ribbon Streamers
Happy St. Patrick's Day Sign
Staple Gun
Flower And Greenery Picks
Hot Glue Sticks
Glue Pan
DIY St. Patrick's Day Wreath On Grapevine: Step-By-Step Tutorial
Here's how to make this lovely grapevine St. Patrick's Day door wreath.
1. Attach The Sign
The very first thing you should do is attach your sign to the wreath. I do this by punching a hole in the top and bottom of the sign and then threading florist wire through them. Then, I tie the florist wire tightly to the wreath.
Where you attach the sign is entirely up to you. I like to place it on one side of the wreath, which gives me the option to build up and around the wreath, creating movement.
2. Make A Bow
Choose ribbons for your bow by pulling out patterns and colors from the sign. My sign has shamrocks with leopard print, a black and white buffalo check background, and some pretty shades of green.
So, I used those three colors and patterns in the ribbons for my bow.
After you make the bow, tie it securely with florist wire and attach it to the grapevine wreath. The wire I use to make the bow is the same wire I use to secure it to the grapevine base.
3. Add Greenery And Flowers
This is a really fun part because you get to be creative, choosing florals and greenery that complement the St. Patrick's Day theme.
As you do this, I suggest hanging the wreath on a wreath easel or door so that you can see exactly where you want to place the flower picks.
Choose greenery that has the same shades of green as your sign. I even found some with leaves resembling a clover, so I definitely used them!
Choose your favorite vibrant-green picks. The more green, the better! Depending on how big you want your wreath to be, trim them pretty short so that they don't stick out too much from the wreath.
The green dahlias I found are a dark emerald color, which perfectly enhances all the other shades of green.
4. Design Around The Bow
As you add greenery, florals, and picks, trim them, so they are the perfect length and height. Start adding them close to the bow and build out around the wreath from there.
I started by inserting small green leaves around the base of the bow. Then, I added longer greenery pieces that give the wreath more length and dimension.
Embellish your wreath with as many florals, greenery, and fun St. Patrick's Day wreath picks as you wish. Keep designing until it is as full as you want it.
Watch The Video: DIY St. Patrick's Day Door Wreath
Thanks for joining me today in the wreath workshop! Comment below and tell me what's your favorite part or let me know what I should make next!
Happy Wreathing,
Julie
If you enjoyed this post, you might also like: