DIY St. Patrick's Day Door Wreath With Deco Mesh
Feeling lucky? Today in the wreath shop, let's add some lucky green to your door! This is how to make a full and vibrant deco mesh St. Patrick's Day door wreath like a pro.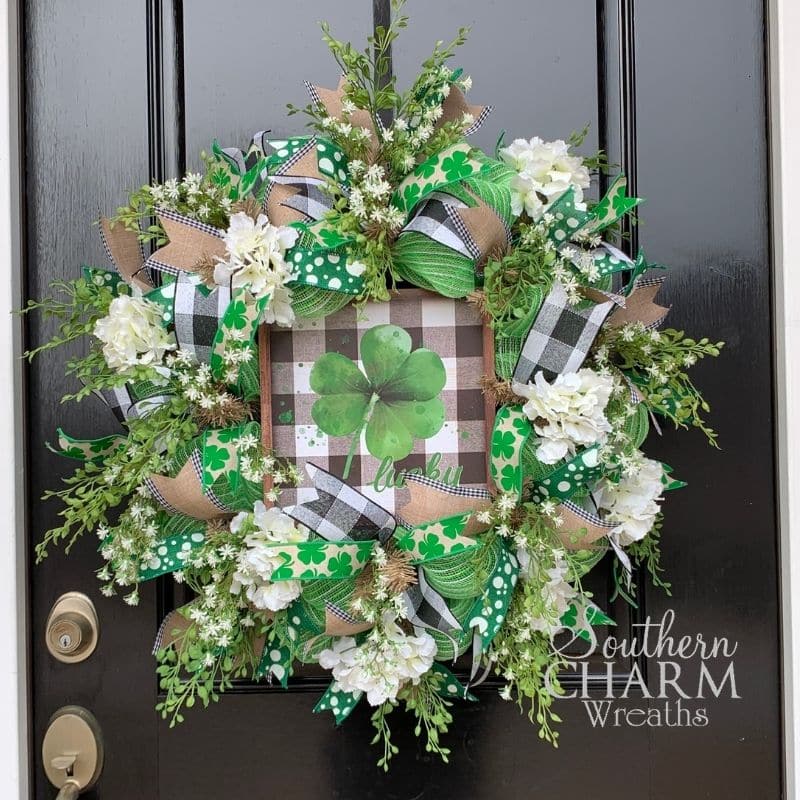 How To Make A Deco Mesh Wreath for St. Patrick's Day
This wreath is literally bursting with happy green colors! Pick out your favorite ribbons along with a lucky sign and get ready to make a cheerful wreath for your front door.
This post may contain affiliate links for your convenience. Click here to read my full disclosure policy.
Supplies
10-inch Jute Poly-Mesh
Flower and Greenery Picks
Lucky St. Patrick's Day Door Wreath: Step-By-Step Tutorial
Here's how to make this festive Deco Mesh St. Patrick's day door wreath.
1. Prepare The Deco Mesh
I like to unroll my deco mesh first so I have lots of extra to work with as I make the wreath. Then, grab the sides, curl it under and make a 3-inch tail.
Attach that 3-inch tail to the work wreath frame.
2. Start With The Inner Wreath Frame
Attach the 3-inch tail to the twist ties of the inner frame of the wreath. Wrap the needle ties around that tail you just made.
Then, keep making 10-inch long loops and use the needle ties to attach each loop to the wreath frame. Do this all the way around the inner wreath frame.
When you are finished, go back and "poof out" the mesh loops you attached to the frame. They should resemble women's dress sleeves from the 1980s!
3. Continue With The Outer Ring
Do not cut your mesh ribbon. After you completely add ribbon to the inner ring, bridge to outer ring and repeat the same process.
Make the same 10-inch-long loops and use the needle ties to attach them to the wreath frame.
After you finish wrapping the deco mesh around every single part of the wreath frame, trim it off the bolt and hide the tail inside the wreath, under some of the other pieces of mesh.
4. Attach Ribbon Streamers
Next, attach strips of festive St. Patrick's Day ribbon streamers. I used 9 strips of each of these styles:
2 1/2-inch black and white plaid
2 1/2-inch tan
1 1/2-inch green and white
1 1/2-inch shamrock
I cut them 13 inches long but you can make them longer or shorter, depending on how you like them to look.
I used a darker color for the bottom (larger) streamer and the smaller one on top is a green pattern.
Pinch them in the middle and add the streamers to every-other needle tie.
After you wrap the needle tie around the streamers, pull the streamers apart so they aren't laying directly on top of each other anymore. Adding ribbon to deco mesh wreaths adds so much color and texture don't you think?
5. Add A Sign To The Middle Of The Wreath
Trim 1-inch pieces of ribbon – you will use them to attach the wire to your sign so you can attach it to the wreath.
Then, with your staple gun, staple the wires to the back of the sign. Staple the middle of the wire so you have plenty of length to use to wrap around your wreath. I stapled one piece of wire in each corner of the sign.
Then, center the sign in the wreath and use the wires to attach it to the wreath.
If you want to stop here, you can! Or, you can keep adding some more greenery and flowers.
6. Add Greenery And Flowers
For this step, I suggest hanging the wreath on a wreath easel or door so that you can see where you want to place the flower picks.
Choose your favorite vibrant-green picks. The more green, the better! Depending on how big you want your wreath to be, trim them pretty short so that they don't stick out too much from the wreath.
Keep adding flowers and greenery all around the wreath until it looks as happy and beautiful as you want it to!
Watch The Video: DIY St. Patrick's Day Door Wreath
If you enjoyed this and want to learn more on how to get started with wreath making, try my Wreath Making 101 Workshop!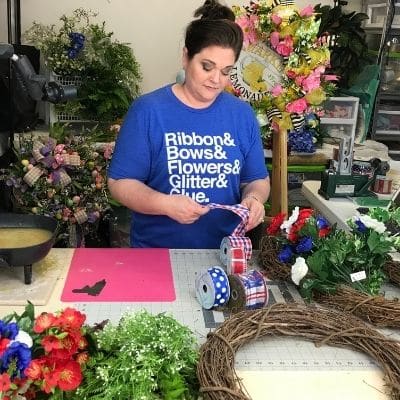 Thanks for joining me today in the wreath workshop! Comment below and tell me what's your favorite part or let me know what I should make next!
Happy Wreathing,
Julie
More St. Patrick's Day Projects
If you enjoyed this green and black shamrock wreath, then here are some more St. Patrick's Day projects you will enjoy too.