Enhancing My DIY Painted Door Hangers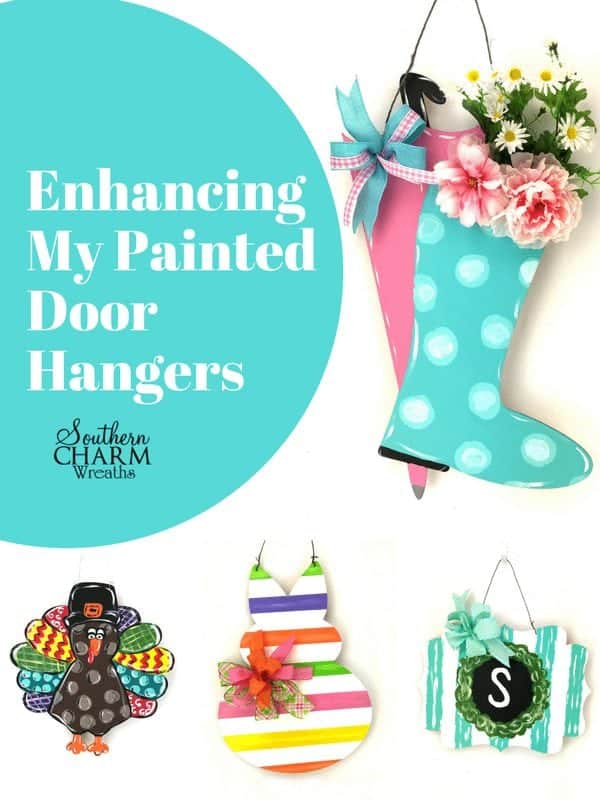 If you follow me on Facebook, then you here me saying all the time…try something new!  Try something out of your comfort zone.  It's never too late to learn something new and fun!  So I took up learning to paint door hangers! Check out my DIY Painted Door Hangers. 
This post contains some affiliate links for your convenience.
Click here to read my full disclosure policy
.
Crafting is calming to me and it helps me through the storm that is my life right now. Please tell me you can relate!
And this year I told myself I was going to learn a new craft, I was going to learn how to paint!!  I didn't know anything about it but I always see a bunch of super cute door hangers all over Pinterest and I wanted to be able to make them too!!
It's in a private Facebook group where she teaches you literally how to paint.  Think…girl's night out drinking wine kinda of paint parties.  You know what I mean? You get dressed up, bring an appetizer and someone teaches you how to paint.  Well the beauty of this is it's online, virtual. No need to get dressed up…no need to make an appetizer.  All I have to do is wait for the unfinished door hanger to come in the mail and purchase my paint and brushes. If you're an introvert, this is a golden ticket! Ha!
Every month Brittany sends me a wood shaped cut out and she post in a private Facebook group what paint colors to buy for the month.
Then she broadcast a Facebook Live (video in real time) in the group teaching me how to paint the wooden door sign.  If I can't watch the broadcast live, no worries, I can watch the replay at my leisure.
When I get a free Sunday, I go to town painting my blank door hanger creating a master piece I then can share with the paint group.
It's so much fun. The ladies in that group are super helpful.
In the video you can see some of my DIY painted door hangers and how I chose to embellish them.
Deadline to register in order to receive next month's blank wooden door hanger is the 20th of the month!
I can't wait to see you inside group!